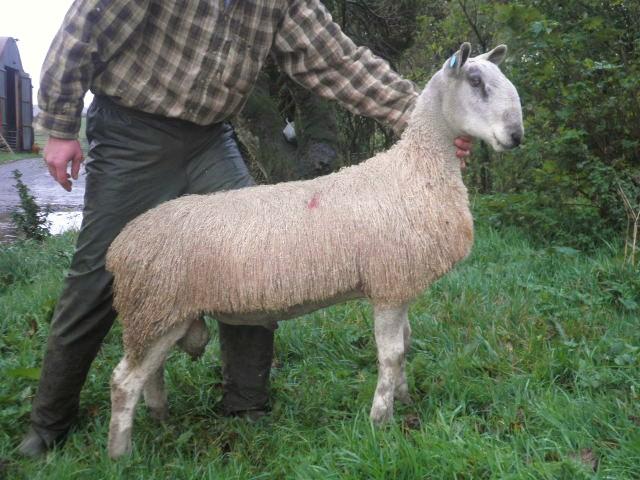 Armoy Ram & Female Sale
15th October 2011
Armoy
Mr C Coulter, Carrick Rock
A small entry met a great trade especially in the shearling section seeing an entry of 38 having 100% clearance with a top of £1000 twice, first from the Reserve Champion bred by Robert Loughridge, Orravale with a big strong shearling, bred by the 3200 gns Midlock B41 and the second from Tom Crowe, Learmore again with a homebred ram of Tygwyn Z3 and a St Ravenscar X3 bred ewe. Robert Loughridge also received 820 gns and 750 gns for two more homebred shearlings off Tanhouse B16.
Customers were being very selective on the quality of lambs they were willing to pay for. Colin Coulter, Carrick Rock was the judge for the day and gave his Champion to the Mullaghwee flock of Michelle Wright for a strong lamb bred by Glenane Baby B3 which was purchased at Masserene 2009 for 2000 gns and out of a Tygwyn Z3 ewe. He went on to sell at 770 gns to D & E McGarel, Hickeys Brae.
Topping the lamb trade was Brendan McAllister's, Aughaboy flock at 800 gns bred by Drummuck C1 purchased by William Adams followed by Sean Delargy Mulnaskeogh with his second prized lamb at 750 gns bred by Orravale X9 selling on to David Lyttle. Eamon McKeegan Glenane got 750 gns for a Glenane A3 bred lamb going home to Dominic Mccrystal and 700 gns for his next bred by W25 Midlock Controversy selling on to Martin Elliot. Hugo McKeegan, Glenane also received Champion Female of the day with a smart classy ewe lamb bred by Glenane C3 and out of a Y40 Hewgill ewe selling at 900 gns to the Aughaboy flock of Brendan McAllister.
Other Shearling prices
S Laverty 650, S Delargy 650, R Loughridge 620, 600, S Laverty 600,
R Loughridge 580, 550, 550, M Wright 550, T Crowe 550, 540, C Butler 520, R A F Bryson 520, T Crowe 500, E McCormick 500.
Lamb prices
S Hammond 600, W Adams 580, 550, S Delargy 550, D McKillop 520,
B McAllsiter 500, E McKeegan 500.
Females – E McKeegan 360, 320, A Christie 320.
Show Results
Champion – M Wright, Mullaghwee D2 ram lamb
Reserve Champion – R Loughridge, Orravale C12 shearling
Champion Female – H McKeegan, Glenane D18 ewe lamb
Shearling Rams
| Placing | Class | Exhibitor | Flock Name |
| --- | --- | --- | --- |
| 1st | Shearling Rams | R Loughridge | Orravale |
| 2nd | Shearling Rams | R Loughridge | Orravale |
| 3rd | Shearling Rams | S Laverty | Orra View |
Ram Lambs
| Placing | Class | Exhibitor | Flock Name |
| --- | --- | --- | --- |
| 1st | Ram Lambs | M Wright | Mullaghwee |
| 2nd | Ram Lambs | S Delargy | Mulnaskeogh |
| 3rd | Ram Lambs | M Wright | Mullaghwee |
Females
| Placing | Class | Exhibitor | Flock Name |
| --- | --- | --- | --- |
| 1st | Females | H McKeegan | Glenane |
| 2nd | Females | A Christie | The Fields |
| 3rd | Females | H McKeegan | Glenane |
Bluefaced Champions
| Category | Exhibitor | Type |
| --- | --- | --- |
| Overall Champion | M Wright | Ram Lamb |
| Res. overall Champion | R Loughridge | Shearling |
| Champion Female | H McKeegan | Ewe Lamb |
Gallery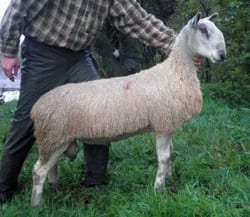 Champion from Michelle Wright which was sold for 770 gns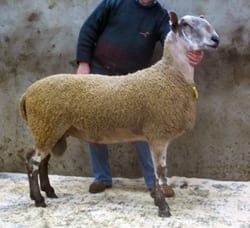 Reserve champion and top priced ram R Loughridge selling for 1000 gns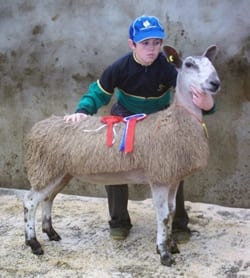 Champion Female from Hugo McKeengan sold for 900 gns
Back to Archive