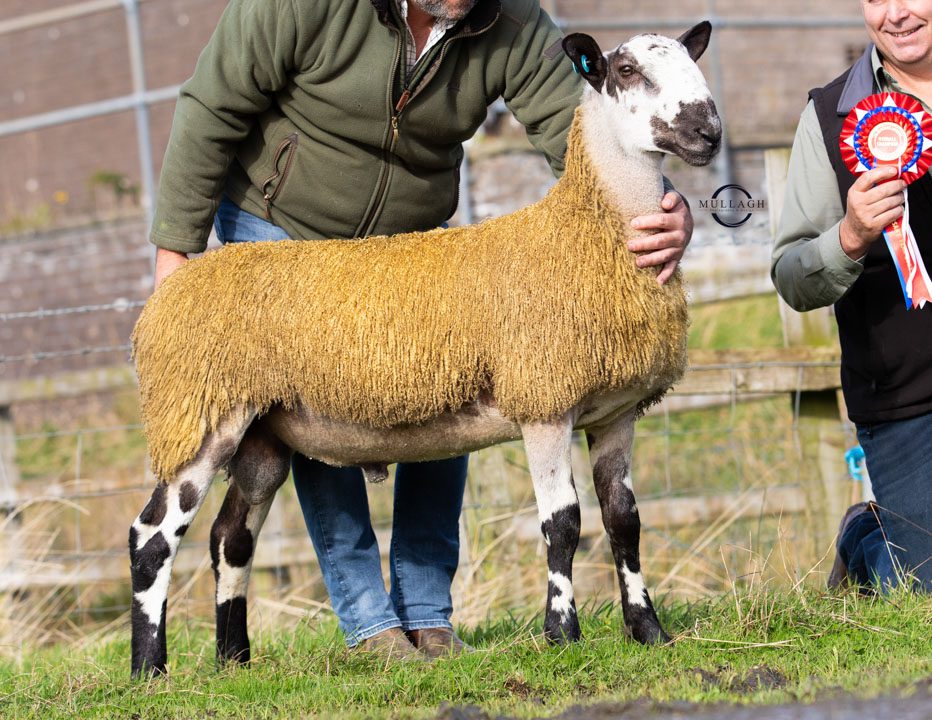 Armoy – Saturday 8th October 2022
8th October 2022
Armoy
Mr Jimmy Mills, Ballytober
Armoy Sale – Saturday 8th October, 2022
Kindly Sponsored by VOLAC
With a larger entry of sheep compared to other years, Jimmy Mills from the Ballytober Flock undertook the judge duties on the day.
With an excellent standard of stock forwarded on the day. He made his selections. The overall champion of the day from Allister Christie was a ram lamb, got by the renowned P8 Dawyck, had style, colour and character. With what can be described as a more silent trade on the day in comparison to other years, this eye catching lamb with ounces of potential went on to sell for 600gns.
Standing first in her class and overall Reserve Champion was a Temain P24 presented by Brendan from the Aughaboy Flock. This attractive, sparkling sheep caught the attention of many breeders and topped the female prices, settling at 620 gns. There was an appetite for this style of sheep and these sought after bloodlines, Brendan's second placed ewe lamb and overall reserve female champion went on to sell for 600gns. Jimmy's selections on the day certainly caught the eye of the buyers, his choices reflected today's market. Choosing blues to meet the crossing demand, handing first place and reserve champion male to the Mc Cormick brothers from the Barblagh Flock. This M2 Fields ram held the ingredients in the make-up of what so many buyers are chasing after. His presence, coupled with style and frame saw him resting at 500 gns. Once again thanks must go to the auction mart and the staff for organising the sale so well and also to the buyers, and to our judge, Jimmy Mills.
Averages: Shearlings – 36 @ 400.83
Ram Lambs – 61 @ 316.72
Females – 4 @ 405.00
Shearling Rams
| Placing | Class | Exhibitor | Flock Name | Lot Number |
| --- | --- | --- | --- | --- |
| 1st | Shearling Rams | McCormick Bros | Brablagh | 69 |
| 2nd | Shearling Rams | E Loughran | Hilltop Farm | 27 |
| 3rd | Shearling Rams | S & W Bell | Dappledale | 68 |
| 4th | Shearling Rams | Mr & Mrs B & C McIlroy | Ballylagan | 29 |
Ram Lambs
| Placing | Class | Exhibitor | Flock Name | Lot Number |
| --- | --- | --- | --- | --- |
| 1st | Ram Lambs | A Christie | The Fields | 119 |
| 2nd | Ram Lambs | J Adams & Sons | Holmview | 103 |
| 3rd | Ram Lambs | S & J Wilson | Deerfin | 178 |
| 4th | Ram Lambs | S Delargy | Mulnaskeogh | 232 |
Ewe Lambs
| Placing | Class | Exhibitor | Flock Name | Lot Number |
| --- | --- | --- | --- | --- |
| 1st | Ewe Lambs | B McAllister | Aughaboy | 242 |
| 2nd | Ewe Lambs | B McAllister | Aughaboy | 243 |
| 3rd | Ewe Lambs | E McKeegan | Glenane | 244 |
| 4th | Ewe Lambs | Hydebank College | Hydebank | 258 |
Bluefaced Champions
| Category | Exhibitor | Type |
| --- | --- | --- |
| Male Champion | A Christie | Ram Lamb |
| Reserve Male Champion | McCormick Bros | Shearling Ram |
| Female Champion | B McAllister | Ewe Lamb |
| Reserve Female Champion | B McAllister | Second Prize Ewe Lamb |
| Overall Champion | A Christie | Ram Lamb |
| Reserve Overall Champion | B McAllister | Ewe Lamb |
Gallery
Back to Archive