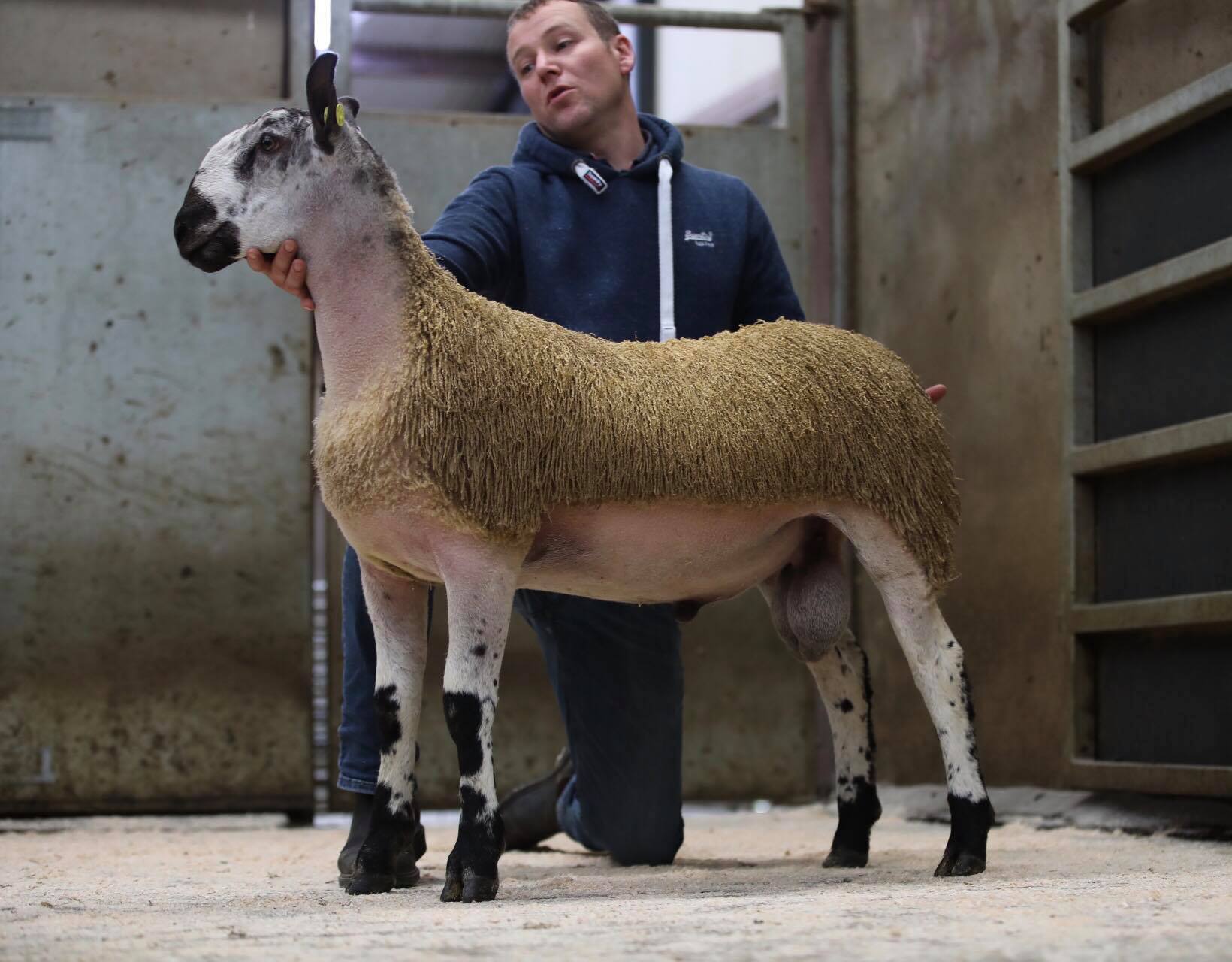 Armoy
Armoy BFL Report 2020
Once again Armoy hosted the annual Bluefaced Leicester sale, whilst adhering to the guidelines re Covid the large crowd around the ring was accommodated and complimented with the online bidding. The trade remained consistent throughout the day with the most appetising lots securing the highest prices. The quality of stock presented resulted in almost 90% clearance between both the Ram and Ram Lamb sections, a distinct increase in comparison to the sales figures of 2019. The final averages seen an increase in both the shearlings, aged rams and ram lamb sections. The shearlings settled at £470, ram lambs rested at £393 and females fall short on last year's average to cap at £261. These pleasing prices highlighted the demand was there for strong, correct tups for both pure and crossing purposes.
Topping the day's trade was a smart tup lamb from the Mistyburn Flock. With no champion tickets distributed Ian Montgomery's Farden (Popeye) gripped the attention of potential buyers. Ian is no stranger to presenting in demand bloodlines and today proved no different. The renowned ancestry blood coming through meant that local mule breeder A. Murphy was hesitant to stop and the hammer fell at 1340gns for this powerful sheep. The Orraview Flock, under the direction of S. Laverty took the day's second top price in the tup lamb section, this one was by the much acclaimed Yorehouse M1, (Maverick) the sire's reign of success continued on from previous sales to see this N021 fetch 980gns. Ticking all the boxes for Martin Elliot he secured the final bid. The character, colour and skin would arguably be an attribute to any flock.
Slightly in front was a strong shearling from the Tyler's Flock. Following back to Midlock and Temain bloodlines, this Tullyvallen ram saw the intense bidding end at 1000gns. He was knocked down to Alister Fenton, a mule breeder who looks for characteristics in the mules he breeds.
Michelle Wright, Mullaghwee, enjoyed a good trade her Blarnavaid, Cottage shearling selling for 880gns to the much esteemed Brablagh flock. This strong, colourful tup with a great presence in the ring attracted the attention of Eamon & Naill Mc Cormick.
Overall an encouraging sale, there was enthusiasm from buyers as the breeders had presented stock which fulfilled the demands of today's market.
Gallery
Back to Archive