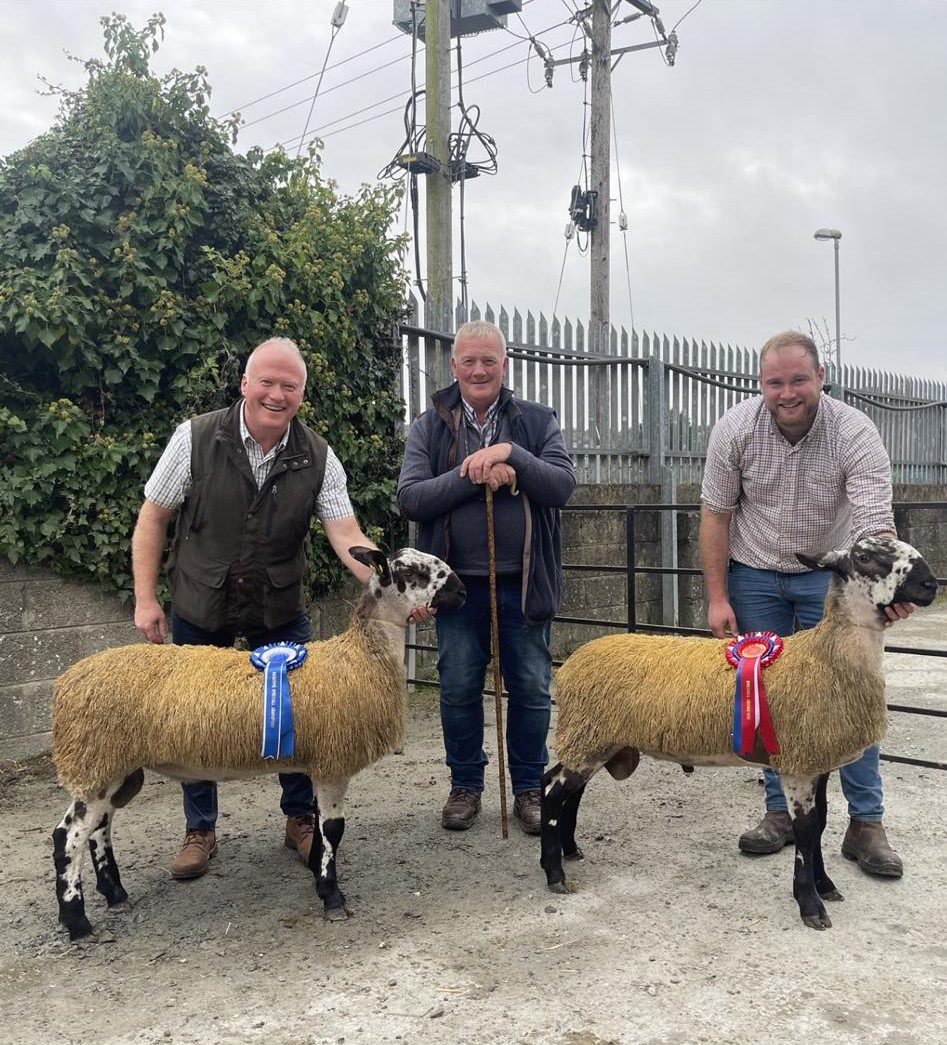 Ballybofey & Stranorlar Sale – 30th September 2023
30th September 2023
Ballybofey & Stranorlar
Mr J Holden, Blairmount
On Saturday 30th September the South of Ireland Bluefaced leicester Club had there second club sale in Ballybofey & Stranorlar Mart.
A great show of sheep on display again, a credit to all that brought sheep forward to the sale. We had John Holden as judge. John got both his champion and reserve champion in the pen belonging to Kieran & Patrick McGrath of the Caoramor Crossing Leicesters flock. Very worthy winners. A great example of the breed. Both lambs are got by the P006 Drummuck who has done extremely well for them.
The McGrath men also fetched the highest price of the day with the reserve champion selling to €1900. The Overall Champion sold for €1450 to prominent mule breeder Kieran Donaghey.
In the shearling class John found his 1st place sheep in Shauna Fitzmaurice pen of the Drinane flock an N011 Orraview breed sheep fetching €740.
Lambs sold to an average of €576 while the shearlings averaged €586.
Thanks to John for judging and thanks to all that bid and bought. Best of luck with the new purchases.
Ram Lambs
| Placing | Class | Exhibitor | Flock Name | Lot Number |
| --- | --- | --- | --- | --- |
| 1st | Ram Lambs | Messrs K J & P McGrath | Caoramor | 118 |
| 2nd | Ram Lambs | Messrs K J & P McGrath | Caoramor | 116 |
| 3rd | Ram Lambs | Mr D Cullen | Derryvarogue | 132 |
| 4th | Ram Lambs | T & S Fitzmaurice | Drinane | 141 |
Shearling Rams
| Placing | Class | Exhibitor | Flock Name | Lot Number |
| --- | --- | --- | --- | --- |
| 1st | Shearling Rams | T & S Fitzmaurice | Drinane | 102 |
| 2nd | Shearling Rams | T & S Fitzmaurice | Drinane | 103 |
| 3rd | Shearling Rams | Mr K McGee | Corlea | 104 |
| 4th | Shearling Rams | Mr D Shiels | Kindrum | 101 |
Bluefaced Champions
| Category | Exhibitor | Type |
| --- | --- | --- |
| Overall Champion | Messrs K J & P McGrath | 1st Prize Ram Lamb |
| Reserve Overall Champion | Messrs K J & P McGrath | 2nd Prize Ram Lamb |
Gallery
Back to Sale Reports