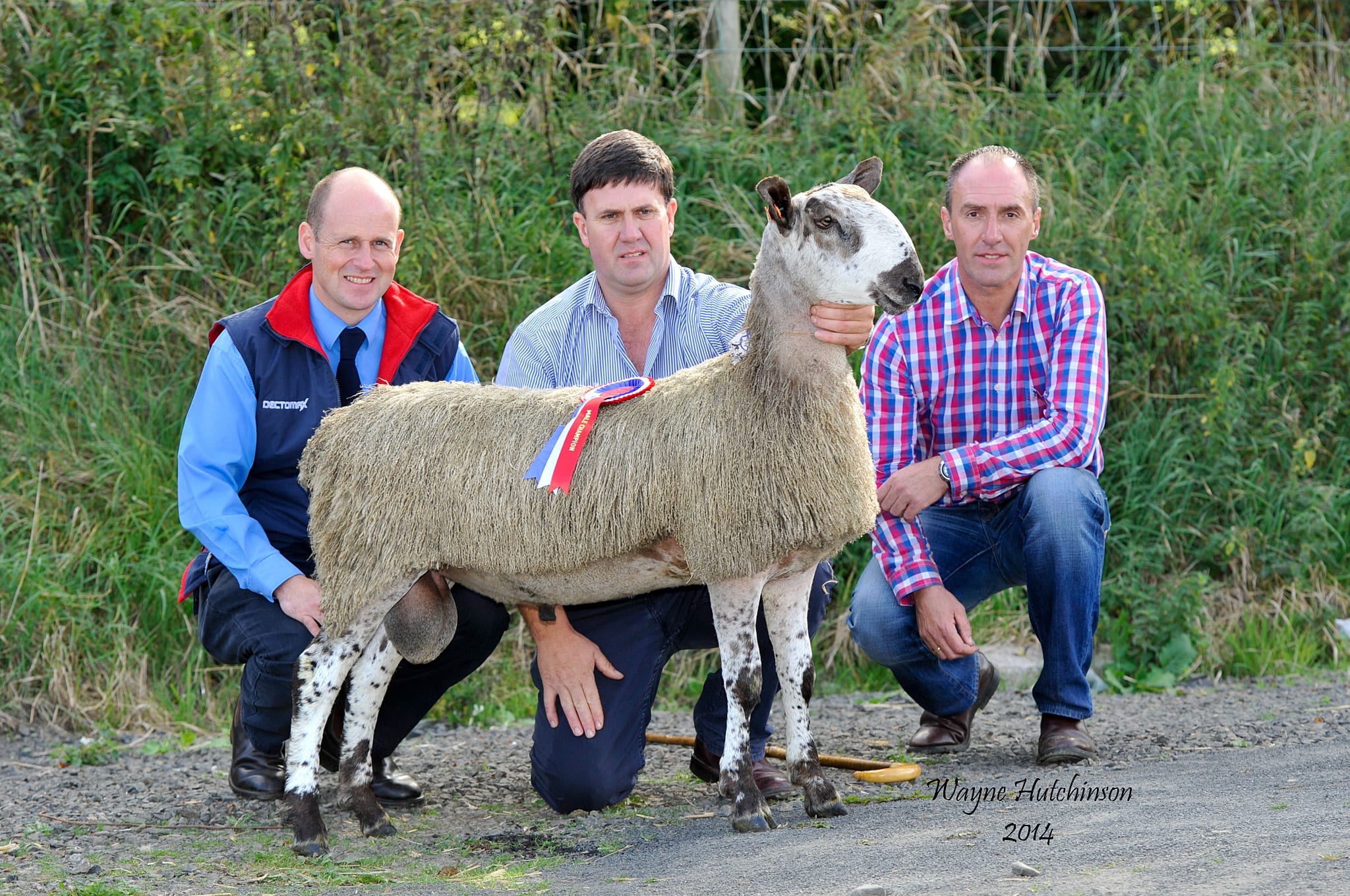 Ballymena Ram & Female Sale
20th September 2014
Ballymena
Mr J Park, Forebrae
Once again there was quite a turnout for the Ballymena sale, with some good stock forward and plenty of interest for the top quality sheep. The ring maybe wasn't just as busy as other years, but still there was plenty of interest all round.
The pick of the day was the Reserve Champion from Timothy Wray, who runs 22 ewes at Knockstacken, and had a great day at the sale with a pen of powerful shearlings which won the Kerr Memorial Cup for the best pen of tups at the sale. His best was by B10 Orravale, which has a double cross of Midlock Controversy in its breeding, and is out of a ewe by a Macqueston, going back to his Colin Dent tup which has done so well for him. He sold for 2500 gns to R Taggert, Ballymena.
The next top price went to the second prize lamb from the noted Orravale flock of Robert Loughridge. His powerful, well made lamb, the best he has bred in over 30 years he reckons, is by the D1 Firth and out of a Midlock bred ewe by the A13 Kirkby Redgate. It sold back over the water to Alec Brown and Neale MacQuiston for 2300 gns. Robert had a good do with his shearling tups too, topping out at 2000 gns for the 4th prize tup, also by the D1 Firth, which was bought out of Carlisle for £5000 and out of a ewe by Z16 Parkgatestone. It was used by John McNeill, Ballycastle, who was impressed enough to buy him.
Dominic McCrystal from the Drummuck flock enjoyed a good trade with his pen of strong lambs and topped his trade with G3 Drummuck, a son of F27 Midlock and out of a ewe by C2 Hewgill, full of great crossing bloodlines. This smart lamb fetched 2000 gns, selling to M/s Crawford, Ballymena.
The first lamb into the ring set the pace for the lamb trade, making 1900 gns after some strong bidding. This really well boned, strong lamb from A & D McKillop, Giants Causeway was out of a ewe by C5 Oakhouse E+, bought in lamb privately from James Stenton, St Ravenscar and by A1 Ty-Gwyn. They only run 13 ewes and this was only the second time they have sold at the sale. Picking up the bill for him was M Wright, Mullaghwee and S Park, SP Dalpeddar.
The champion of the day came from Richard Graham, who only runs seven ewes, but still managed to produce a right corker of a ram lamb, with some great bloodlines in. He had earlier in the season won the Reserve Championship at the progeny show at Antrim, and attracted some strong interest. He is by the noted Z4 Hundith, which is behind so many good tups these days, and out of a ewe by Z5 Hundith. He sold for 1200 gns to the days judge, John Park from Thornhill, Dumfries.
Quality and power was the key to a successful sale on the whole, with buyers taking special note of conformation and size.
Gallery
Back to Archive