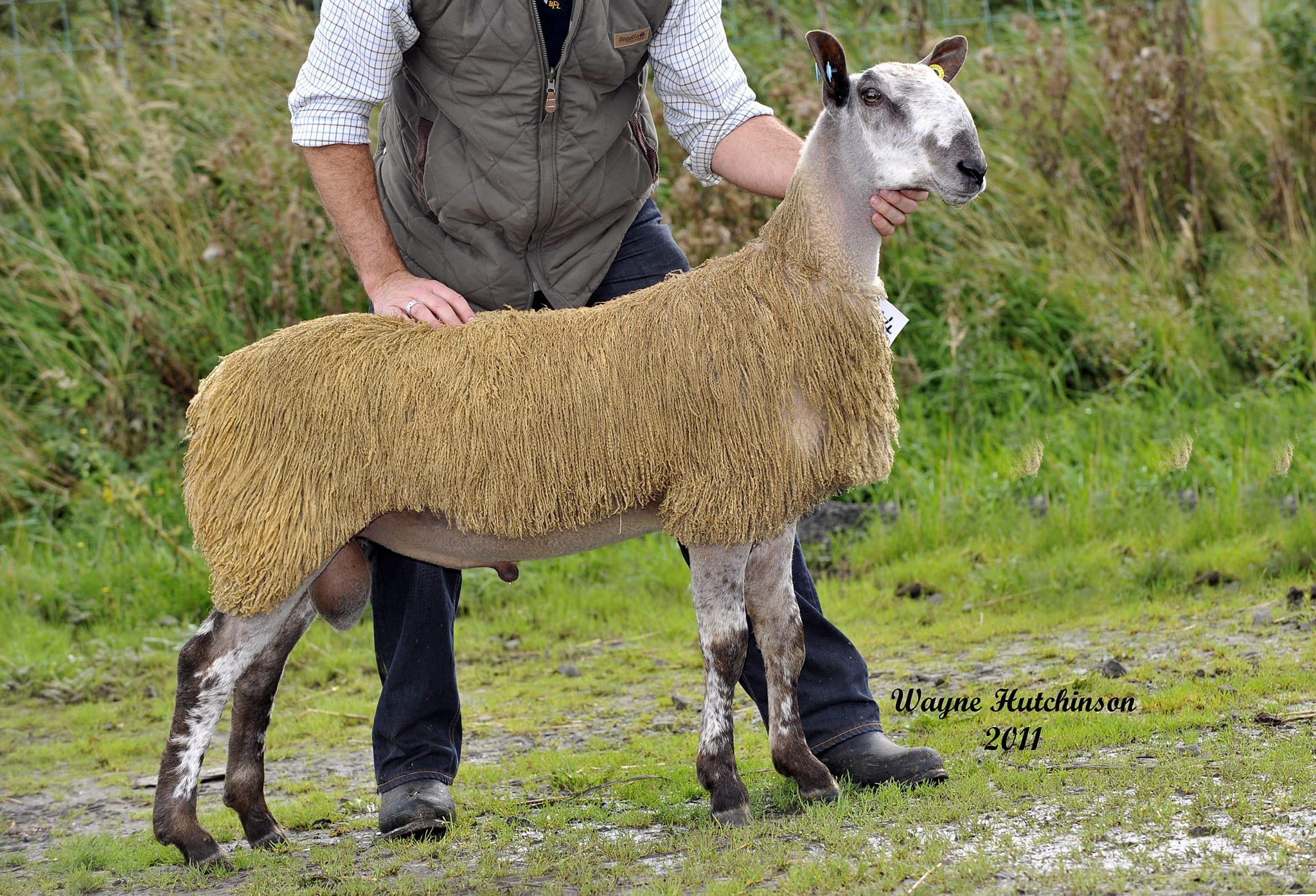 Ballymena Ram & Female Sale
17th September 2011
Ballymena
J Herdman, Edlingham
Despite a rip-roaring Mule trade and a buoyancy in the sheep sector in general, this year's Ballymena Bluefaced Leicester's didn't reach the highs of last year, which saw records shattered at every turn, and many vendors would feel slightly disappointed with the days trade, with buyers being very picky and making the auctioneers work for their commission.
Topping the day's trade was a shearling tup with a great carcase from G Walsh, Quoile. This tup, bred by R Kerr, Randox, and by Z8 Lenmore, caught the eye of regular buyer, J Stewart, who saw a bid of 2200 gns capture his boy.
Topping the ram lamb trade was the day's champion, as selected by James Herdman of the Edlingham flock, who had a difficult job picking out the winners from some very strong classes. This cocky tup lamb from Alistair Christie, The Fields, had also stood first in his class at Antrim and Ballymoney Shows earlier in the summer and earned Alistair his first Champion at the sale since setting up his flock in 1999. He is by X3 St Ravenscar, which was bought by Tom Crowe as an aged ram, and Alistair took a couple of ewes too last year, including the mother, a ewe by V10 Todhills. Buying the lamb was B Blaney, Cushendall Farm for 2000 gns.
Buyers seemed reluctant to break the 2000 gns mark, with several lots just falling short of the figure. First to get near was a long rangy shearling from noted consigner, Robert Loughridge, Orravale. He took the first two places in the shearling classes, but it was an unshown homebred tup, C1 Orravale, which topped his trade with a bid of 1900 gns to P Staunton, Co Mayo. This is by the 3200 gns B41 Midlock, a son of X1 Riddings and out of a V3 Bull & Cave ewe, which is doing well for the Orravale flock and out of a ewe by T1 Airyolland, which Robert borrowed some years back. Roberts's pen also saw some other good. prices, with a bid of 1750 gns for his second prized tup, C20 Orravale, sired by B16 Tan House and out of a ewe by W1 Hawshaw, bought at the Coombe Crag dispersal sale for £1900, sold to R Hayes, Plumbrudge.  He also had three full brothers in the pen as well. The first prize tup shearling and reserve champion sold by Robert, was bred by J & D Stenton, St Ravenscar, by A5 Oakhouse E+ and out of a ewe by N38 Hundith E.+. Brendon Blaney was the successful bidder at this tup catching his target for 1450 gns.
The other tup to hit the 1900 gns mark, and a personal best to date, was from Larne breeder John Holden, who enjoyed his best trade to date on the back of a successful Mule lamb sale which saw his run level out to average £123 with a top of £150. His C3 Blairmount, by Firth E+, a son of V3 Bull & cave was out of a ewe by an Orravale sire. He was bought by M Gingles, Kilwaughter. His first into the ring, C6 Blairmount, and by the same sire sold in an 1850 gns deal to J McCalmont, Glenarm.
Hitting 1700 gns was a sharp, classy tup shearling from C A Coulter, Carrick Rock, when they sold C22 Duhonw, a Michael James bred son of A5 Old Hemley E+, which has left his mark on the noted Duhonw flock, taking the progeny title at Penrith. His bloodlines include Y1 Midlock and Midlock Controversy which are exerting such an influence on the breed. Michelle Wright was the final bidder, and very happy with her purchase, which will be put over the Blackies as well as the Leicester's.
Michelle recouped some of the investment when her number one lamb, D1 Mullaghwee, which had stood 2nd in the pre sale show of lambs, sold for 1000 gns. This is a son of B3 Glenane "Mini Magners" which they bought at Maserene for £2000 a couple of years ago, with very similar bloodlines to "Magners" which is doing so well in the south west of Scotland, and out of a ewe by W4 Whitchester. He was bought by Hugh Crawford, a noted Mule breeder in the area.
Another tup lamb to hit four figures was from the Brablagh flock from the McCormick Bros. This lamb was by C1 Drummock, a lamb sold last year for 2300 gns at Ballymena which they took four ewes to. The Drummock tup is out of a Midlock bred ewe, and the McCormicks were last losers to him last year. His lamb is out of an X3 Firth E ewe and sold into Southern Ireland.
Despite not quite living up to pre sale hype, it will give breeders a chance to focus their attention of selecting the best stock in the future as buyers were demanding and accepting only the highest quality sheep, which can only help improve the breed in the long term, with strong, correct animals, which were good on their legs and in the mouth, backed up with good sound bloodlines, collecting the premium prices.
Gallery
Back to Archive