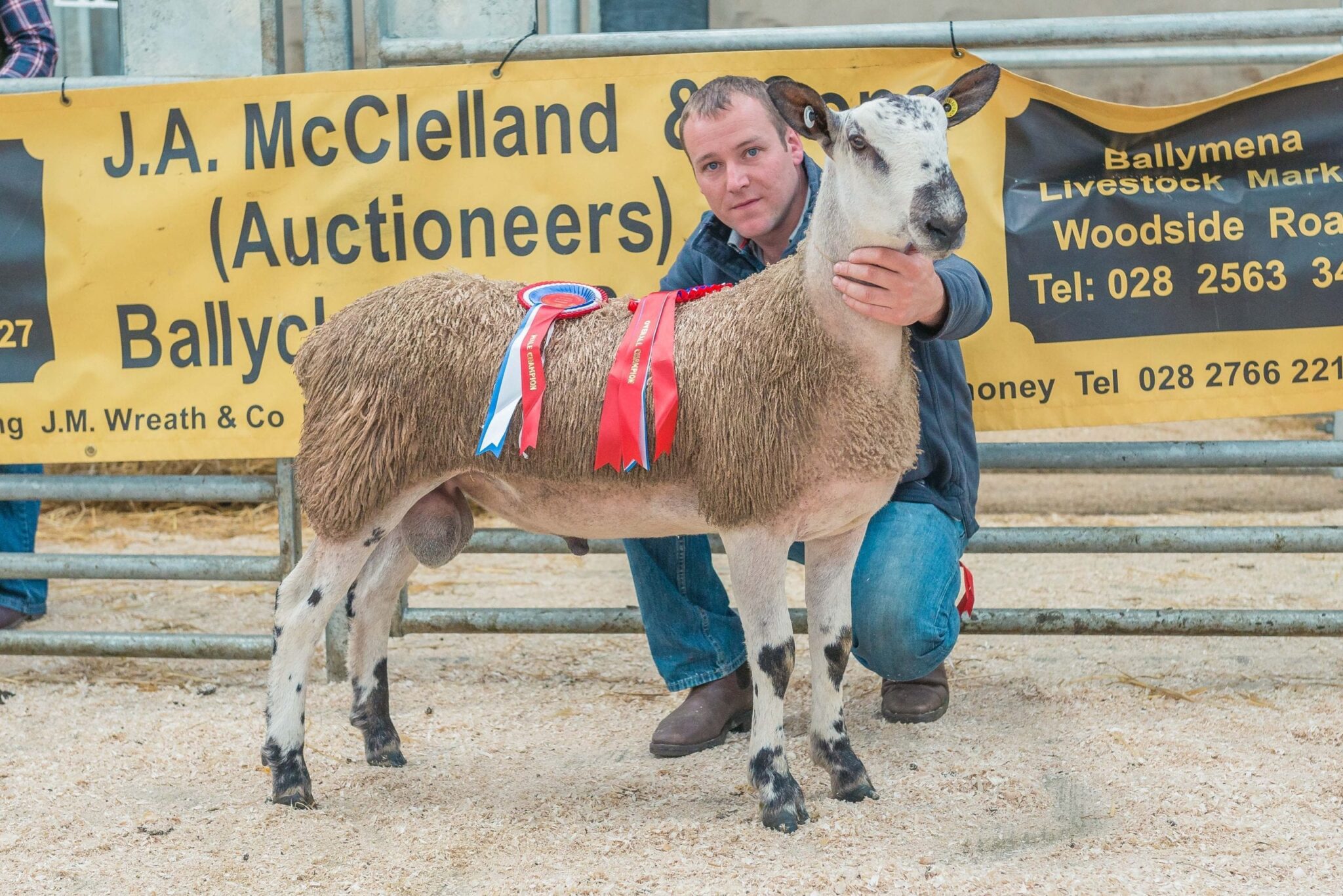 Ballymena Rams & Female Sale
17th September 2016
Ballymena
Mr Allan Wight, Midlock
Trade at the annual Ballymena Bluefaced Leicester sheep sale was well improved on the year. The Mule ewe lambs were up on the year, so buyers were prepared to invest more on their rams. Shearling rams were up £197 to £803 for 18 less sold, ram lambs were up £145 to £716 for 10 less sold and females were up £40 to £394 for the same numbers. Topping the sale at 4000 gns was the overall champion. Allan Wight, Midlock judged the presale show and awarded the red white and blue ticket to first time exhibitor Ian Montgomery, Mistyburn. The Champion was sired by G34 Midlock, and out of a ewe purchased from Martyn Archer, Carryhouse at the January sale in Carlisle, and this turned out to be a worthwhile trip for Ian. John Holden, and Keiran McGrath were last men in with a third share being retained.
Allan found his Reserve Champion in the second prize ram lamb, a much admired lamb from the Holmview flock of J Adams & Sons. He is a G1 Nunscleugh son and sold for 2600 gns to D J Lyttle, Kesh. For second year running, Graham and Julie Loughery, Temain topped the shearlings with their fourth prize ram H13, a G1 Cottage son, which sold for 3000 gns to Robert Loughery, Gortnarney, Limavady. Graham and Julie had a great go being last vendors in the shearlings averaging 1530 gns for 10, following on with sales of 2000 gns for H14 to Matt Workman, Kilwaughter and further sales of 1900 gns, 1800 gns and 1600 gns. Six of them were sired by G1 Cottage.
James Mills, Ballytober who is another new exhibitor received 1900 gns for H4, a E26 Firth son which sold to Joe Murphy. Cushendun. First prize shearling was awarded to O & F McKinney, Darragh which sold earlier in the day for 1700 gns to Hugh McNeill, Cushendun. Allan Wight also awarded O & F McKinney the Kerr Memorial Cup for the best pen of rams in the sale. Robert Loughridge, Orravale had his usual pen of quality shearlings which sold to a top price of 1800 gns, with two further sales of 1700 gns.
Graham and Julie Loughery received 3500 gns for their fourth prize ram lamb sired by H1 Starbog purchased by Robert Loughery, Gortnarney. Declan McKillop, Giants Causeway was in the mix again being awarded third prize for his ram lamb which sold for 2000 gns to Sean Morahan, Galway.
Graham and Julie Loughery won the Female Championship with their first prize ewe lamb, J19 sired by H1 Starbog selling for 1150 gns to Paul Sammon, Tipperary.
Gallery
Back to Archive