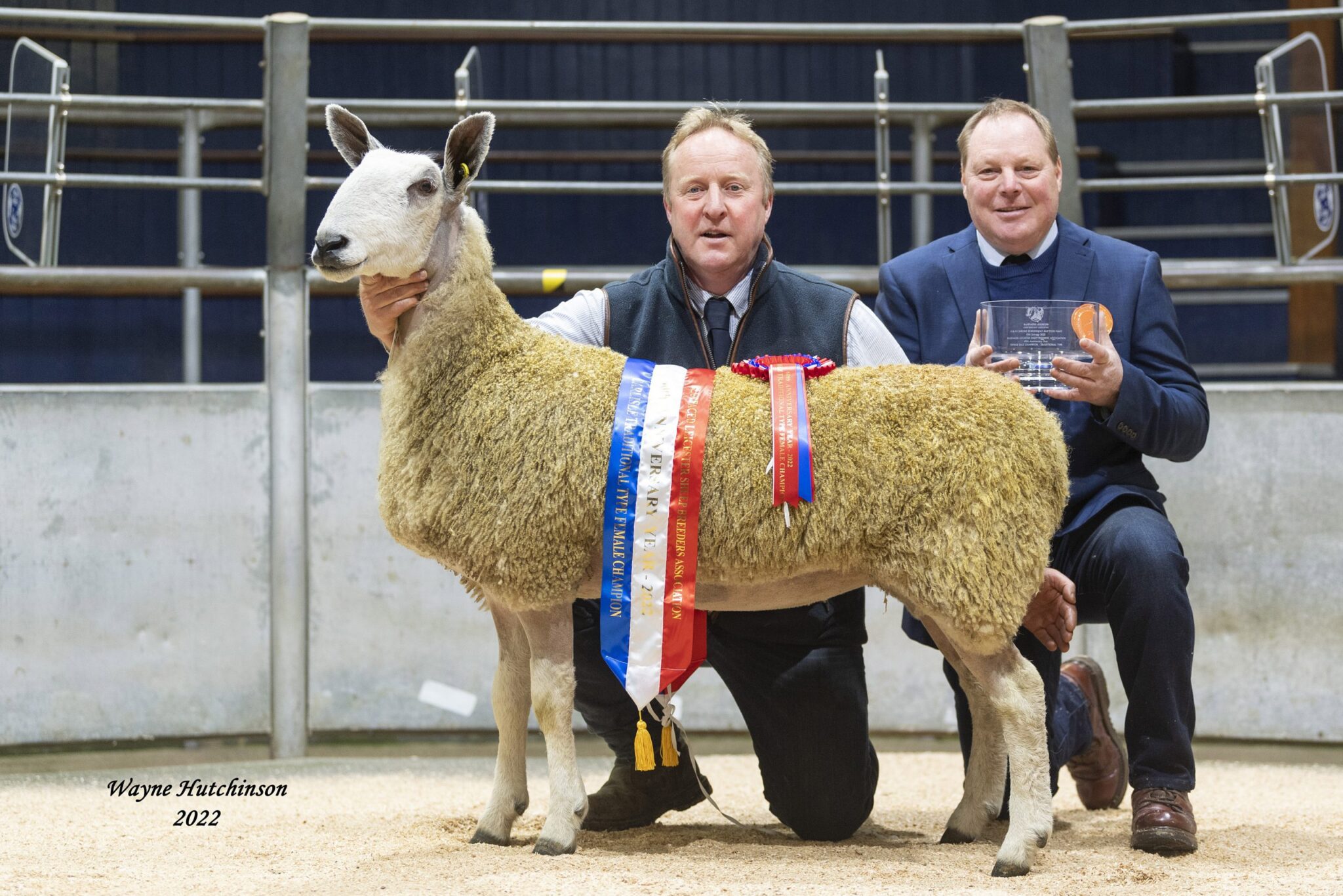 Blue Belles – Carlisle Traditional Female Sale 2022
10th January 2022
Carlisle
Mr A Hewson, Parton
Blue Belles.
The Bluefaced Leicester female sales kicked off in some style at Carlisle as the traditional type held their Blue Belle sale, with a cracking selection of sheep forward, with averages well up, showing a strong demand for some great sheep. The average in the gimmer shearling section was up over £320 on the year with 4 more sold than last year. There was a good crowd around the ring and demand was strong from the start to finish for the best sheep.
Topping the trade and having a flyer of a sale was, once again, Alan McClymont from the Kirkstead flock, who are in a red-hot seam at the moment. They topped at 2600gns with a gimmer with some great bloodlines in her, by the 1800gns Whinney Hall, a son of the great T1 Cocklaw, and out of a ewe by the £6800 D17 Shrewbridge. She is carrying twins to Leadburn Lea M3, a £5200 purchase out of the Hexham rearranged Kelso sale. It was knocked down for 2600gns selling to Messrs Thomas, Dolfechlas.  The first Kirkstead gimmer into the ring took the days overall champion, a smart, correct, well skinned sheep in perfect condition. This one was by the Ashes L1 and out of the homebred J24 which has bred well for the Kirkstead flock. Carrying twins to the Blacket House P1 bought last year as a lamb it was purchased by Messrs Fleming, Teviot Head, Hawick. The full sister to the champion, taking 3rd prize in the show, carrying twins to the Leadburn Lea sire also sold, fetching 2000gns.
Dewi Williams, Blacket House had a strong consignment of sheep in and topped at 2200gns for a gimmer shearling by the £6500 Mendick and out of a great ewe by the old A1 Carry House. This one was carrying twins to the Medwyn N2, which has done well for them, with his first crop of tup lambs averaging £2700 last year at the sales. She goes to a good home with Messrs Gray, Low Espley forking out the readies for her.
Not all the cash that the McClymonts raked up stayed in their pockets for long as they took home two fresh sheep, both from the same flock, paying 1600gns first for a gimmer shearling from Raymond Baynes of the Beldhu flock. They weren't going too far away from their bloodlines, with her being by Kirkstead L1 and in lamb to another of their own breeding, N4 Kirkstead. The other they bought stood second in the gimmer hogg class, and again it was 1600gns. Again, it was by their own L1 Kirkstead, a son of the G1 Burndale which has done ever so well for them. Goes to show that you can't get enough of a good thing. Well, that's what Alan thinks anyhow!
Averages
2 Ewes                £1207.50
28 Gimmers        £1089.38
11 Ewe Hoggs  £630.00
Aged Ewes
| Placing | Class | Exhibitor | Flock Name | Lot Number |
| --- | --- | --- | --- | --- |
| 1st | Aged Ewes | M Gray | Espley | 23 |
| 2nd | Aged Ewes | D W Williams | Blacket House | 26 |
| 3rd | Aged Ewes | M Gray | Espley | 24 |
| 4th | Aged Ewes | S Nelson | Medwyn | 50 |
Gimmers
| Placing | Class | Exhibitor | Flock Name | Lot Number |
| --- | --- | --- | --- | --- |
| 1st | Gimmers | R A McClymont & Son | Kirkstead | 15 |
| 2nd | Gimmers | D W Williams | Blacket House | 27 |
| 3rd | Gimmers | R A McClymont & Son | Kirkstead | 16 |
| 4th | Gimmers | G Milne | Kinaldy | 41 |
Ewe Hoggs
| Placing | Class | Exhibitor | Flock Name | Lot Number |
| --- | --- | --- | --- | --- |
| 1st | Ewe Hoggs | S Nelson | Medwyn | 52 |
| 2nd | Ewe Hoggs | Raymond Baynes | Beldhu | 37 |
| 3rd | Ewe Hoggs | Raymond Bayes | Beldhu | 35 |
| 4th | Ewe Hoggs | M C Roberts | Myfyrian | 45 |
Bluefaced Champions
| Category | Exhibitor | Type |
| --- | --- | --- |
| Overall Champion | R A McClymont & Son, Kirkstead | Gimmer |
| Reserve Overall Champion | M Gray, Espley | Aged Ewe |
Gallery
Back to Archive