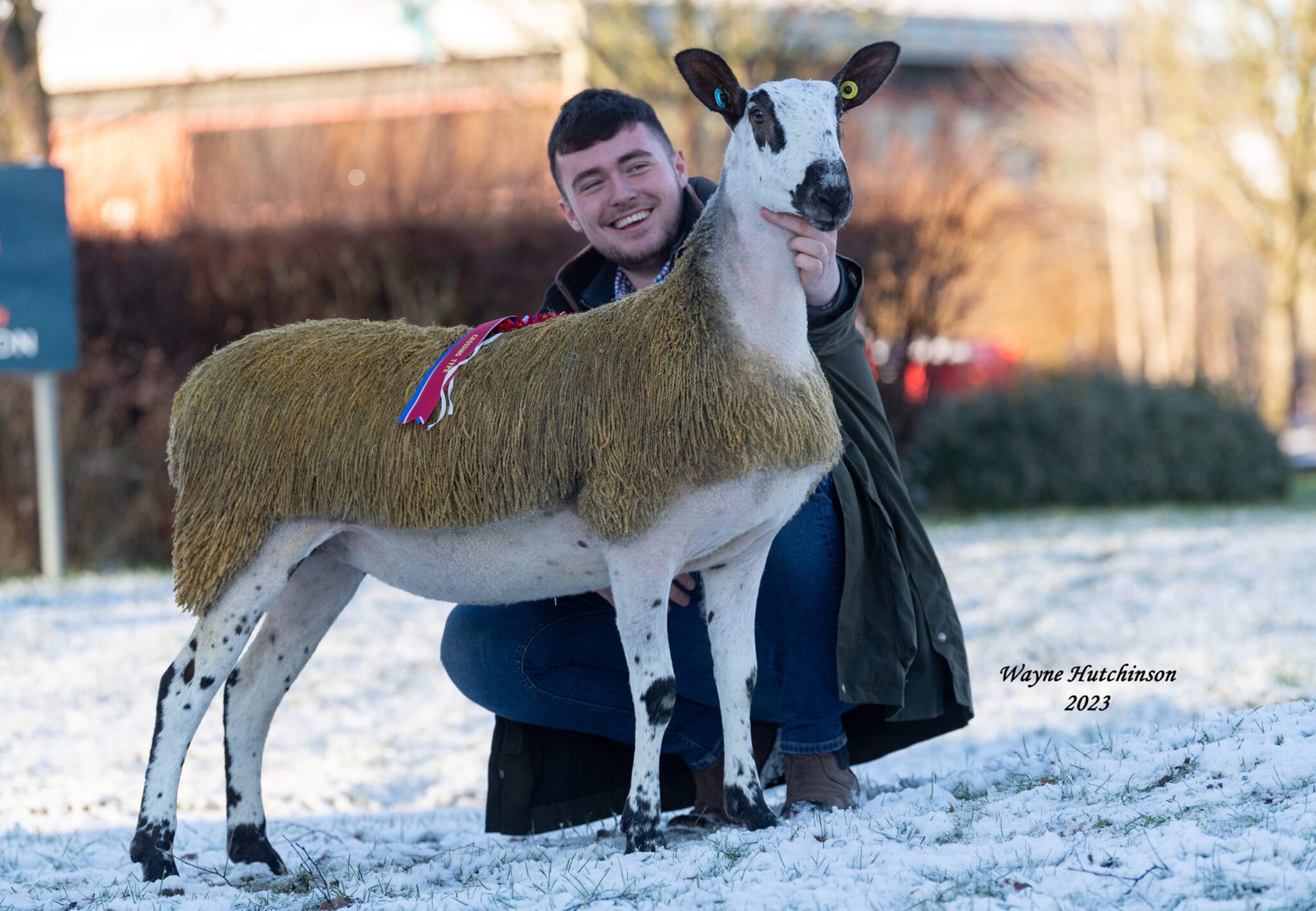 Carlisle – Classy Lassies – Monday 16th January 2023
16th January 2023
Carlisle
Mr Rob Walker, Brennand Flock
Classy Lassies – Monday 16th January 2023
H & H Carlisle
A packed ringside from start to finish at the Classy Lassies saw a strong trade throughout, without breaking any records, with averages and numbers down across the board. Buyers were in attendance from all over the UK, on what was a very cold, snowy day.
There was a great selection of gimmer hoggs on show, with some good bloodlines available and it was a cracking hogg from the Hewgill flock which topped the days trade. This stunner was by the P1 Marriforth which was behind the lambs sold at Hawes last autumn and out of a ewe by the L7 Riddings, which has been doing a great job for the flock over the last couple of years. Shaun Procter was the eventual buyer, with the hammer dropping at 7500gns. The Hewgill team also took the second top price with a striking gimmer hogg by the same tup, and full sister to the £40,000 and £15,000 tup lambs out of Hawes last year. This one sold to Robbie Hallam, High Birkwith for 6000gns.
Riding high the crest of a wave following last years tup sales, Dawyck followed up with a cracking sale, selling their pen leader, a daughter of the £30,000 Hewgill P1, which again goes back to the Riddings L7 and out of one of the flocks most influential ewes, H38, which starred in the Champion group at the Highland show as a gimmer lamb and stood Reserve Interbreed at Biggar show as a gimmer. She has already sold tups to 8000gns at Kelso and this breeding is why Murvin and Adele Sowerby, Langton, were prepared to shell the readies for her, forking out 5500gns for her.
Peter Smith from The Dyke enjoyed his best day out at the gimmer sales, selling his best lamb for 5000gns. Helped by granddaughter Abbie, he brought out the daughter of his Hargill House tup, which he purchased for a bargain £1000 a number of years back, which has seen him win the second sale at Lazonby the last three years with lambs mainly sired by this consistent sire. He was out of a Carry House sheep, by Jackpot, bought as a gimmer lamb at Carlisle. This one sold to Kevin Ridley, Shitlington.
Kirkby Redgate enjoyed a canny trade early in the sale, selling their pen leader for 4000gns. This one was full of great breeding, by the Hewgill P3, which was behind a lot of his best mule gimmers last autumn and was used very hard this year. It was bought by Burrow and Rutter, Langwathby Hall.
The top priced gimmer was a powerful sheep from Andy Hunter, Steel. This one was by the L1 Asby Hall, which has done so well for them and out of H12 Steel, which bred the K1 Steel, which sold for £20,000, by the legendary G34 Midlock. She was carrying twins to the £25,000 R27 Midlock, bought out of Hawes last year. She sold into Northern Ireland with 93 year-old Geard McCrystal, who decided they needed to lamb a few more ewes!
The champion of the day, as judged by Rob Walker, Brennand Farm, went to the Macqueston flock again, following on from last years achievement. This year's champion, a smart, cocky, hogg was out of the same ewe as last year. This one is by the M1 Highberries. It sold for 3500gns, selling to Graham Jackson, Bentham.
A trio more sheep made 3500gns. The first was a powerful gimmer from Midlock, by the homebred M40 Midlock and out of a flashy clean Cottage ewe which they bought. She was carrying twins to the P2 Riddings, selling to M/s Brooke, Glenluce. As always, the Midlock pen impressed and they had a good solid trade all through, with another at 3200gns and the first prize gimmer and reserve champion, by the Riddings M1, fetching 2000gns.
Tom Willoughby from the Penhill flock sold a very tidy gimmer hogg for 3500gns to J&M Forbes Ltd, Pitlochry. This one was by Midlock N23 and out of a ewe by the £20,000 K1 Steel.
Late on in the sale Martyn Archer, Carry House, enjoyed a good trade, with his first lamb making 3500gns, this one by the homebred Carry House Ronaldo and out of a show ewe which is out of the sister to Jackpot, and is one of the most influential ewes in the flock. Browell's from Quarry House were keen to bring these bloodlines into their flock, out bidding all comers to take her home. Martyn saw a good trade with another Ronaldo daughter at 2800gns and a brace more making 2000gns.
38 Hoggs £2105.53
8 ewes £358.31
35 gimmers £1209
Ewe
| Placing | Class | Exhibitor | Flock Name | Lot Number |
| --- | --- | --- | --- | --- |
| 1st | Ewe | J Stenton | St Ravenscar | 34 |
| 2nd | Ewe | J Stenton | St Ravenscar | 38 |
Gimmer
| Placing | Class | Exhibitor | Flock Name | Lot Number |
| --- | --- | --- | --- | --- |
| 1st | Gimmer | J Wight & Sons | Midlock | 77 |
| 2nd | Gimmer | J K Hunter | Glen | 19 |
| 3rd | Gimmer | J Hunter & Sons | Steel | 97 |
| 4th | Gimmer | J Wight & Sons | Midlock | 78 |
Ewe Hogg
| Placing | Class | Exhibitor | Flock Name | Lot Number |
| --- | --- | --- | --- | --- |
| 1st | Ewe Hogg | A Brown | Macqueston | 15 |
| 2nd | Ewe Hogg | R D Archer & Son | Carry House | 123 |
| 3rd | Ewe Hogg | Messrs Lord | Hewgill | 31 |
| 4th | Ewe Hogg | J Hunter & Sons | Steel | 100 |
Bluefaced Champions
| Category | Exhibitor | Type |
| --- | --- | --- |
| Overall Champion | A Brown | Ewe Hogg |
| Reserve Champion | J Wight & Sons | Gimmer |
Gallery
Back to Sale Reports