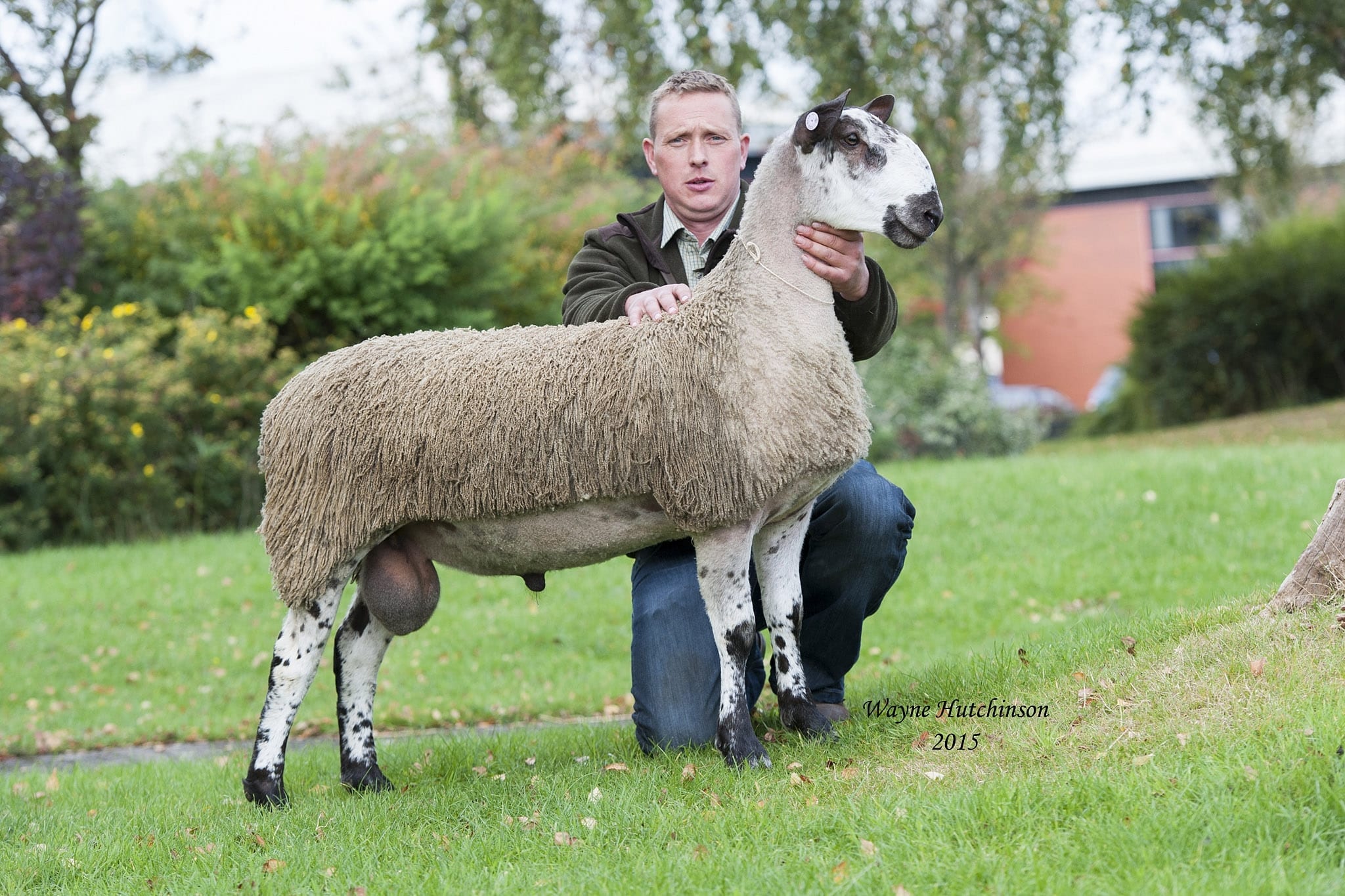 Carlisle Crossing Type Rams & Female Sale
9th October 2015
Carlisle
Mr R Ellis, Ilkley Moor (Males), Mr B Wight, Midlock (Females)
The final big sale of the Bluefaced Leicester season saw a great catalogue of sheep forward, with nearly 1200 entered it was always going to be a marathon of a sale. The Carlisle sale is a melting pot of the breed, with high flyers from all sides of the breed selling, from the more traditional types to the modern crossing types. With this in mind it was decided to sell ram lambs of both types through their own separate rings, with the aim of making sure the sale didn't stretch to the epic proportions of Hawes. This proved to be a success, with the final hammer falling around 6.30 pm.
In the crossing section the top price went to the noted Riddings flock run by Geoffrey Porter and his father James. Their sale topper, H22 Riddings was a cracking lamb full of power and style and caught the eye of several breeders who chased him hard in the ring. He is by the homebred E22 Riddings Domino, who is doing so well for the flock, and sire to a lot of gimmer lambs in their run at Hawes, which saw them average £115. He is out of a good breeding ewe by D1 Todhills. His full sister has had a successful show career for Jack Buckle, taking the breed Championship at Brough Show last year. Born a quad, he has developed into a real stunning lamb and no doubt M/s Carr, Camphill from the Homilton flock based near Hexham will be hoping he passes on the same great genetics as they offered the final bid of £7000.
The very next flock into the ring was from Messrs Lord, Hewgill, and they took the next highest price, with a solid tup lamb, H25 Hewgill, catching the eye of George Shields, Ravenstonedale, who was determined to fetch it back home to use on his Skeughdale flock. He had used its sire, E47 Hewgill himself as a lamb and described it as a "Hell of a getter" and has had an eye on its progeny for a while. It is out of a ewe by B4 Hundith X Factor. Once again it was full of power and great skin, with a great clean white, which is in vogue at the moment. He had to fork out £6500 for his services.
Richard Waugh from Kilnstown enjoyed a good trade with his first prize tup shearling, selling him in a £5000 deal to Julie Lee, Agars Hill and Neil Marston, Highberries. They run 25 ewes at their Bewcastle based flock near Carlisle, and enjoyed a good run of Mule gimmers this year. Their tup G15 had a lamb in their top pen which was in the prizes at Carlisle. He is by B15 Keer which they bought out of Bentham for £1500 and his mother was by the homebred X10 Kilnstown, which is proving a good crossing line on the farm.
Another hitting the £5000 mark was a Midlock lamb by the Mustang, which has seen quite a trade again this year for his lambs, following on from last year's success. Out of a ewe by the E1 Hewgill, he sold to Messrs Warnock, Dreva. Midlock also had another E1 Hewgill son sell to £3800 to Henry Ridley, Wood Hall. The Midlock pen enjoyed a great trade again, with their genetics in great demand and saw the pen average £2450 for eight lambs forward.
Next up at £4000 was H7 Low Tipalt, a stretchy lamb from Ron and Fran Wilson from their Low Tipalt flock, making their debut at the sale. Its twin brother had already sold at Hawes for £4200 and its full sister a year older, was Interbreed Champion at Eastgate and the breed champion at Skelton, so it's certainly full of potential. He is by the F1 Oak House, which is doing so well, by the D17 Hewgill which all high flyers at Hawes were harking back too last week, and out of a ewe by the legendry Z4 Hundith. He sold in an international deal in a two way split to John Holden, Larne and K McGrath, Pettigo, Co. Donegal, Eire.
The Champion came from the Hanging Wells flock with H1 Hanging Wells. He topped a strong show, judged by Richard Ellis. By the £6000 E28 Midlock and out of a ewe by C5 Shafthill, he oozed power and style. He sold for £3000 to Sandy Ainslie, Linkshead Farm, Cockburnspath, Berwickshire. The Hanging Wells pen sold well, averaging 1545 for 11 tup lambs, this on the back of a year which saw them sell 1470 ewe lambs at Hawes to average £93, with their top lambs averaging £127 at Hexham, making it quite a good year for them.
Kirkby Redgate fresh from their success at Hawes were back in among the tickets, taking the Reserve Championship with a powerful lamb by G1 Hewgill, which has done so well for Redgate, with five lambs in his Kirkby Stephen top pen and three in his Champion pen at Penrith. He is the full brother to his second tup at Hawes which sold to the Lakedale flock, and also sold for £3000 to M/s Emmott, Wythop Hall.
312 Lamb Rams (crossing) averaged £847.79
Gallery
Back to Archive