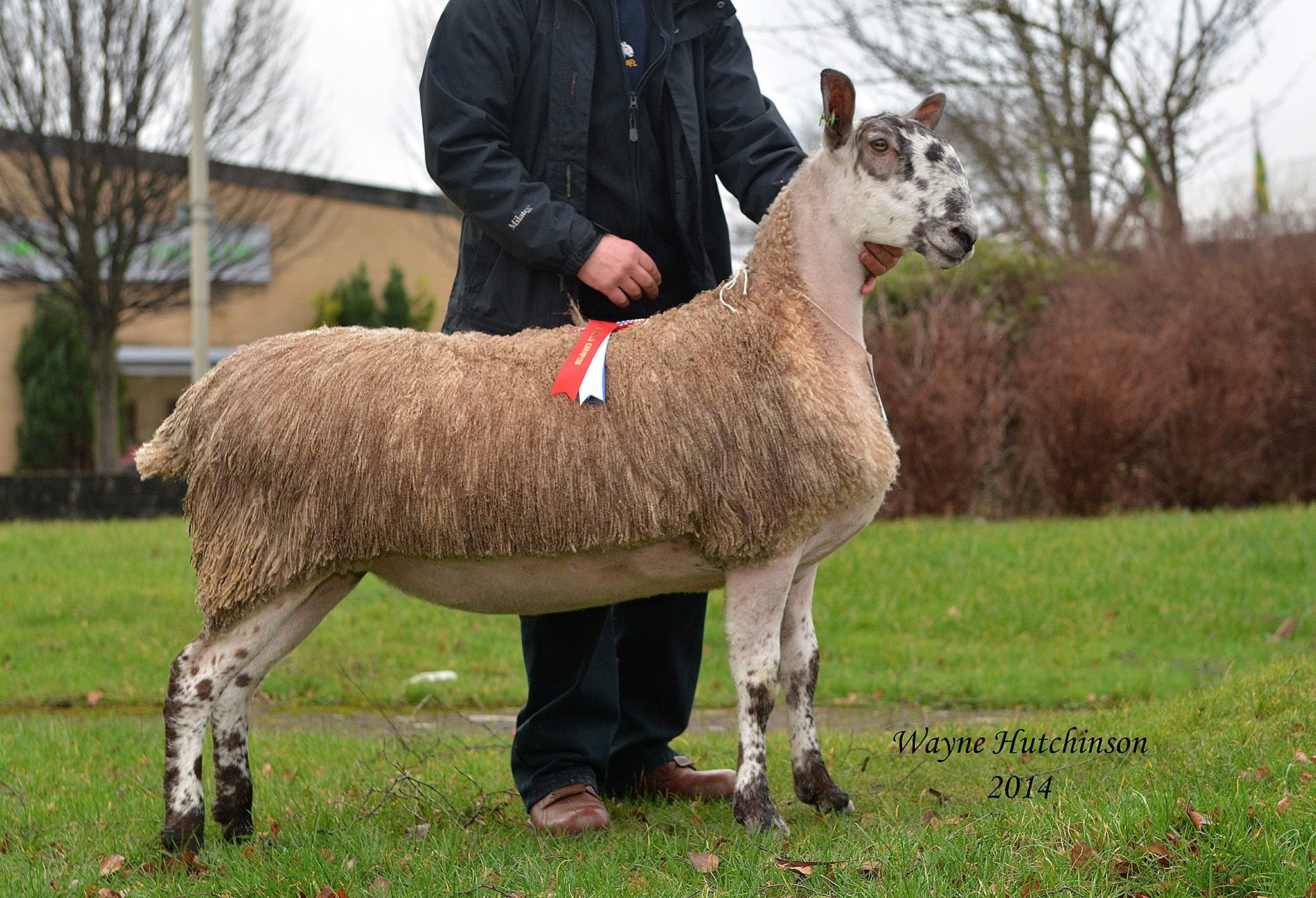 Carlisle Female Sale
20th January 2014
Carlisle
Mr G Shields, Skeughdale
Once again the popularity of the ultimate crossing sheep came to the fore as 250 female Bluefaced Leicester sheep came under the hammer at Carlisle. With buyers and sellers from all corners of the UK crowding around a packed ring, which at times saw standing room only, saw a strong trade and a generally strong outlook on the future of the sheep industry of which the breed is central to.
Topping the days trade was a one crop ewe from Messrs Booth of the Smearsett flock, Feizor in Lancashire. They enjoyed a great trade at Hawes over the weekend, but surpassed any expectations with a flying trade with their pen of females at Carlisle. It was their first prize ewe which attracted the attention of the top breeders, combining some strong crossing bloodlines with a powerful well made sheep with a great skin. It is by A6 Smearsett, which was sold to Kirkby Redgate as an aged ram for £8000, and out of a ewe by R1 Lunesdale bought for £3000 from the Keer flock and has already bred gimmers to £5000 and tups to £4500. She is carrying triplets to D15 Smearsett, a son of the Z4 Hundith, which has left such a mark on the breed over the last few years. Some frantic bidding ensued when she came into the ring and the hammer fell at 9500 gns with Scottish breeders Jimmy Bell, Cottage and Neil Laing, Garscube the successful bidders. They also sold a gimmer shearling by the £11,500 A1 Hundith, again carrying triplets for 3000 gns to Ron and Fran Wilson, Low Tipalt, which helped lift the flock average for the five sheep sold to just shy of £4000, a good days work.
Next highest price came from the renowned Midlock flock. Their annual consignment of gimmers caused quite a stir all day, and there were some great gimmers on show. They took a clean sweep in the gimmer class, taking 1st 2nd and 3rd places. It was the first prize gimmer which set the trade, by the B4 Tanhouse Farm and out of a ewe by Controversy, she was the first of the Midlock consignment into the ring and after some pacey bidding she sold for 4000 gns, carrying twins to the E1 Bull & Cave. Taking her home was Jamie Pirie from the Blarnavaid flock, Stirling. Another gimmer, this time by the homebred C63 Midlock and again out of a Controversy ewe carrying triplets to B4 Tanhouse Farm, sold in a 3000 gns deal to R J Shennan, Farden Farm. The Midlock 2nd prize gimmer sold for 2700 gns to Jack Buckle, Buckles Farm. This was same breeding as the first prize gimmer, carrying twins to the E1 Bull & Cave. Midlock ended the day with a stunning average of  £1750.88 for 20 gimmers sold.
A cluster of other sheep sold at the 3000 gns mark, including the Reserve Champion from Kirkby Redgate. It was sired by the £14,000 E1 Old Hemley and out of a ewe by the A5 Gragareth, which has left some exceptional sheep in the Redgate flock. This long, modern type of a sheep was bought by Northern Irish breeder John Blaney from the Tievebuaile flock. Redgate also saw a 2500 gns bid for a gimmer lamb by the £8000 A6 Smearsett, again out of a ewe by A5 Gragareth, selling to David Abberley, Old Hemley.
The other 3000 gns bid came late in the sale, with trade holding up to the very end, for John Stott, Laund, for a ewe by B17 Mereoak, carrying twins to D7 Midlock. This immense ewe was taken home to Alwinton Farm in Northumberland by H G &D J Dixon. The Laund flock also got a bid of 2500 gns for another gimmer by the B17 Mereoak, carrying twins to the F32 Marriforth.
Once again it was the Hewgill flock which walked away with the red white and blue championship ticket, judged by George Shields, Ravenstonedale. He placed the Hewgill gimmer hogg, a tremendously modern type of a sheep. She was by the prolific B41 Hewgill and out of a ewe by Z14 Hewgill which has bred some good lambs, including a tup they are using themselves. It sold for 2000 gns to James Porter, Riddings.
Averages – 55 Ewes £1196.62, 87 Gimmers £871.98, 56 Ewe Lambs
£ 974.44                   
Leading Flock Averages
Smearsett (5) £3948. Hundith (3) £2520. Kirkby Redgate (4) £2073.75.
Hewgill (4) £1863.75. Midlock (20) £1750.88. Bull & Cave (3) £1277.50.
Duhonw (21) £1272.50. Dreva (3) £1218.00. Drimsynie (4) £1089.38.
Laund (10) £1044.75. Cottage (5) £917.70. Firth (3) £892.50.
Lunesdale (3) £787.50. Teviot (20) £ 706.65. Ty-Gwyn (27) £700.
Kentmere Hall (3) £577.50. S.P.Dalpeddar (4) £511.88. Haining House (3)
£490. Dawyck (7) £457.50. Seaview (7) £414. St.Ravenscar (8) £413.43.
Carry House (16)  £357.
Gallery
Back to Archive