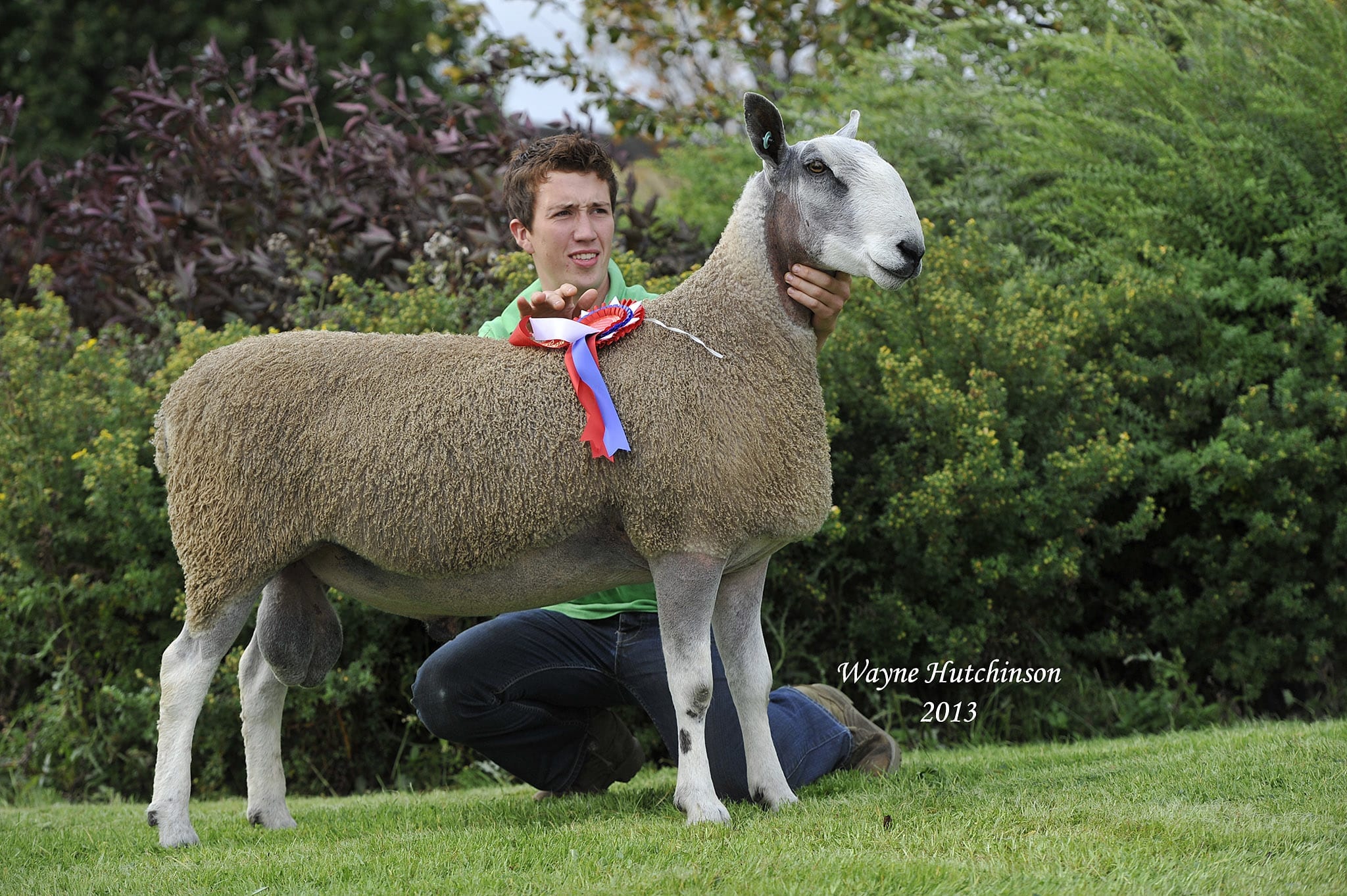 Carlisle Ram & Female Sale
11th October 2013
Carlisle
N Robinson, Cocklaw, R Thompson, Ewanston (Rams), G Roberts, Myfyrian X (Females)
The final event of the Bluefaced Leicester calendar proved to be a great finale, with a good crowd of buyers, and a great selection of sheep on show, with 676 sheep finding new homes. Trade was strong throughout the day, for strong correct sheep of both traditional and crossing bloodlines.
The sale topper came late in the day when noted breeder, Frank Johnson from the Ashes flock set a new record for his flock, when he sold F2 Ashes for 8500 gns to Michael Gray, Low Espley. His lamb, a powerful lamb, with some great bloodlines, has always been the apple of Frank's eye. "I always thought he was a bit special" he said, "but never imagined it doing as well as that" he enthused afterwards. It is sired by the £2200 D1 Cernyw and out of a ewe by X1 Westow, which has been a good solid breeder over the last few years.
Earlier in the day John and Mandy Smith Jackson enjoyed a cracking trade when they saw their first lamb through the ring, F4 Shafthill hit 8000 gns. This smart lamb is a son of C2 Shafthill, a son of Z4 Hundith, which has taken the progeny title at Penrith for the last three years, and out of a ewe by Z21 Shafthill, which also bred the top priced shearling of the day, at 4000 gns. Buying the lamb was David Brown, Agglethorpe, who has chased a number of top notch lambs this back end, and eventually landed a cracking lamb with great potential. The Shafthill flock didn't finish there, as their second lamb in, F8 Shafthill, by the £6000 E28 Midlock and out of one of the flock's top ewes by the C2 Shafthill, went on to make 7000 gns selling to Steven Abberley, Old Hemley. They have retained a full brother and sister, and also sold a full brother at Hawes for £3000. Quite a productive flush!
It was a young April born lamb which proved to be the headline act in the Riddings pen. This noted flock enjoy a great reputation, and their last lamb into the ring really caught the eye. Sweet, with a great skin, he attracted a lot of attention, and eventually sold for 6000 gns in a joint deal to D Hall, Firth and T Dick & Son, Hamildean. He is sired by the 15,000 gns Todhills D1 and out of a ewe by the £9000 Asby Hall B1, a good breeder, which they are keeping a tup out of for their own use and have sold another half brother for £4000.
Robin Bell, from the Scarrowmanwick flock, one of the original flocks when the breed was first formed 50 years ago, enjoyed a great trade with his first lamb. It was one of the more talked about lots in the sale, and there was an air of expectation when it entered the ring. He was a homebred tup and out of a ewe by A13 Hundith. The bidding kicked off at 1000, several top breeders bid against each other, with the hammer finally dropping at 5100 gns, and the tup going in a split deal to Jack Lawson, Hundith and M/s Porter, Riddings.
Close behind, on 5000 gns was Richard Hutchinson with F22 Kirkby Redgate. He was by the prolific D17 Hewgill which they bought privately from the Hewgill flock, and was the sire to the most lambs in the flock's top 120 Mule gimmers, which averaged at a massive £202, and he is out of a ewe by Y25 Hewgill, which has bred other tups which are doing well, so with this breeding behind him, he was always one to watch. Harry Gass, Nunscleugh was forking out the readies on this one.
The supreme Champion on the day came from Elfyn Owen, Cernyw with D3 Howlea, a tup his son Ifan had bought as a tup lamb. He has proved a successful buy, siring champions at shows and sales, as well as taking some titles himself, including male Champion at this year's progeny show in Welshpool. He was always going to catch the eye of the judges, Nicky Robinson and Robin Thompson, for his sheer size, power and conformation, and it was the judge Nicky Robinson who took him home, paying 2200 gns for the privilege of doing so, and proving a good return on the modest investment that Ifan put into him a couple of years ago.
In the female section the champion came from Dewi Williams from the Elian flock, who were selling some females for the first time, and it was E102 Elian which caught the eye. This daughter of B1 Lowes Fell has been shown successfully this season and unbeaten in the female section, and she carried that on through the pre sale show. She took the day's top price in the female section, selling for 2000 gns to Geraint Jones, who has just established the Carrog flock.
As the season draws to a close once again, it has been one to look back over, and whilst trade has been solid but maybe not spectacular, it is interesting to note that buyers are looking for tups with plenty of power and conformation as well as just the good bloodlines. This is a fashion that has been growing over the last few years, but was perhaps more noticeable this year, and will no doubt continue to have a bearing on the future of the breed.
Gallery
Back to Archive