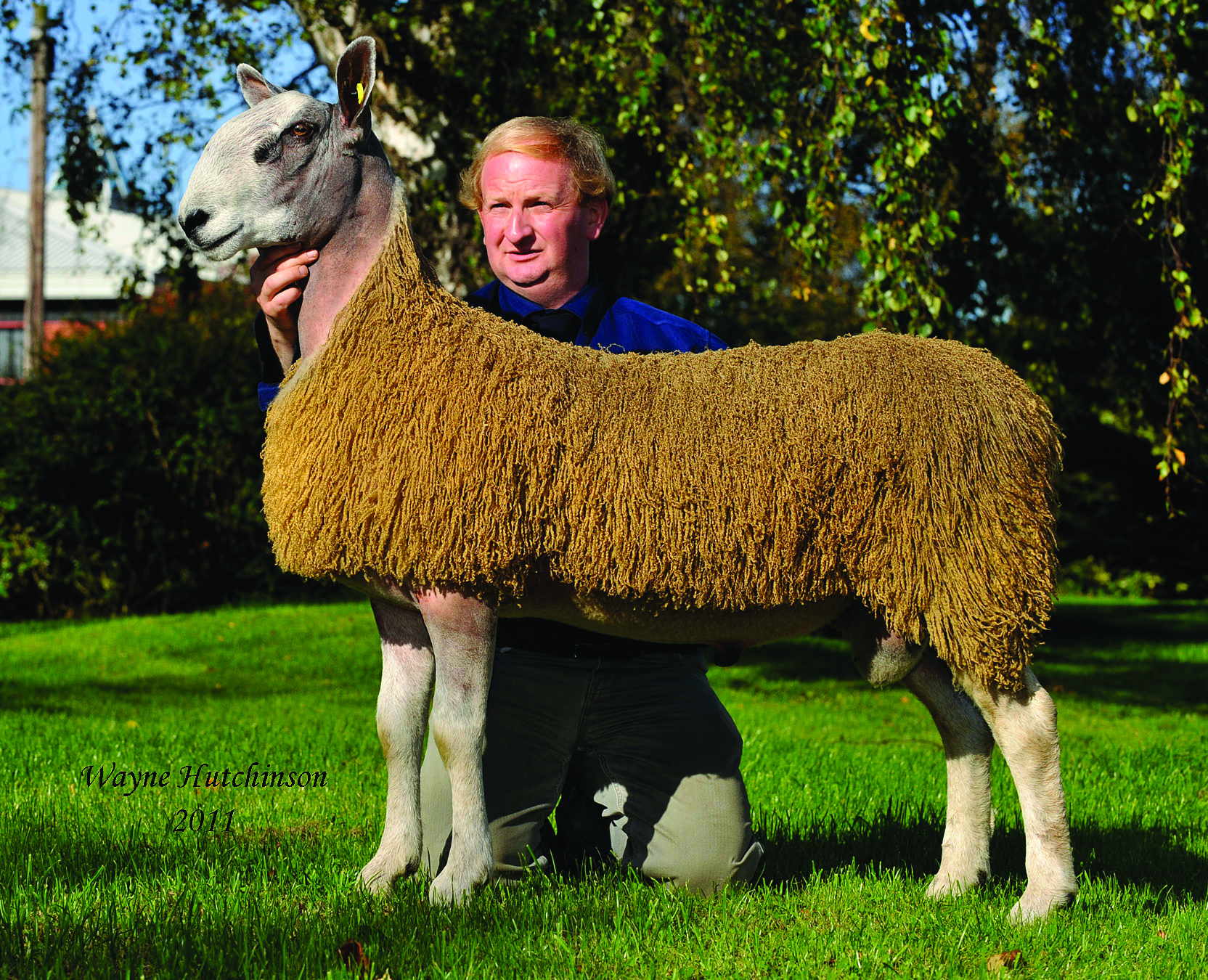 Carlisle Ram & Female Sale 2011
7th October 2011
Carlisle
S Bryson, Kilfaddoch & A Jones, Craig Yr Orsedd (Males), D Henderson, Burndale (Females)
Carlisle is rapidly becoming the main sale centre for the Bluefaced Leicester sheep, with over 870 sheep catalogued, and a cracking trade to boot. There was a bumper crowd and a new centre record for the breed, making it a worthwhile sale for most people involved.
Sitting at the top of the tree, in the terms of prices were the Hewgill flock from Stainmore, Kirkby Stephen. Fresh from setting the shearling record the evening before at Penrith they carried on where they left off with a tup lamb D22 Hewgill, which was the twin to their £10,000 lamb sold at Hawes last week. By the B41 Hewgill, which is behind some of the best Mule lambs in the noted Hewgill pens this autumn, and out of a ewe by Z14 which has been a good breeder, he was knocked down after some fierce bidding in a joint deal to Geoff Taylor, Swarthburn and S Allan & Sons, Greenhow for £16,500.
Two high powered consortiums faced each other off for the right to use the D1 Todhills tup lamb on their sheep this back end. Under bidders Allan Wight, Midlock and Jimmy Bell, Cottage were knocked out by noted North of England Mule breeders James Porter, Riddings, R Busby, Harland and W A Dinsdale, Harkerside who saw a bid of £16,000 clinch their pick of the bunch. This powerful lamb was by homebred Z6 Todhills, sire of last year's £10,000 lamb and out of a ewe by another homebred tup, V10 Todhills, which was the grandmother to last year's sale topper from the flock. The Todhills flock, run by Messrs James, enjoyed a strong trade throughout and saw an average of £2857 for seven lambs sold.
One of the most influential sires over the past couple of years, B4 Tanhouse Farm, was again taking the headlines as the Firth flock from Douglas Hall enjoyed a cracking trade with his five lambs. They were all by the Tanhouse and saw him average £4700, with his pen leader, D2 Firth, out of a £3500 Dreva sired ewe selling for £9000 to J Pirie of Blarnavaid Farm, Dyman.  There were bids of £5000 for two others out of the Firth pen, with D1 Firth selling to Irish breeders R Loughridge, Orravale and S Laverty, Orraview and D5 Firth, out of a ewe by Y2 Dreva, selling to Welsh breeder Ricky Lund, Wellan.
Local breeder, John Smith-Jackson, had a good day at the office despite being early through the ring. His top priced lamb sold for £7000 in a joint deal to J Park, Dalpeddar and Alex Brown, Macqueston. This stylish lamb was by the homebred C2 Shafthill, which had sired eight Mule gimmers in the Smith-Jackson champion pen at Carlisle, which sold for £420, and out of a ewe by Z21 Shafthill. He then went on to sell another for £6000 to Crow Hall Farms. This one, D5 Shafthill, was again by a homebred tup, B20 Shafthill, an embryo son of Z4 Hundith out of a ewe by S25 Shafthill, and saw the Shafthill flock average £3366 for six lambs sold.
Welsh breeder Michael James has enjoyed a good trade with his tup lambs all back end and the Carlisle sale was no different, drawing a good crowd round his pen throughout the day, and his trade peaked with his second lamb in the ring, D6 Duhonw, a mid April born triplet with loads of power and style by B1 Duhonw out of a ewe by A5 Hawkswell. It sold for £7000 when Jim Pedley of Yore House Farms, who had been chasing several higher priced lots all back end, finally landed their tup, knocking back Messrs James Todhills, who went on to buy his twin for £2000. Michael James reinvested some of his sale when he bought out of Jack Lawson's pen, who again had a good day out, following on from his cracking sale at Hawes last week, with a pen leading bid of £5000 for a son of B4 Hundith "X Factor" out of a ewe by V3 Kentmere.
The champion of the day came from Scottish breeder Matt Drummond, Cassington, with a powerful tup lamb which scored well in the performance related classes, being in the top 1% of the breed and the highest muscle depth in the breed ever recorded. Many breeders feel the performance related scoring will be a growing influence on the breed as buyers look to maximise their wether lamb market as well as breeding strong replacement sheep. This smart lamb is by B10 Myfyrian Blue Dragon and has been on the show circuit this summer, shown by Matt & Elaine's 5 year old son James, and out of a ewe by the £1600 Thornton le Dale. Its full sister was part of the champion progeny group at Penrith earlier in the summer, and he was sold for £3500, a record for the flock, to M Seed & Son, Home Farm, Turiff.
Auctioneer Scott Donaldson was pleased with the trade of the sale and noted that buyers were again selective of the best animals, with tups of good conformation and skins the ones setting the pace, and that less correct sheep were harder to move, something that sellers have to bear in mind when selling at this sale where there are a lot of sheep to pick from!
Gallery
Back to Archive