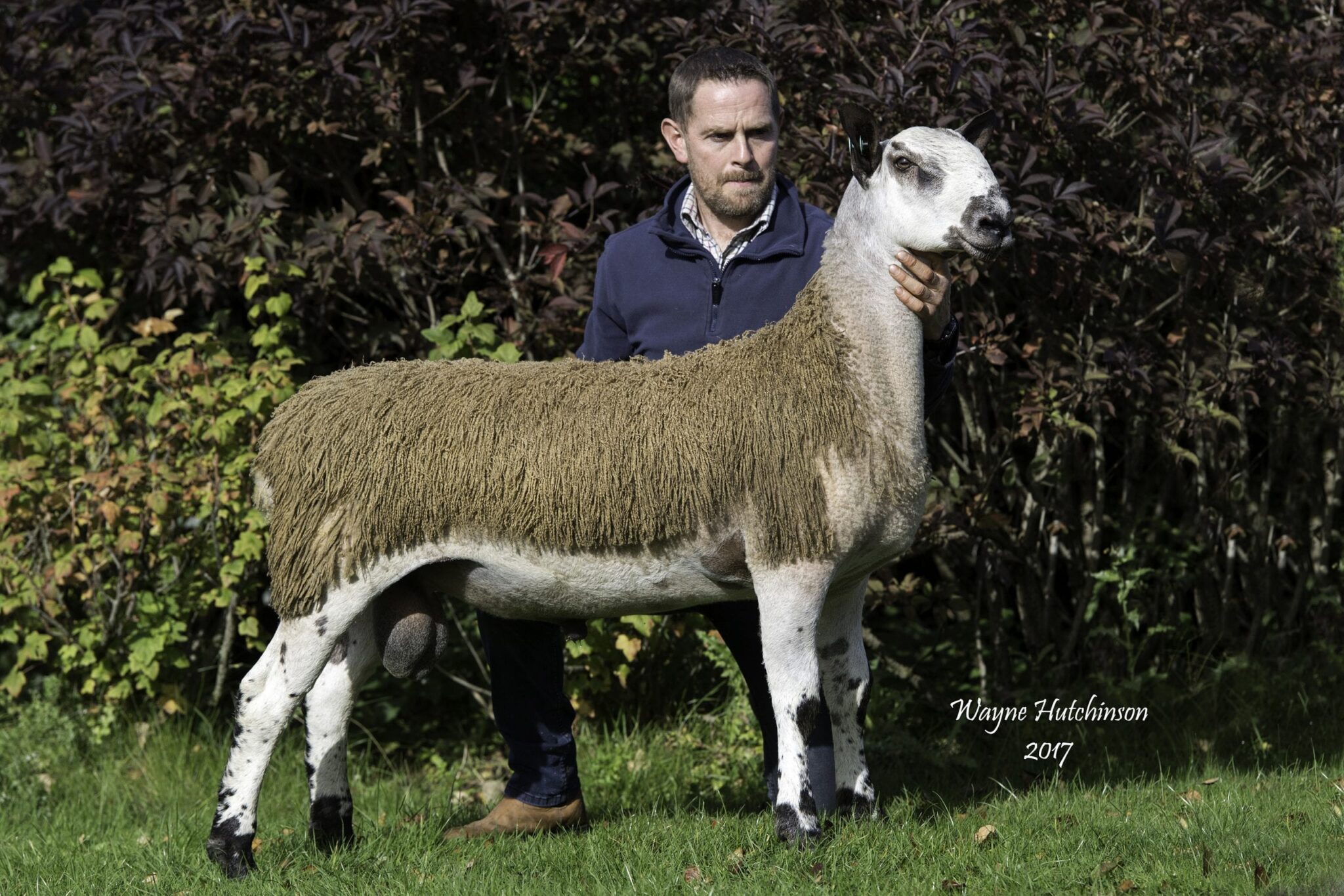 Carlisle Ram & Female Sale – Crossing Type
6th October 2017
Carlisle
Mr N Allan, Lakethwaite (Males), Mrs G Sedgley, Langstroth (Females)
Carlisle sale is the last big sale of the Bluefaced Leicester season and it certainly went out with a bang and not a whimper. Over the course of the season, a massive total of 4859 sheep, predominantly rams, have been entered in Association sales all over the UK, outlining the importance to the UK sheep industry the Bluefaced Leicester has, from the top of Scotland to the tip of Cornwall and all areas in-between. Over the years each sector has developed the breed as suits their crossing needs, proving the breed to be just as adaptable today as it was when Robert Bakewell developed the breed in the eighteenth century with a bid to revive the sheep industry back then. Little would he be aware that what he started continues today. The Carlisle sale serves as a melting pot for all sections of the breed, both the traditional type and the crossing type, and with over 1200 sheep entered for this sale, there was a lot of choice on offer. The sale was kindly sponsored by Tom Stevenson of Natural Stockcare.
After the craziness of the Hawes marathon just over a week previous, it soon became apparent that the wallets weren't empty just yet as breeders looked for the right tup for their flock The high point of the sale was reached late in the sale as a smart lamb from John and Mandy Smith-Jackson of the renowned Shafthill flock enjoyed their best trade ever. Their pen leader had an admiring crowd around the pen all day and all that attention soon turned to bids when he strode into the ring. Bidding was brisk, with the auctioneers not messing around with their job with all the sheep forward, and the hammer fell a short while later at £18,000 with the purchasers, Richard Hutchinson, Kirkby Redgate and Jack Lawson, Hundith delighted at having got their target. K8 Shafthill is by G30 Midlock, a £3500 purchase from Longtown, a son of the imperious Midlock Mustang. He is out of the flock's best ewe by the homebred C2 Shafthill, which goes back to Z4 Hundith, which seems to be a requirement for the best sheep over the past 10 years or so, and full sister to the Shafthill F2 "Greentag" which is the flock's best crossing tup. She has also bred gimmers up to £3000 and just to make sure that they didn't lose the breeding, John has kept his full brother at home to use himself.
Kirkby Redgate enjoyed a great trade themselves a little earlier in the sale with K22 Kirkby Redgate, which fetched £15,000. A powerful, modern type of lamb with great clean whites and good conformation, he is by the J1 Sealhouses bought out of Hawes last year and has done a great job in the Mules, where they averaged £120 for 600 gimmers, with a good few lambs in their champion top pen which made £600 at Kirkby Stephen. He is out of a ewe by D17 Hewgill, nicknamed "stork" for the length of legs. The under bidder was John Smith-Jackson, who may have gone further if he had foreseen the trade he was to later have, but he was outbid by a Northern Irish partnership of Lee Beacom, Lakeview and Paul O'Conner, Drumgooland, who each shelled out £7,500 apiece for the privilege to have this tup.
Michael James enjoyed a great trade at Hawes despite going through the ring at 1am. He didn't have to wait about quite so long at Carlisle, where he was a relative early consignment, but he certainly put down a marker for the trade. His tup, K4 Duhonw, was placed as the pre-sale champion by judge Neil Allan. This stonking tup, was a typical Duhonw sheep full of power, style and correct in every way, by a homebred tup H45 Duhonw and out of a ewe by D8 Hundith. Fred and Ruth Prescott from the Harkerside flock, fresh from cashing their cheque from Hawes, saw this boy and fell in love with him right away, forking out £10,000 for him. The Duhonw flock also took third prize in the show, with this tup, a G1 Midlock son making a canny £3000 and capping a great sale season for the flock.
Carry House enjoyed another cracking day at the office with another son of the £14,000 Carry House Jackpot. This smart lamb was out of a ewe by the noted D15 Smearsett whose mother was bred at Kilnstown, going back to Y1 Midlock. A great breeder already, having bred tups up to £5000, her son went a step further and sold for £7000 in a two way split to the Hamildean and Cretlevane flocks.
Other prices saw a debut to remember for the Ridleys from Shaw Head, who sold their first ever tup at an Association sale for £5,500, helped by the success of their Mule gimmers at Lazonby where they took second prize, selling for £178. Half the lambs in that pen were by G17 Gragareth, a two shear bought at Hawes last year and sire to their lamb. He was bought by T Carrick and P Lee. Midlock enjoyed a good trade too early on in the sale fetching £5,000 with K5 Midlock, another Mustang son out of a daughter of C2 Hewgill who has already bred the £8000 G1 Midlock and £12,000 H1 Midlock. He was bought by J Critchlow and Brood Ltd.
There was a top trade for the best sheep, but breeders could afford to be choosey with the big numbers of sheep on offer and many lots went home unsold, disguising the strength of the sale. The average for lambs dipped on the year by around £60 to £909.82 for 311 lambs sold, a rather disappointing number from the 562 entered into the sale.
Crossing Type
311 Lamb Rams £909.82
156 Shearling Rams £718.08
42 Females £329.76
Aged Rams
| Placing | Class | Exhibitor | Flock Name |
| --- | --- | --- | --- |
| 1st | Aged Rams | C T & J E Willoughby, J Lawson & Sons & W D Lawson & Son | Penhill, Hundith & Gragareth |
| 2nd | Aged Rams | R H S Turner | Brindifield |
| 3rd | Aged Rams | Miss C Dent | Beamwham |
Shearling Rams
| Placing | Class | Exhibitor | Flock Name |
| --- | --- | --- | --- |
| 1st | Shearling Rams | J Stenton | St Ravenscar |
| 2nd | Shearling Rams | W M & C Wallace | Gapshield |
| 3rd | Shearling Rams | A Garthwaite | Hill End |
| 4th | Shearling Rams | I R Craig | Hanging Wells |
Ram Lambs
| Placing | Class | Exhibitor | Flock Name |
| --- | --- | --- | --- |
| 1st | Ram Lambs | M James | Duhonw |
| 2nd | Ram Lambs | L Beacom | Lakeview Farm |
| 3rd | Ram Lambs | M James | Duhonw |
| 4th | Ram Lambs | W C Porter & Son | Riddings |
Performance Recorded Ram Lambs
| Placing | Class | Exhibitor | Flock Name |
| --- | --- | --- | --- |
| 1st | Performance Recorded Ram Lambs | G Roberts | Myfyrian X |
| 2nd | Performance Recorded Ram Lambs | G Roberts | Myfyrian X |
Ewes
| Placing | Class | Exhibitor | Flock Name |
| --- | --- | --- | --- |
| 1st | Ewes | W J Douglas & Son | Fairloans |
| 2nd | Ewes | I R Craig | Hanging Wells |
| 3rd | Ewes | W J Douglas & Son | Fairloans |
Gimmer Shearling
| Placing | Class | Exhibitor | Flock Name |
| --- | --- | --- | --- |
| 1st | Gimmer Shearling | D I L & E Jones | Llanilltyd |
| 2nd | Gimmer Shearling | J H Critchlow | Paddhen |
| 3rd | Gimmer Shearling | D I L & E Jones | Llanilltyd |
| 4th | Gimmer Shearling | Miss K & C Ward | Kimrina |
Ewe Lambs
| Placing | Class | Exhibitor | Flock Name |
| --- | --- | --- | --- |
| 1st | Ewe Lambs | D I L & E Jones | Llanilltyd |
| 2nd | Ewe Lambs | J H Critchlow | Paddhen |
| 3rd | Ewe Lambs | D I L & E Jones | Llanilltyd |
| 4th | Ewe Lambs | J H Critchlow | Paddhen |
Bluefaced Champions
| Category | Exhibitor | Type |
| --- | --- | --- |
| Overall Champion & Male Champion | M James | Ram Lamb |
| Res. Overall Champion & Female Champion | D I L & E Jones | Gimmer Shearling |
| Res. Male Champion | L Beacom | 2nd Prize Ram Lamb |
| Res. Female Champion | D I L & E Jones | Ewe Lamb |
Gallery
Back to Archive