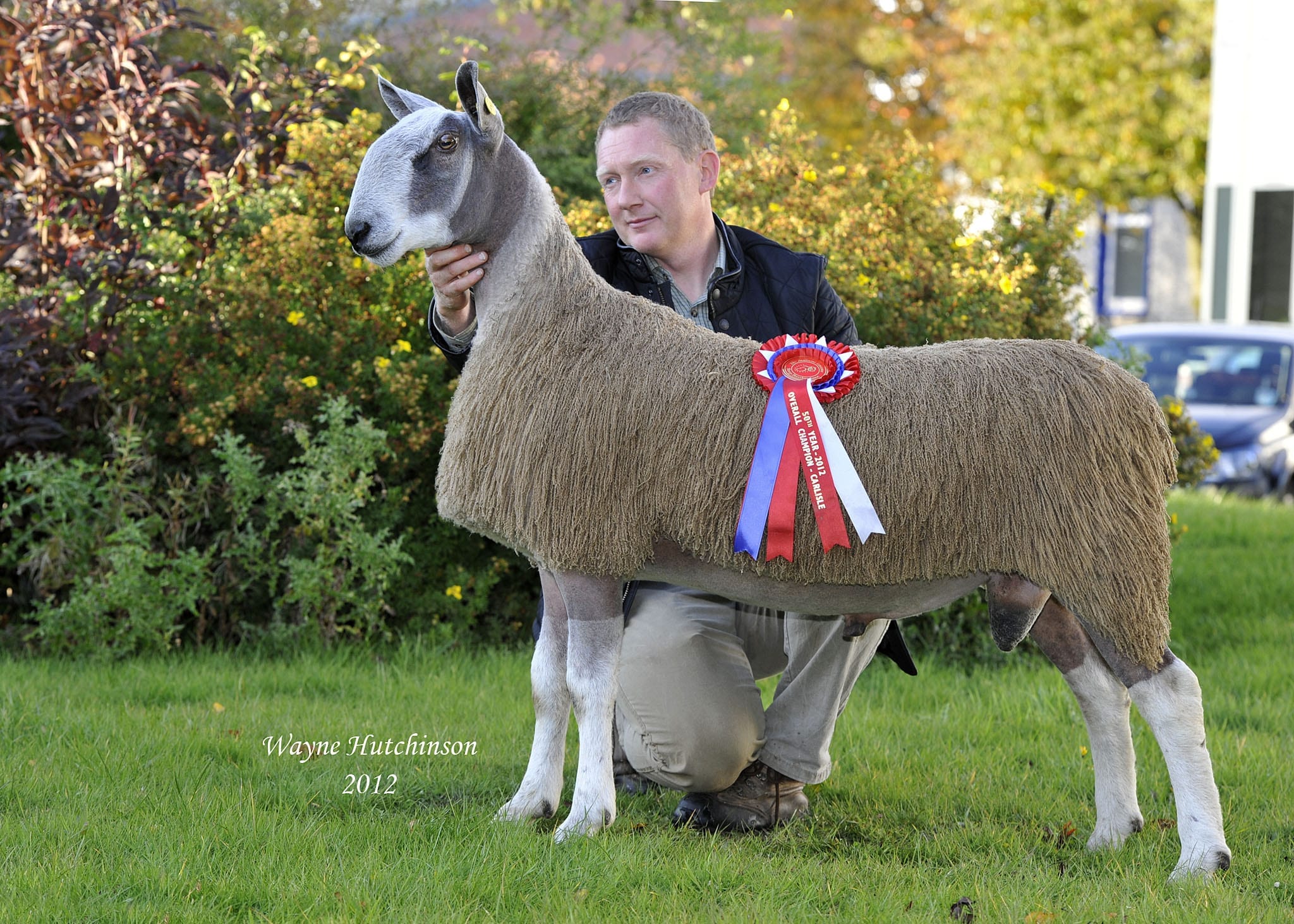 Carlisle Ram & Female Sale
12th October 2012
Carlisle
Mr A Brown, Drumhumphrey (Males), Mr K Hall, Fell End (Males), Miss H Stenton, Thornton Le Dale (Females)
Steady but not spectacular summed up the trade at Carlisle, lacking the fireworks from Hawes the previous week, but with a good show of sheep on offer there was good demand for the better end of sheep.
Topping the day's trade was a tup lamb from Jack Lawson's Hundith flock based at Mealsgate near Cockermouth. This strong boned lamb was out of the same ewe, by V3 Kentmere, which bred a £5000 lamb at Carlisle last year, and was by the £8500 Y1 Midlock, which has put a real stamp on the breed over the last few years. It was snapped up in an £8000 deal seeing it travel down into Wales, joining the Old Hemley flock run by the Abberley family. Jack enjoyed a strong trade throughout, making £5000 with his first lamb, which earlier in the pre sale show stood reserve champion. This powerful son of the £9000 B1 Asby Hall also travelled into Wales, selling to Richard Thomas, Tanhouse Farm.
The days champion picked out by judges Drew Brown, Drumhumphry and Kenneth Hall, was an outstanding lamb, with clean lines and great skin and presence from Paul Howell. It was the first time he has taken the championship ticket up at Carlisle. He runs his 35 strong flock of Bluefaced Leicester ewes alongside his dressage training centre near Bishops Castle, where earlier this year a horse trained by Paul competed at the Paralympics. His tup lamb, which took first prize at the Welshpool Progeny Show on its only other outing, is by the C1 Cassington E+, strode into the ring and the bidding, though short, was certainly sweet. It took just three bids for Raymond and Sophie Harding to land their target. Bidding started at £6000, two bids later and not a lot more than a minute longer saw the hammer fall at £7500 to the Shrewbridge flock.
The Shafthill flock from John and Mandy Smith-Jackson enjoy a great reputation for breeding some cracking Mules, and their Bluefaced Leicester tups often go away and do well so it was no surprise to see a lamb from them doing well in the ring. It was the second lamb, an April born son of Shafthill C2, from their consignment which caught the eye, selling for £5500. It is a grandson of Z4 Hundith, and its sire had six lambs in the Shafthill top pen at Carlisle earlier this back end, and out of one of the flock's better ewes, by Z4 Shafthill. It sold into Scotland to Farden Farms, Ayrshire, and will be put over Blackie ewes, and hopefully there will be some Mule gimmers by him in Castle Douglas next year.
Another flock which has had a great trade at this years sales is the Hewgill flock. They have enjoyed a strong trade with Mules and Bluefaced Leicester tups, with a great show of lambs again, it was no surprise many top breeders were looking to dig deep into their wallets to try and get into some of the leading bloodlines on offer. It was their second lamb which came up trumps, E22 Hewgill, selling for £5000 to John Mason, Oddacres. Like so many of the Hewgill lambs sold this season it was a cross of B41 Hewgill over Z14 Hewgill ewes. The same cross saw the Lords sell lambs at £4500 to Wood Hall and another at £4000 to Messrs Blaney, Northern Ireland.
Messrs Peart, Woodcroft had to wait late into the sale when they sold their tup lamb, but the wait was worth it when their lamb by the D1 Cernyw out of a ewe by Z1 Ashes sold for £4800 to R & I Watson, High Brogue, Kirkcudbright.
In the shearling section it was a strong powerful tup from Harry Gass, Nunscleugh which was top of the pile, both in the show ring and also in the money. A bid of £4500 saw this son of A8 Nunscleugh and out of a ewe by the V3 Bull & Cave. Taking him home was J Pattinson, Hott Hills, Bardon Mills.
This is the final sale for the Leicester's in their 50th year and it has been a strong sale season for them, with some cracking trade all round. Buyers have been looking for sheep which are correct all round, with good skins and good on their legs. There is no doubt the breed has changed over the last 50 years, and as it heads in to the next 50, it will no doubt continue to evolve to meet the needs of the sheep industry, where it continues to have a major role within the national flock.
Averages; 96 shearling tups £732.60, 412 ram lambs £781.74, 39 gimmers £348.97, 22 ewe lambs £340.91, 25 ewes £230.80
Gallery
Back to Archive