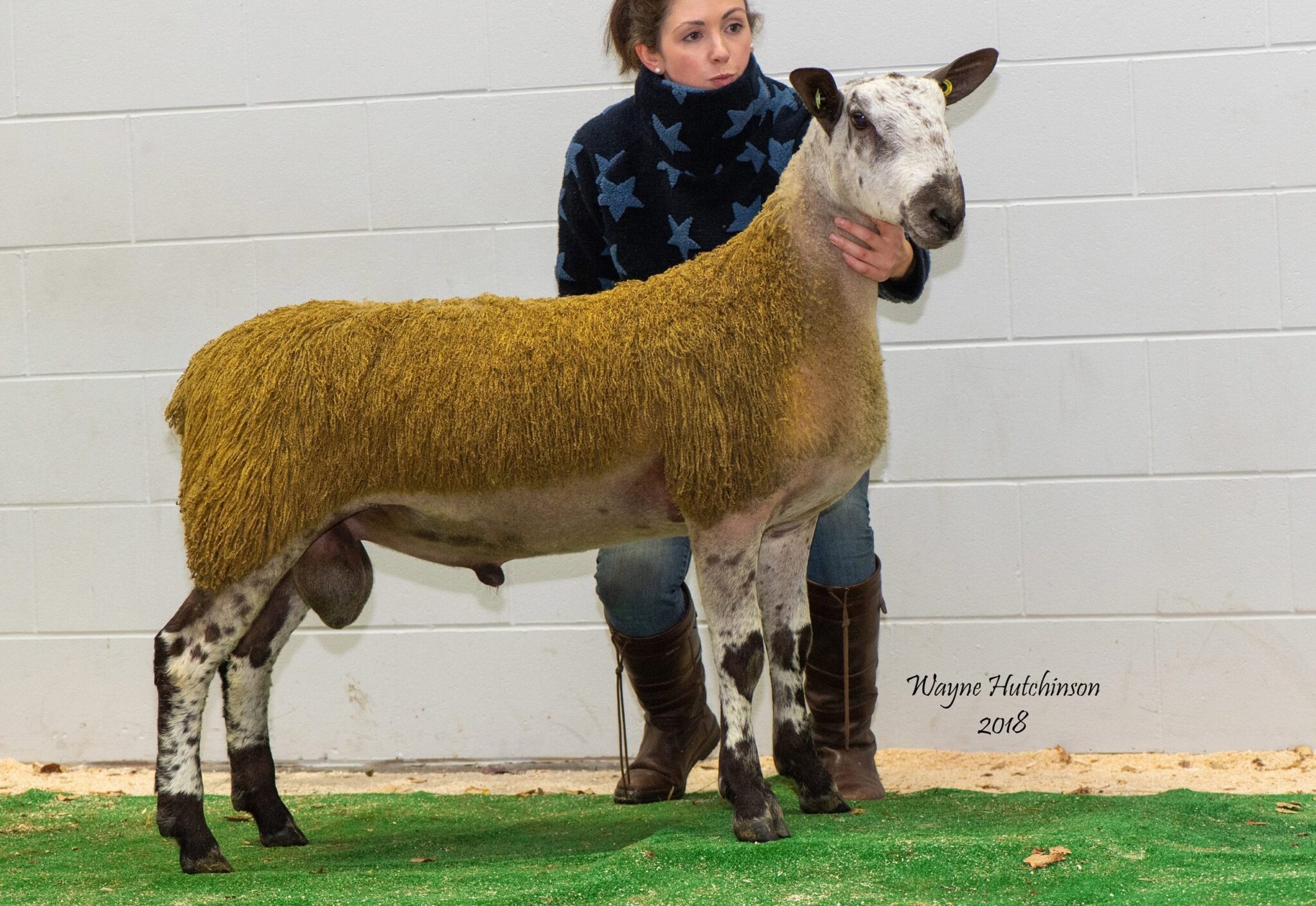 Carlisle Rams and Females Crossing Type
12th October 2018
Carlisle
N Heseltine, Butterlands (Rams), Ms M Waugh, Kilnstown (Females)
The last major sale of the season clashed with Storm Callum as it thrashed its way across the country. Despite torrential rain and gale force winds on the way to Carlisle, Carlisle itself was relatively unaffected during the sale, which saw a bulging catalogue of 1227 Bluefaced Leicester sheep through three rings over seven and half hours of trading. The auctioneers weren't messing around – it was Friday! As with most of the sales this season, the trade has been rather subdued with a combination of factors affecting the whole breeding sheep sales. The averages were down as to be expected, but demand was good for the cream of the crop.
In the crossing ring trade was also subdued, especially after last year's frantic sale which saw three tups hit five figures. This year not quite hit that mark, with the top bid from the same flock, Shafthill, as last year's sale topper. This sharp lamb by the £6000 G6 Midlock, was only born on the 1st of April, an embryo lamb out of a gimmer hogg by Bailey Mill J1. John has retained its full brother as he has such confidence in the bloodlines flowing through this particular cross. The hammer fell at £9000, going over the border selling to Alec Brown, Macqueston and Jamie Pirie, Blarnavaid. The Shafthill flock enjoyed a great trade throughout averaging £3125 for their six lambs forward, with those sired by the G6 Midlock in particular demand.
Midlock are never far from the headlines and this sale saw them sell their L1 Midlock lamb sell in a £5500 deal. This tall cocky lamb is by the J6 Hewgill and out of a ewe by Mustang. Bidding for this lamb was strong and after battling off other admirers Ashley Caton, Otterburn Lodge, was the successful bidder. Midlock also sold a son of K1 Shafthill for £3000 to Paul Fairburn, Marriforth, and saw the Midlock pen average to just shy of £2100.
Martin Allan from the Greenhow flock followed on from a successful day out at Hawes with a cracking lamb which drew an admiring crowd around his pen throughout the day, despite him being late in the sale. This lamb was the full brother to his £8000 lamb sold at Hawes, and by the £23,000 Riddings they bought last year out of Hawes. The Riddings tup has done well, with three lambs in his top pen of Mule gimmers £220 sired by him. Bidders were quick to transfer interest into serious money and it took a bid of £5000 to land him. Taking home this corker were Ron & Fran Wilson, Low Tipalt.
The Champion lamb came from Amy Campbell, Glenrath, with them just making their second appearance at the sale. Their lamb was a bruiser of a tup, oozing power and easy to see why he caught the judges eye. He is by K1 Drimsynie which Drymsynie had retained last year, selling half a share to Hewgill and out of a ewe that they purchased privately from Alec Brown at Macqueston by the F2 Lunesdale. They had shown him previously at Abingdon where he stood first and also at Peebles. He sold for £4500 in a three three way split into Northumberland to M/s Pattinson, Hot Bank, M/s Morshead, Harsondale and A Murray, Grindon, all of them near Hexham.
Noted local breeder Jack Lawson was touting his pen leader as one of the best he had ever bred. This one, in a long line of well breed "tips" off Jack was by the £24,000 K1 Smearsett which has done well for him since buying him at Hawes last year and especially well for the Asby Hall flock who shared him, selling another son for £11,000 at Kirkby Stephen. The Hundith tup was out of a ewe by D12 Bull & Cave and has bred a few tups previously which are doing well. He was bought by Breck House Enterprise on the North York Moors.
The Rees of the Hendy flock enjoyed a canny trade with their number one lamb, a son of K21 Nunsclough, a shrewd purchase costing £800 from Carlisle last year, which along with getting this lad also had five lambs in their top pen at Welshpool earlier this autumn. This lamb was out of a homebred ewe by G8 Riddings which went back to a Richard Ellis ewe. This lamb was bought by M/s Dixon Alwinton and J Elliot, Powburn.
290 Lamb Rams £843.52
151 Shearling Rams £649.60
27 Females £333.33
Shearling Rams
| Placing | Class | Exhibitor | Flock Name | Lot Number |
| --- | --- | --- | --- | --- |
| 1st | Shearling Rams | P W & D S Hedley | Riccalton | 688 |
| 2nd | Shearling Rams | A Garthwaite | Hill End | 703 |
| 3rd | Shearling Rams | A Murray | Sewingsheilds | 724 |
| 4th | Shearling Rams | J R F Pattinson | Hott Bank | 597 |
Ram Lambs
| Placing | Class | Exhibitor | Flock Name | Lot Number |
| --- | --- | --- | --- | --- |
| 1st | Ram Lambs | Miss A Campbell | Glenrath | 331 |
| 2nd | Ram Lambs | O M Wells | Barley Close | 310 |
| 3rd | Ram Lambs | R D McInnes & Co | Moscow | 106 |
| 4th | Ram Lambs | A McArthur | Cretlevane | 205 |
Aged Ewes
| Placing | Class | Exhibitor | Flock Name | Lot Number |
| --- | --- | --- | --- | --- |
| 1st | Aged Ewes | J H Critchlow | Paddhen | 516 |
| 2nd | Aged Ewes | J H Critchlow | Paddhen | 515 |
| 3rd | Aged Ewes | P Douch | Brechfa | 533 |
| 4th | Aged Ewes | P Douch | Brechfa | 534 |
Shearling Ewes
| Placing | Class | Exhibitor | Flock Name | Lot Number |
| --- | --- | --- | --- | --- |
| 1st | Shearling Ewes | J H Critchlow | Paddhen | 514 |
| 2nd | Shearling Ewes | D I L & E Jones | Llanilltyd | 505 |
| 3rd | Shearling Ewes | D I L & E Jones | Llanilltyd | 506 |
| 4th | Shearling Ewes | R F & J P Critchlow | Rugged Cross | 499 |
Ewe Lambs
| Placing | Class | Exhibitor | Flock Name | Lot Number |
| --- | --- | --- | --- | --- |
| 1st | Ewe Lambs | D I L & E Jones | Llanilltyd | 508 |
| 2nd | Ewe Lambs | I Borthwick | Broomie Bank | 517 |
| 3rd | Ewe Lambs | D I L & E Jones | Llanilltyd | 507 |
| 4th | Ewe Lambs | I Borthwick | Broomie Bank | 518 |
Bluefaced Champions
| Category | Exhibitor | Type |
| --- | --- | --- |
| Overall Champion & Male Champion | Miss A Campbell | Ram Lamb |
| Reserve Overall & Female Champion | D I L & E Jones | Ewe Lamb |
| Reserve Male Champion | P W & D S Hedley | Shearling Ram |
| Reserve Female | J H Critchlow | Shearling Ewe |
Gallery
Back to Archive