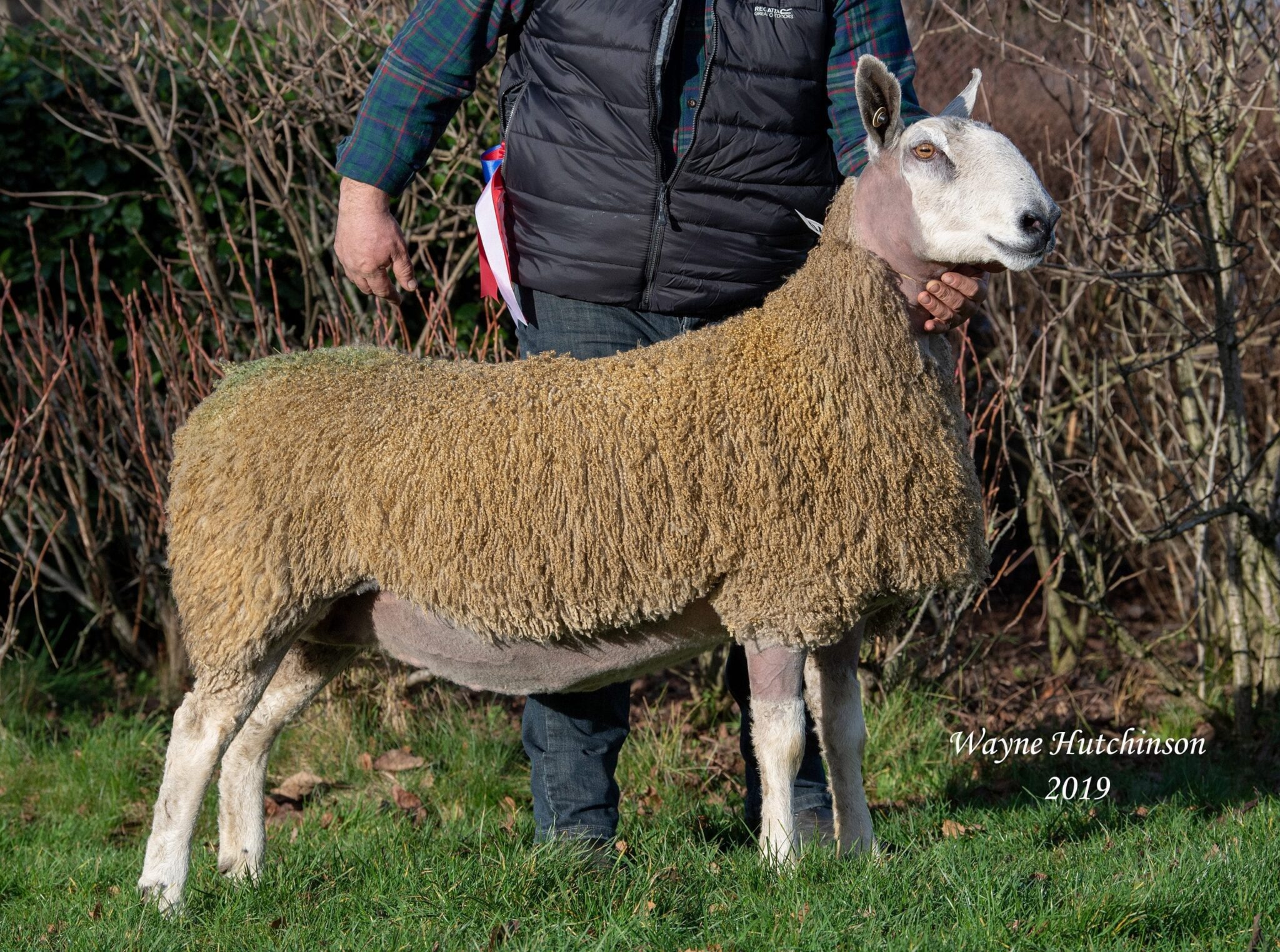 Carlisle Traditional Female Sale
14th January 2019
H & H Borderway Mart, Carlisle
A Carter, Street
Carlisle Traditional Female Sale 2019
Following on from the dispersal of the highly regarded Rossiebank flock, which drew a packed ring and saw a great trade with prices topping at 4800 gns for the unbeaten show ewe and averaging at £913.67 for the 124 females forward, the Blue Belles sale made its debut. The 34 sheep forward proved quite an attraction and the trade was buoyant throughout.
The Champion came from the noted Espley flock and saw a cracking ewe picking up the new Association Perpetual Challenge Trophy. This ewe, by the homebred H5 Espley, has previously been shown twice, taking first prize at Penrith and Peebles Show last year was carrying quads to the K1 Kirkstead. This breeding caught the eyes of the bidders as well as the judge, Andrew Carter, with Sam and Oliver McClymont making the best of their day off school and landing the champion sheep for 3000 gns. The Espley flock also sold their best gimmer, which has been shown as a lamb, winning the 2017 Royal Highland Show class and then last year taking the female championship at Penrith. She is a sharp, stylish sheep, selling in lamb to the K1 Kirkstead again, and sold to the judge, who placed her at the top of the gimmer class, for 2000 gns.
Earlier in the sale, the Kirkstead flock saw their second placed ewe make the same figure of 3000 gns. She is by the G1 Burndale which was the Royal Highland Show Champion twice, in 2016 and 2018 selling in lamb to the noted M6 Mendick which was the Reserve Interbreed at the Royal Highland Showin 2017. Dereck Henderson, Burndale, was bidding strongest for this powerful ewe. Trade was strong throughout and the demand for good quality females set the tone for a successful debut sale.
Averages
11 Ewes £697.77
20 Shearling Gimmers £791.70
3 Empty Hoggs £465.50
Aged Ewes
| Placing | Class | Exhibitor | Flock Name | Lot Number |
| --- | --- | --- | --- | --- |
| 1st | Aged Ewes | M & N Gray | Espley | 170 |
| 2nd | Aged Ewes | G P Williams & Co | Elian | 192 |
| 3rd | Aged Ewes | G P Williams & Co | Elian | 190 |
Gimmer Shearlings
| Placing | Class | Exhibitor | Flock Name | Lot Number |
| --- | --- | --- | --- | --- |
| 1st | Gimmer Shearlings | M & N Gray | Espley | 174 |
| 2nd | Gimmer Shearlings | A McClymont | Kirkstead | 153 |
| 3rd | Gimmer Shearlings | G P Williams & Co | Elian | 182 |
| 4th | Gimmer Shearlings | A McClymont | Kirkstead | 151 |
Ewe Hoggs
| Placing | Class | Exhibitor | Flock Name | Lot Number |
| --- | --- | --- | --- | --- |
| 1st | Ewe Hoggs | M Seed | Auchry | 179 |
| 2nd | Ewe Hoggs | M Seed | Auchry | 180 |
Bluefaced Champions
| Category | Exhibitor | Type |
| --- | --- | --- |
| Overall Champion | M & N Gray | Aged Ewe |
| Reserve Overall Champion | G P Williams & Co | Aged Ewe |
Gallery
Back to Archive