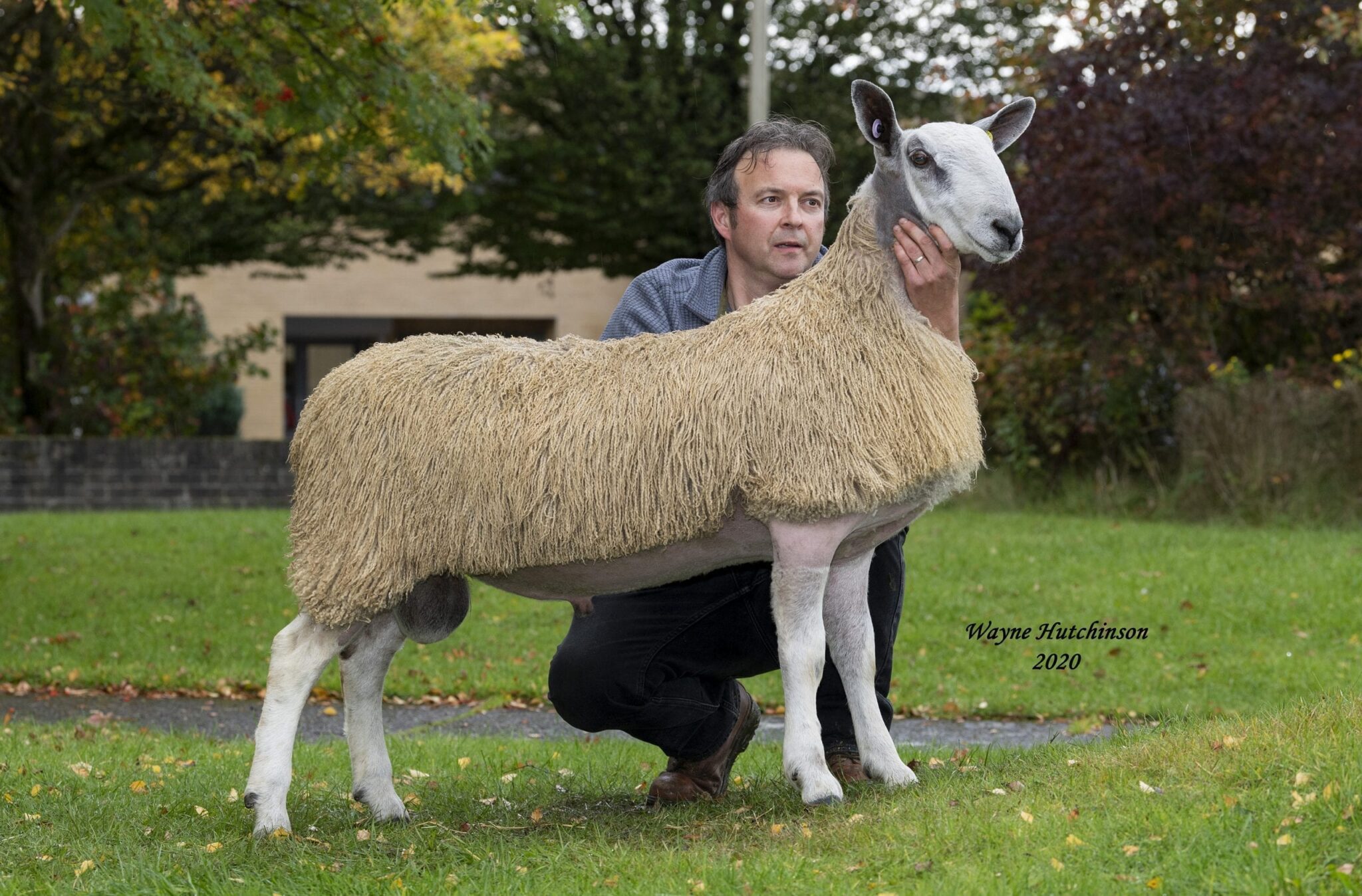 Carlisle – Traditional
9th October 2020
Carlisle
  The last big sale of Bluefaced Leicester's this autumn saw a catalogue of just shy of a 1000 sheep on offer, with sellers and buyers from all over the UK converging on the Carlisle auction mart, observing strict Covid-19 social distancing rules and checking out the latest bloodlines on offer in both the traditional and crossing types of the breed. Although the catalogue was down around 200 on the previous year the demand was as high as ever with averages across all sections showing a marked increase reflecting the buoyancy of the breeding sheep market at the moment and the vital cog of the industry which is the Bluefaced Leicester.
In the Traditional section it was a familiar name bossing the job, as Martin Quinn, Whinny Hall enjoyed another successful day out at the sales. Not satisfied with topping at two of the leading traditional sales he attended so far this autumn, he repeated the trick again at Carlisle, not once but twice, with two lambs making the joint top price of £3200 on the day. His pen was eagerly anticipated throughout the day and his first lamb into the ring, by the Bonvilston K30 which has been creating waves this year for him and Hazel Brown, who has a half share stake in him. This tidy lamb is out of a homebred ewe by the H10 Craig yr Orsedd, which has done well for the flock and sold to DL Jones from the Y-Ddol flock in Wales. It was a son of the aforementioned Craig-yr-Orsedd which hit the £3200 mark a few minutes later. This cocky lamb is out of a ewe by the old J2 Burndale and sold to J Shennan & sons, Knockgerran, Girvan. He also saw another bid of 1500gns for another Bonvilston son, selling to Frank Johnson, Ashes, completing a great round of sales for Martin, who will no doubt be looking forwards to next year's sales already!
Hazel Brown was digging into her pockets earlier in the sale when she splashed out £3000 on the pen leader from veteran Frank Johnson from the Ashes flock. Franks stock enjoys a great reputation and full brothers to this lovely lamb have enjoyed a great trade this autumn, with many eyes on it at the start of the sale. He is by the K4 Burndale which has been leaving his mark on the flock this last couple of years and out of an Elian bred ewe by the old B1 Addingham Elite + tup from yesteryear, a bit of proper traditional breeding.
Close behind on £2800 came Mosser Mains farming, another of the old original flocks of the breed, with a stonking tup by the L4 Mendick they bought at Kelso last year. He has done well on their flock of 30 ewes, recouping their investment at this his first batch of offspring on offer. He is out of a gimmer shearling by the K11 Rossibank which has done really well for them over the last few seasons and left them with some great ewe. He was bought by David Sandilands, Galashiels.
Derek Henderson was in the money again, with Burndale N2 a son of the 3900gn Lower Down tup that he purchased in 2015. Out of a ewe full of Burndale bloodlines on both sides he was a sharp type of a lamb and sold for £2400 and is off to his new home in the Mendick Flock of John Dykes. Another tup hitting £2400 was from the noted Middle Dukesfield run by Alec and Claire Bisset. This powerful boy was by the 3900 Ashes, going back to the Burndale tup and out of a great breeding ewe by the H5 Cocklaw, from which he has already sold tups to £2000 out of her. This lad went to Mr J Burton, Derbyshire.
Stuart Nelson from the Medwyn flock enjoyed a canny trade too, with his Substitute lamb, Medwyn N2 fetching £2000. This well made tup lamb was by the G1 Burndale that runs at the Kirkstead flock, with Alan kindly offering to tup a few ewes for Stuart last year and one of the ewes was an Elian bred sheep he bought and this combination encouraged Dewi Williams to come back for some of his breeding and take it home.
Trade has been good all season, with buyers looking for good correct tups with good skins and great bloodlines.
Averages                                    2020           2019
37 Aged & Shearling Rams   £665.14        £417
191 Ram Lambs                      £561.15         £429
37 Females                              £362.43        £331
Gallery
Back to Archive