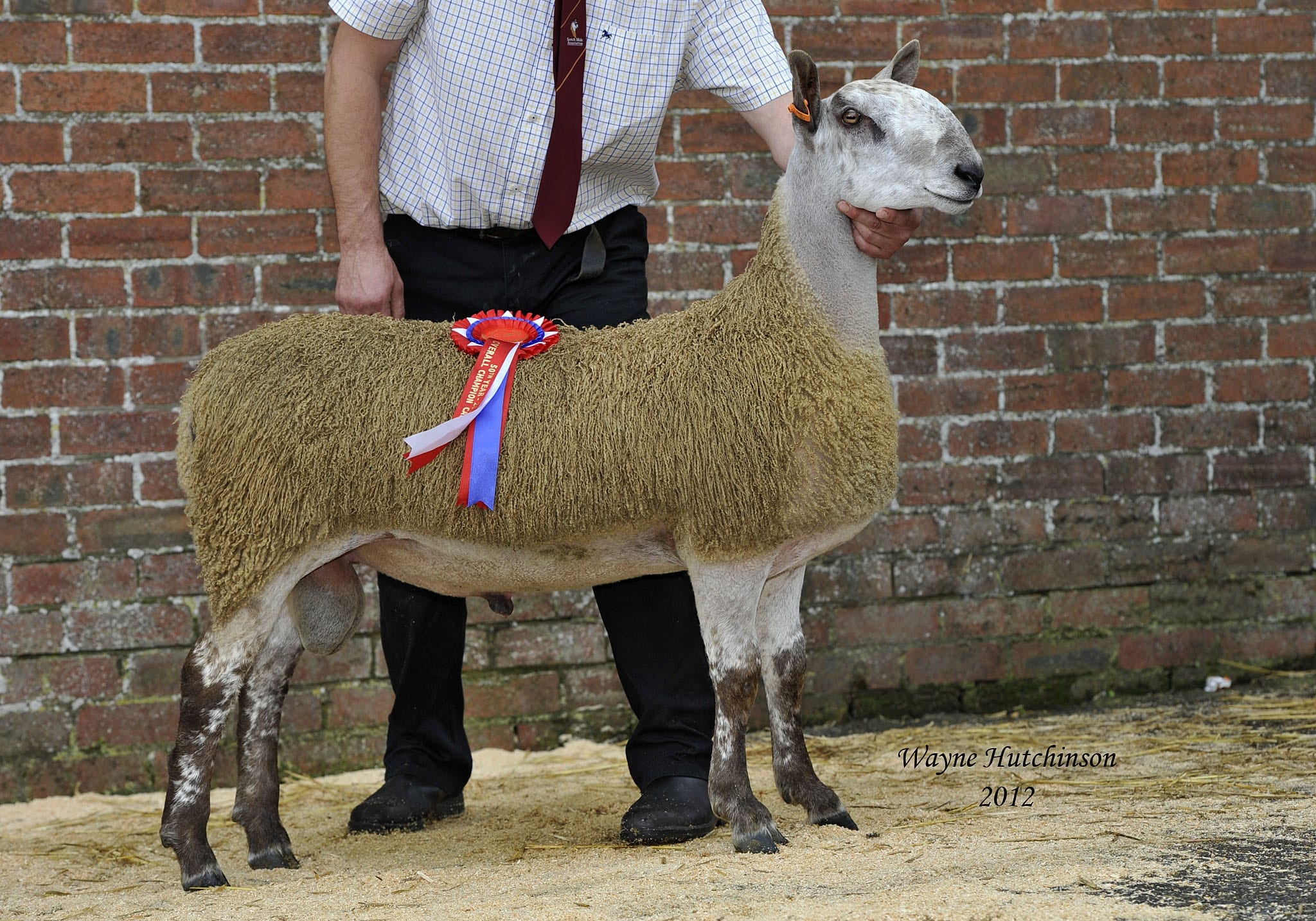 Castle Douglas Ram Sale
28th September 2012
Castle Douglas
Mr J Kerr, Craigskean
Trade at the 24th Castle Douglas Bluefaced Leicester sale saw prices peak at either end of the ballot, as one of the earliest shearlings in took the day's top price. It was Alec Brown, Macqueston setting the trade, with a centre record of £6000 for a shearling ram, when his strong D3 Macqueston tup by C1 Barley went under the hammer. He was used as a lamb and got on well with Alec having four lambs in his top pen of Mules at Castle Douglas. Buyer Robert Loughridge, Orravale, Northern Ireland was impressed by his Mules and fought off some stiff bidding to acquire his target.
It was a stellar day for the Thornhill based Macqueston flock when, late on in the sale he took the top price in the lamb section too, a reflection on the quality of sheep coming from this outstanding flock. Siring this mighty lamb, E9 Macqueston, was D1 Shafthill, a £3200 purchase at Carlisle last year, shared with John Park. He left his mark on the Mule ewe lambs with quite a selection in both top pens, which added to this lamb's value. It took a combined team effort from John Hamilton and Hector Macaskill, both from Innerwick, Dunbar to capture their first choice lamb for £4800.
John Park, Forebraes sold a powerful shearling in a £4000 deal to Crow Hall Farms. This shearling stood first in its class in the pre-sale show, and was sired by the C1 Barley, the same as the Macqueston tup and out of a ewe by the Y1 Shafthill which was the champion at Carlisle when bought. He was a proven getter and the first Forebrae tup lamb at the sale sold for £2000 was by him.
Jimmy Bell from the Cottage flock, based at Crawford, has a growing reputation in the breed and he certainly made his presence felt at the sale, taking both the champion and reserve champion tickets after winning the ram lamb classes. Judge Robin Thompson, was impressed with the powerful lambs and their good clean skins. Both lambs were by the C7 Old Hemley, sold at Kelso for £4000 a couple of weeks earlier. In the ring the positions were reversed as the reserve champion, out of a ewe by X14 Riddings, sold for £4000 to an undisclosed buyer, with its twin making £1000. The champion lamb, out of a ewe by Z31 Old Hemley sold for £2800 to Donald Smith, Castle Douglas.
The Midlocks consignment, as usual, attracted a good deal of attention, and their pen leader, a son of a homebred tup, C63 Midlock and out of a ewe by N25 Nunscleugh sold for £3200 to Robert McTurk from the Barlaes flock based at Castle Douglas.
The first consignment of lambs into the ring generated a good trade too, as young Jamie Pirie from Stirling generated a stack of interest. He has only been selling at Castle Douglas for three years and has a flock of 25 ewes. This year his star lambs were by the £9000 D2 Firth bought at Carlisle last year. Their pen leader, and first lamb into the ring sold for £3000 to S McClymont, Tinnis. Another D2 Firth son sold in a heavyweight three way spilt for £2200 to Midlock, Macqueston and  G Bertram, Coulter.
Overall trade was selective and with 50 less tups on show than last year it wasn't just a big a buzz as sometimes. Buyers were looking to buy the best rams, but the tups down the line proved a little harder to sell. Tups with good skins and conformation were good to shift.
Gallery
Back to Archive