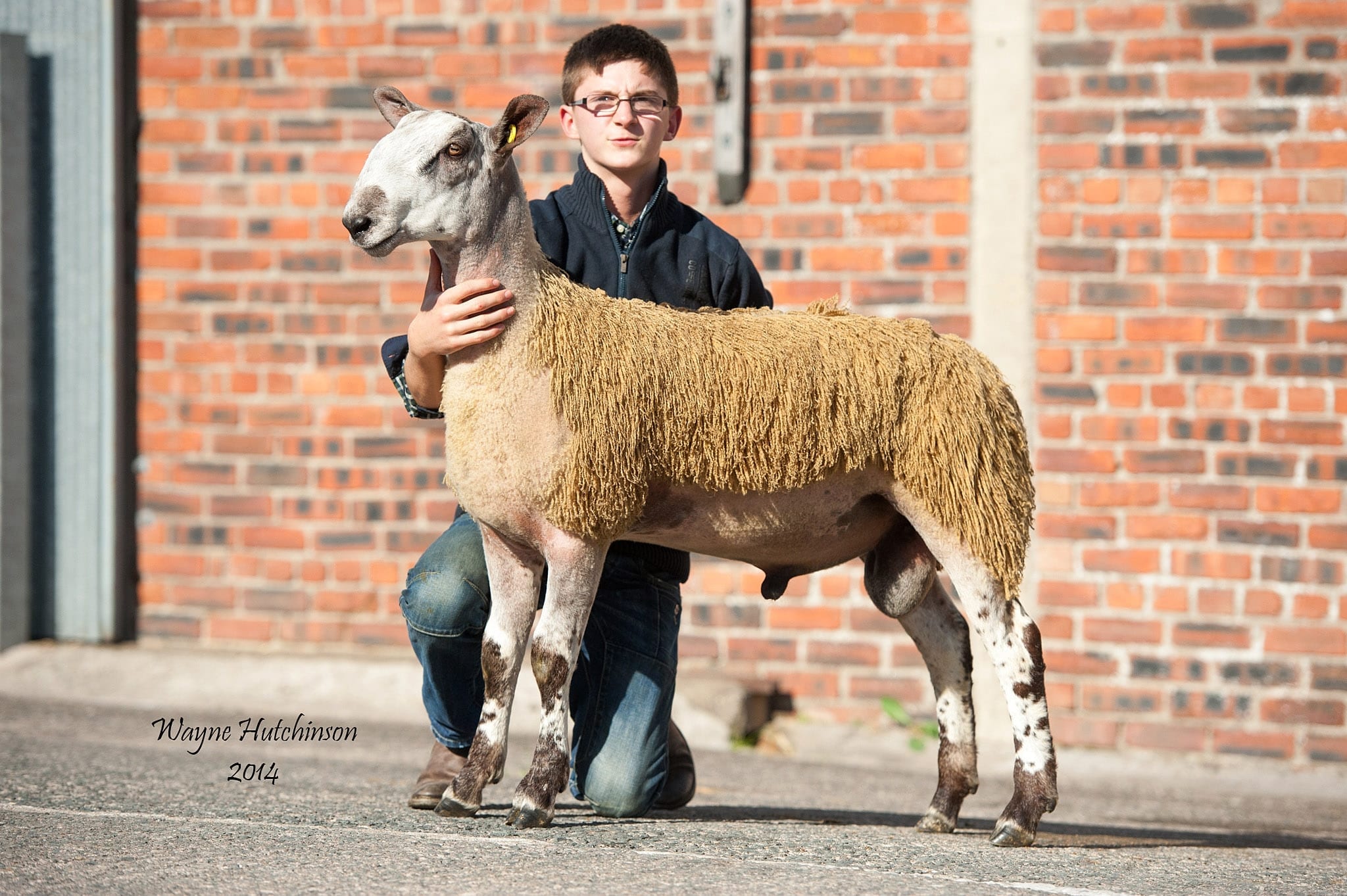 Castle Douglas Ram Sale
26th September 2014
Castle Douglas
Mr A Caton, Otterburn Lodge
There was a more subdued atmosphere around the ring at Castle Douglas than in previous years, with averages falling quite considerably, with the tup lambs seeing a fall of slightly over £200 to £799.84 and the shearling tups around £130 less at £599.17. Buyers were choosy and looking once again for the best quality and powerful tups.
Topping the trade was a sweet, stylish lamb from Midlock. He is by the Midlock Mustang, whose progeny have topped the three sales that sons have been offered at so far this autumn. He is out of a ewe by the noted Controversy, who has had a massive influence on the breed over the last few years. He travels south over the border to another flock which has had a big impact on the breed of late too. Neil Marston from the Highberries flock was the final bidder for this lamb, getting his main target of the back end for £5000, and hopes that he will knit well with his Z4 Hundith breeding that prevails at Highberries. It was another Mustang lamb, G32 Midlock, which took the championship ticket, making it a hat trick of championships for the Wight family and Mustang sons, which must be some kind of record. Buying the champion was the judge Ashley Caton. Midlock also saw a bid of £2800 for a E1 Hewgill son out of a C2 Hewgill, selling to M/s Woodburn, Laidlaw.
Young Jamie Pirie, Blarnavaid, continues to do well at Castle Douglas, selling for a personal best this year a stylish lamb for £4000 to Yorkshire breeder David Brown and son Tim from Agglethorpe, Leyburn. The lamb is by the £11,000 F1 Firth bought at Hawes last year, himself a son of the E1 Hewgill, and out of a ewe by the £9000 D2 Firth. They run around 35 ewes near Stirling and this year's top pen had quite a few lambs by the Firth tup, which sold for £110 at Stirling UA mart.
It is not easy making your debut at a sale when the trade is a bit steady, but Willie Lockhart, Culdoach bucked the trend and had a flyer, selling his first ever lamb for £3000. He had earlier stood 2nd in the show, and interest in him grew throughout the sale. He was by E6 Asby Hall, a son of the £14,000 Midlock Domino and out of a ewe by B20 Midlock. The Lockharts run 15 BFL ewes alongside their 1000 head of Blackie ewes, and six of their champion pen of lambs at Castle Douglas were by the E6 Asby Hall, which looks like he could set the Culdoach flock off onto a very sound footing indeed!
Jimmy Thomson from J & D Blues had a cracking trade too, setting up his best price ever with a bid of £2500 for a massive shearling by his £3000 E3 SP Dalpeddar and out of a ewe by A10 Quarry House, which was itself out of a ewe bought in lamb at the Craigskean dispersal sale a few years back. Robert McTurk was the buyer of this shearling.  Jimmy also took the Reserve Champion with his 1st prize shearling, again by the SP Dalpeddar and out of a ewe by Z18 Riddings, selling for £2100 to M/s McGillivray, West Bowhouse. Not a bad return on a flock of only 12 ewes.
Alex Brown generally produces one of the highlights at the Castle Douglas sale, and his pen of massive shearlings certainly caught the eye. They maybe didn't reach the heights of other years, but did see a top bid of £2400 for a shearling by C13 Firth, a £6500 purchase for Crow Hall Farm, with Alex buying some semen to put in a better ewe or two. This tup was out of a ewe by the B3 Agglethorpe and sold to I McArthur, Arnicle.
Gallery
Back to Archive