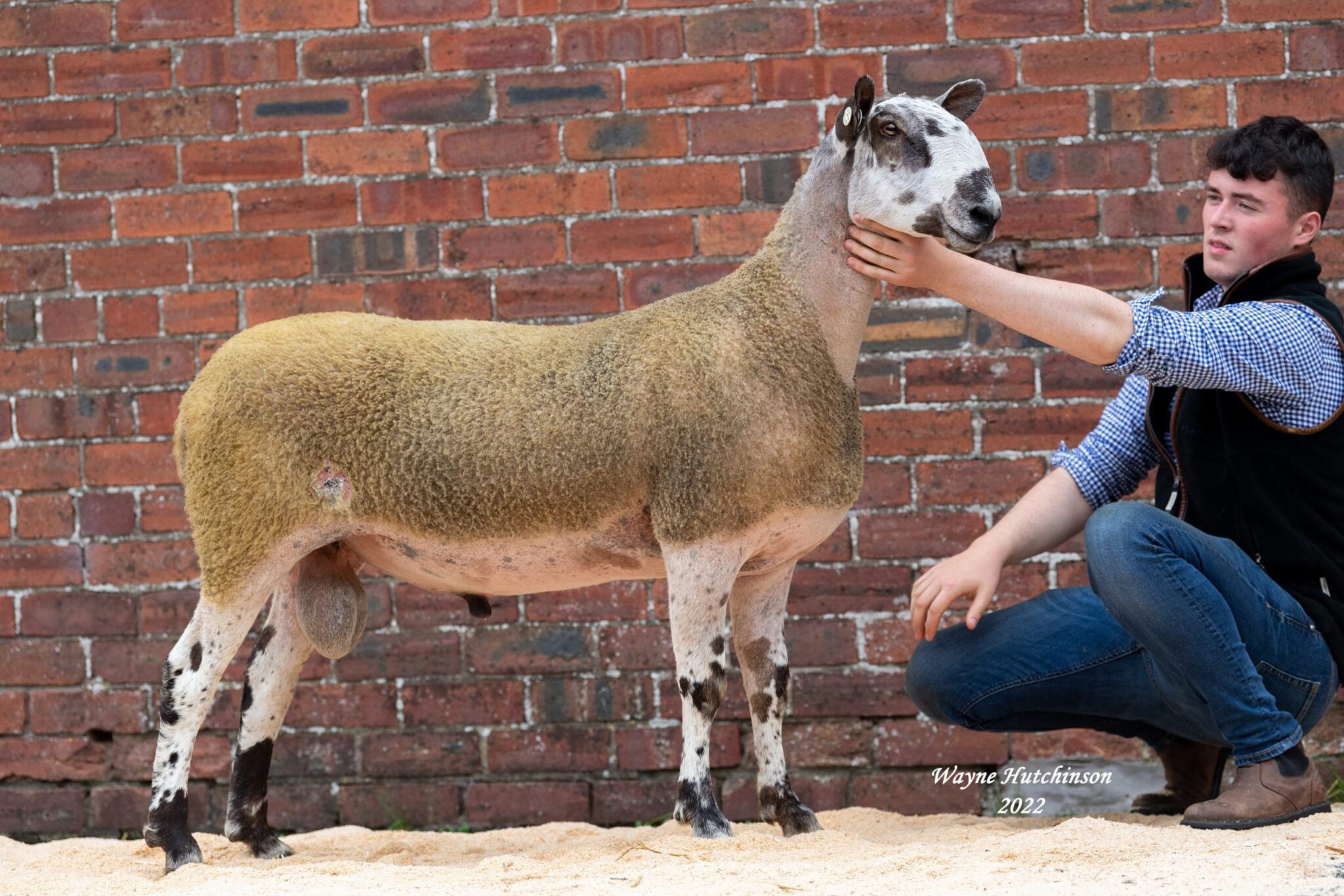 Castle Douglas – Wednesday 21st September, 2022
21st September 2022
Castle Douglas
Mr Finlay Robertson, Beeches
Castle Douglas – Kindly Sponsored by Tarff Valley Ltd
Numbers were reduced at the annual Castle Douglas sale, which has been a stalwart of the Bluefaced Leicester sales round for many years and saw the averages for the shearlings drop a shade over £26 on the year whilst the lambs were up quite a jump of over £220, but with a much-reduced number on offer.
The highlight of the sale came late in the day when the 1st prize tup lamb and the Reserve Champion, as placed by Finlay Robertson, making a judging debut at an association sale. This lamb from Steven & Trevor Fallows, Burnton, has been showed successfully on the Scottish show circuit, taking the breed championship at New Cumnock and Stewerty shows as well as Res at Dumfries. He is by the 8000gns Midlock P3 bought out of Carlisle last year and out of a ewe by Carry House K11, a son of Jackpot. He is full of power and colour and caught the eye, with R Jardine, Upper Hardland and W Lockhart & Co, Culdoach teaming up and landing this smart boy for £2500.
Next top was a powerful shearling from the Lockharts, Laggan Park, who had a very impressive pen of strong tups. Their topper was by a homebred tup going back to their Firth tup and had been used as a lamb, with a good few lambs in their top pen of mules at Castle Douglas by him, which went on to make £158. He was snapped up by M/s W Marshall & Son, Eastlands for £2100. The Laggan Park pen saw another shearling sell for £2000. This one was a son of the N11 Steel which they bought out of Carlisle and gone on to do well for them.
Robert McKie enjoyed a good trade again, his pen being well sought after and noted for some strong, powerful shearlings which go and do well. His pen leader hit £2000, with a son of the M3 Branshangan, out of a ewe by the noted G34 Midlock. They got another bid of £1500 for their second shearling, a son of M1 Nunscleugh out of a SP Dalepeddar bred ewe, by F1 Old Hemley.
Champion of the day came out of the Macqueston shearling pen. Shown impeccably by Anders Brown, he couldn't help catch the judge's eye with his power and good looks. The tup looked well too. This one was by the Marriforth N2 which they bought out of Carlisle after not quite managing to land the Marriforth tup at Hawes earlier that season. Out of a homebred ewe by the good old Highberries G19, he sold for £1800 to R&M Dunlop, Pinvalley.
Overall averages were:
105      Shearlings                   £843.52        (-£26.31)
7       Ram Lambs                £914.29         (+£221.97)
Leading prices;
SHEARLINGS
LAGGAN PARK                                             2100, 2000, 1250, 1150
FINNINESS                                                    2000, 1500, 1150
FORBAE                                                         1800, 1100
MACQUESTON                                             1800, 1100
CULDOACH                                                   1650, 1500, 1250, 1000
BARLAES                                                       1600
IRONGRAY                                                    1350, 1100, 1050, 1000
CAIRN SMIDDY                                             1250
DRUMHUMPHRY                                          1150
SAUCHRIE MAINS                                        1150, 1000, 950, 900
HARDLAND                                                   1100, 950
MID KNOCKGLASS                                      1100, 1000
P DALPEDDAR 1050
MOSSYARD                                                  1000
RAM LAMS
BURNTON                                                    2500, 1000
HILLSIDE                                                      950
Shearling Rams
| Placing | Class | Exhibitor | Flock Name | Lot Number |
| --- | --- | --- | --- | --- |
| 1st | Shearling Rams | A Brown | Macqueston | 536 |
| 2nd | Shearling Rams | R McKie | Finniness | 525 |
| 3rd | Shearling Rams | J Park | Forebrae | 516 |
| 4th | Shearling Rams | W Lockhart & Son | Laggan Park | 599 |
Ram Lambs
| Placing | Class | Exhibitor | Flock Name | Lot Number |
| --- | --- | --- | --- | --- |
| 1st | Ram Lambs | S & T Fallows | Burnton | 629 |
| 2nd | Ram Lambs | S Black & Son | Hillside | 636 |
| 3rd | Ram Lambs | S Bryson | Kilfaddoch | 627 |
| 4th | Ram Lambs | R W & M Carruthers | Hilbre | 638 |
Bluefaced Champions
| Category | Exhibitor | Type |
| --- | --- | --- |
| Male Champion | A Brown | Shearling Ram |
| Reserve Male Champion | S & T Fallows | Ram Lamb |
| Overall Champion | A Brown | Shearling Ram |
| Reserve Overall Champion | S & T Fallows | Ram Lamb |
Gallery
Back to Archive