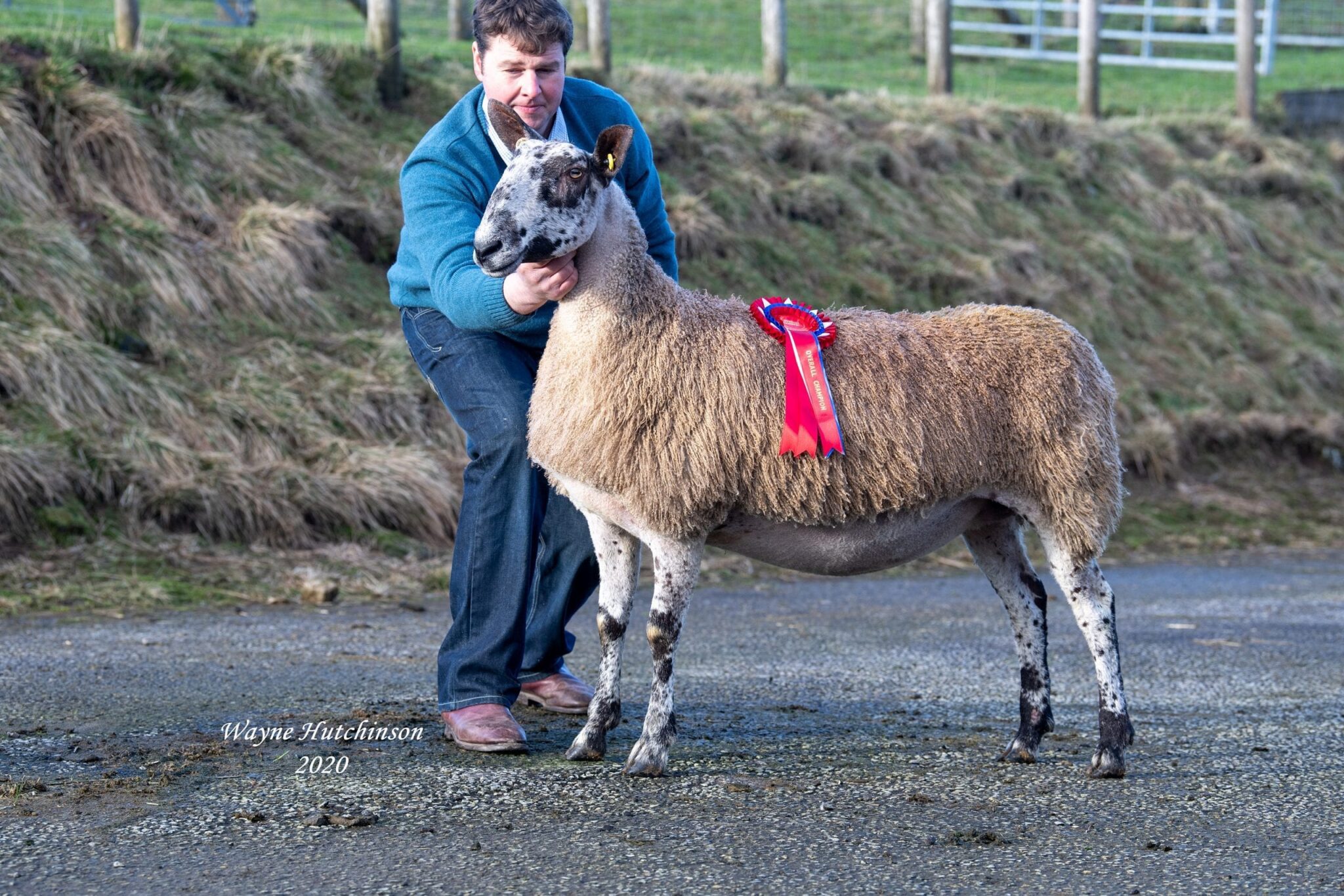 Hawes Female Sale
18th January 2020
Hawes
W Sedgley, Langstroth
A cracking winter's day saw a cracking trade for some very smart crossing type females on offer at the breed's heartland. A smaller entry didn't lessen the quality on offer.
Topping the day's trade was a gimmer hogg from the Hewgill flock. She took the first prize ticket in the gimmer hogg class then moved onto take the reserve champion place too. She is one of the best hoggs to have been offered for some time, with some cracking colour and length along with a lovely skin on her. She is out of B41 Hewgill, grandmother to the first three Hewgill tup lambs sold at Hawes last autumn which took the sale by storm. Again, by the F52 Hewgill, same as the tup lambs, this smart lamb sold for £4400 to Lee Beacom from Lakeview.
The day's championship was taken by a ewe out of D15 Smearsetts sister, by H3 Riddings from the Smearsett flock, carrying triplets to the legendry Ted, G11 Smearsett. This ewe with a great carcase and bloodlines certainly attracted attention of buyers, with Messrs Allinson, Sealhouses the final bidders for this great sheep, which bred a tup lamb which sold for £3400 at Hawes last year, having to shell out £3000 for her. The Smearsett flock also took first prize in the gimmer shearling class. This lovely shearling is by "Ted" out of a Z4 Hundith daughter, scanned for 1 to L11 Chelker. They are using two full brothers in the Smearsett flock as they think so much of these bloodlines. It took a bid of £2400 from Chris Pears, Wigton, to land her.
The Midlock consignment, as always, was much admired, with the leading gimmer a daughter of the noted Midlock Mustang carrying a single to the homebred L27 Midlock, the Highland Champion from last year. This modern type was bought for £2200, selling to T Duffy, Omagh.
Ewes – 1st W A & A Booth, Feizor £3000 – Champion, 2nd J C Thorpe, Draughton £300, 3rd R & P E Hargreaves, Burnley £400
Shearlings – 1st W A & A Booth £2400, 2nd R & P E Hargreaves £800
Hoggs – 1st M/s Lord, Stainmore £4400 – Reserve Champion, 2nd M/s Lord, £700, 3rd C T & J E Willoughby, Redmire
Leading Prices:
Ewes – W A & A Booth, £3000, R & P E Hargreaves & Sons, £400, J C & N Throup, £300. Av. £1233
Shearlings – W A & A Booth, £2400, £1600, £800, J Wight & Sons, £2200, £1100, £700, £400, R & P E Hargreaves & Sons, £800, Av. £1250
Hoggs – Messrs Lord, £4400, £700, W A & A Booth, £1800, £750, £700, £600, W & D Lawson & Son, £400, Av. £1216.
Aged Ewes
| Placing | Class | Exhibitor | Flock Name | Lot Number |
| --- | --- | --- | --- | --- |
| 1st | Aged Ewes | W A & A Booth | Smearsett | 30 |
| 2nd | Aged Ewes | J C Throup | Chelker | 19 |
| 3rd | Aged Ewes | R & P E Hargreaves & Sons | Barley | 13 |
Gimmer Shearlings
| Placing | Class | Exhibitor | Flock Name | Lot Number |
| --- | --- | --- | --- | --- |
| 1st | Gimmer Shearlings | W A & A Booth | Smearsett | 31 |
| 2nd | Gimmer Shearlings | R & P E Hargreaves & Sons | Barley | 12 |
Ewe Hoggs
| Placing | Class | Exhibitor | Flock Name | Lot Number |
| --- | --- | --- | --- | --- |
| 1st | Ewe Hoggs | Messrs Lord | Hewgill | 2 |
| 2nd | Ewe Hoggs | Messrs Lord | Hewgill | 3 |
| 3rd | Ewe Hoggs | C T & J E Willoughby | Penhill | 1 |
| 4th | Ewe Hoggs | W A & A Booth | Smearsett | 36 |
Bluefaced Champions
| Category | Exhibitor | Type |
| --- | --- | --- |
| Overall Champion | W A & A Booth | Aged Ewe |
| Reserve Overall Champion | Messrs Lord | Ewe Hogg |
Gallery
J57 Smearsett - 1st Prize ewe and Overall Champion - £3000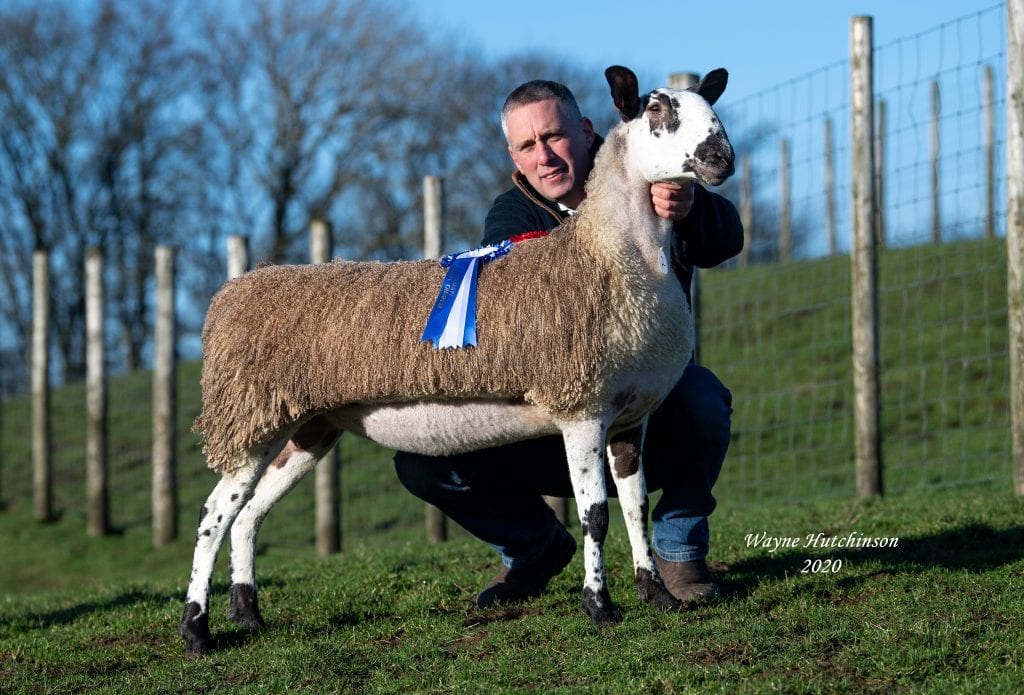 M70 Hewgill - 1st prize gimmer hogg and Res Champion - £4400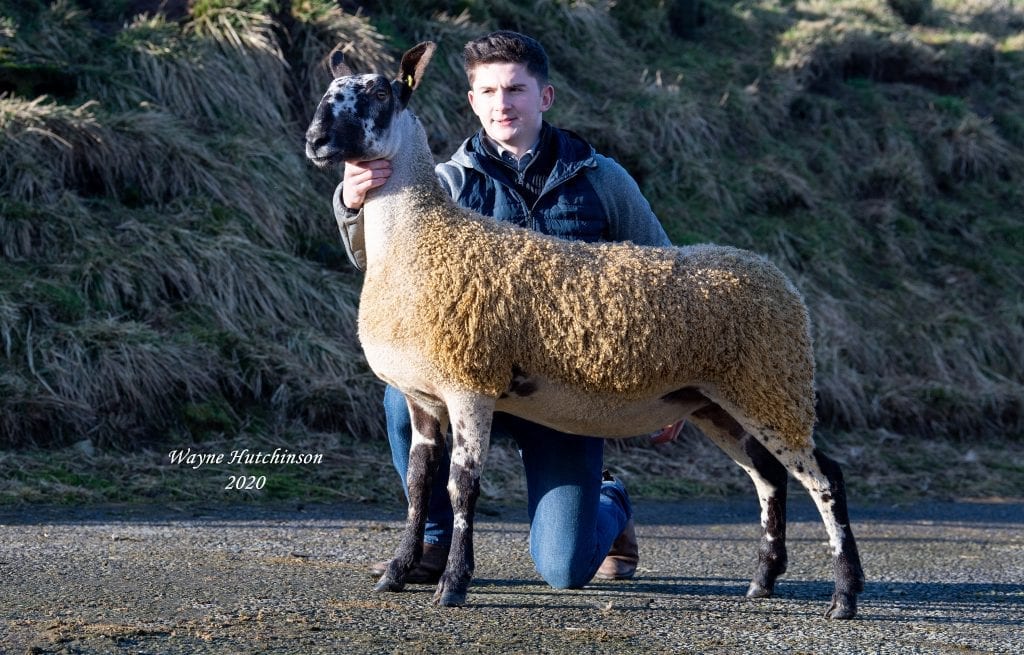 L90 Midlock - £2200
Back to Archive