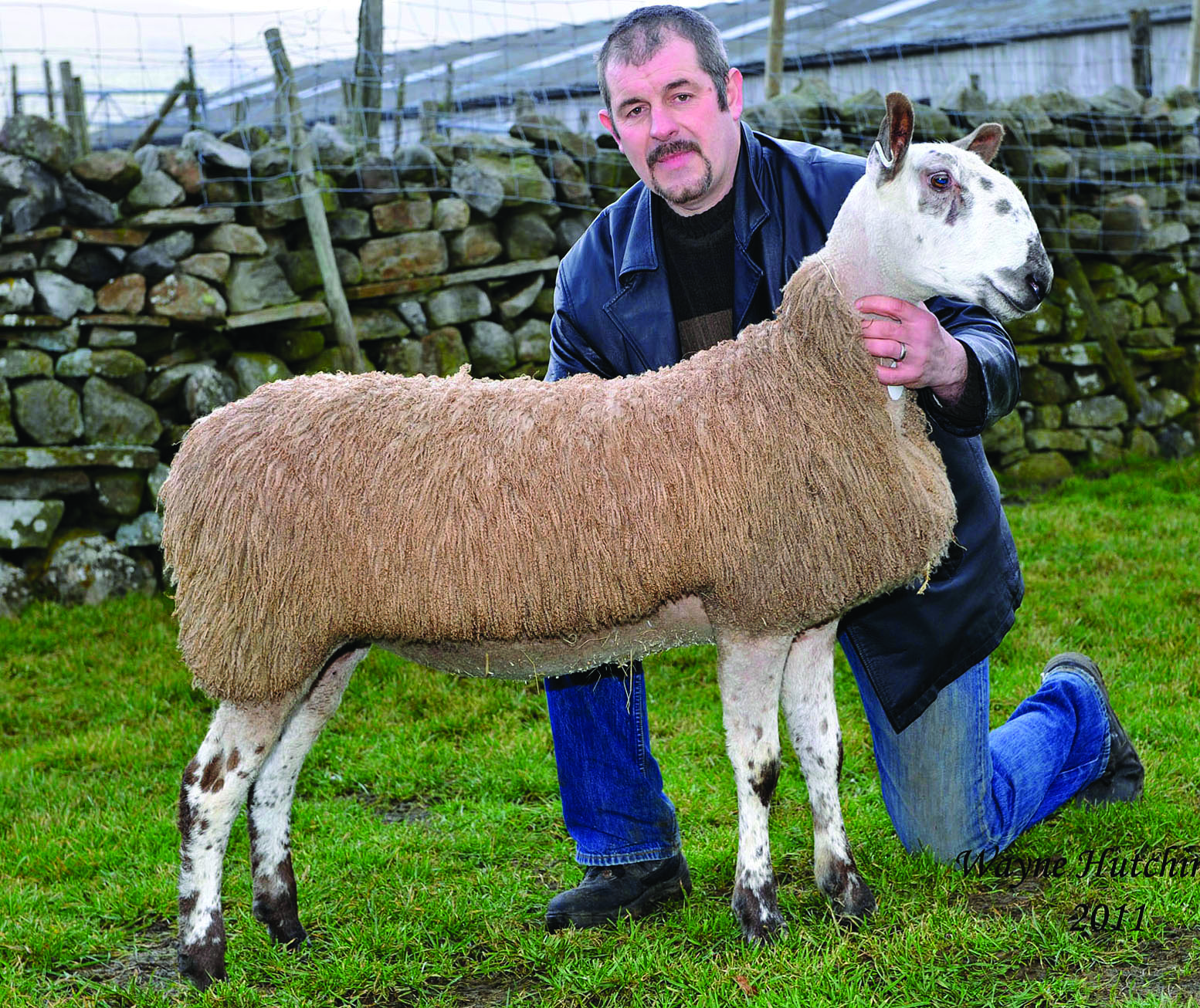 Hawes Female Sale 2011
22nd January 2011
Hawes
Mr D Watson
Once again Hawes set new records for the Bluefaced Leicester breed, seeing the average for the females increase on the year and a new record price for a female too, with strong demand for the top bloodlines with buyers from all over the country descending on this Mecca of crossing Leicesters.
Topping the day's trade was a cracking gimmer hogg by the Z14 Hewgill and out of a ewe by R1 Lunesdale from the Hewgill flock. She stood second in the pre sale show, catching the eye with her great skin and carcase, as well as an eye catching head, a very modern sheep. Frantic bidding saw Raymond Lund the auctioneer land the gavel at £8000 a new record price for BFL females, selling, once again, into Northern Ireland in a shared deal between S Laverty, Orra View and Robert Loughbridge, Orravale flocks, both from Co. Antrim.
The Hewgill flock produced the second top price of the day when a full sister to the tup lamb the Lord's sold at Hawes last autumn to the Midlock flock, a Z14 Hewgill / M8 Hewgill cross sold for £5800 to A Campbell, Argyll. The Lords completed their day with a ewe by Z40 Hewgill carrying twins to the Z14 Hewgill for £2600 to Jimmy Bell, Cottage flock.
The Kirkby Redgate flock have built up a strong reputation over the years with their sheep, and again they were out to impress, taking the reserve championship with a ewe by the £11,000 Y25 Hewgill and carrying twins to A5 Gargareth. It sold for £3100 to Martyn Archer, Carry House, who last week dispersed his flock of traditional Blues at Carlisle to concentrate on the crossing types. The Kirkby Redgate flock also took 3rd and 4th prizes in the gimmer hogg class, selling to £1400 and £1500 respectively to complete a good day out.
Jack Lawson from the Hundith flock sold a daughter of the Y1 Midlock, which has been doing really well in the breed, for £3600. This gimmer hogg was carrying lambs to C1 Smearsett and sold to Ashley Caton, Otterburn Lodge.
Other leading prices saw a gimmer shearling from WA & A Booth, Smearsett carrying triplets to the £7800 C1 Shafthill sell for £2700 to top Mule breeder Neil Marston of the Highberries flock. Gordon Rawsthorne from the legendary Lunesdale flock sold a gimmer hogg by Z1 Swarthburn to A Wight Midlock for £2500.
It was a day to remember for Ian Cousins from the Rookby Farm flock, near Kirkby Stephen, who on his first outing at the sale saw a new name etched into the championship trophy as he took the red tickets in the pre sale show, judged by David Watson. The gimmer hogg, showed by 17 year old Will Wildman as Ian is recovering from knee surgery, stood top of a strong line and sold for £1400 to Mr Thornborrow, Peebles from the Dawyck flock.
Forward 46 Sheep Overall average £1233 (up £172 on 2010)
Gimmer Hoggs to £8000 Av £1449
Gimmer Shearlings to £3100 Av £1310
Ewes to £2600 Av £550
Gimmer Hoggs M/s Lord, £8000, £5800 to A Campbell, Argyll. J J & E Lawson, £3600 to A V Caton, Skipton & £1300 G Rawsthorne, £2500 to J Wight & Sons, Midlock & £1300. W M Hutchinson & Sons, £1500, £1400. C T & J E Willoughby, £1400, £1300. I R Cousin, £1400. W A & A Booth, £1400. A V Caton, £1000. C Wood, £1000.
Gimmer Shearlings W M Hutchinson & Sons, £3100. W A & A Booth, £2700 to N C Marston, Cockermouth. A V Caton £850, £700 x 2. Ellis Bros, £700.
Ewes M/s Lord, £2600. J C & N Throup , £450, £400. FA Caton, £420.
Ewes & Gimmer Shearlings
| Placing | Class | Exhibitor | Flock Name |
| --- | --- | --- | --- |
| 1st | Ewes & Gimmer Shearlings | W M Hutchinson & Son | Kirkby Redgate |
| 2nd | Ewes & Gimmer Shearlings | J C & N Throup | Chelker |
| 3rd | Ewes & Gimmer Shearlings | Messrs Lord | Hewgill |
| 4th | Ewes & Gimmer Shearlings | A Caton | Otterburn Lodge |
Gimmer Hoggs
| Placing | Class | Exhibitor | Flock Name |
| --- | --- | --- | --- |
| 1st | Gimmer Hoggs | I R Cousin | Rookby Farm |
| 2nd | Gimmer Hoggs | Messrs Lord | Hewgill |
| 3rd | Gimmer Hoggs | W M Hutchinson & Sons | Kirkby Redgate |
| 4th | Gimmer Hoggs | W M Hutchinson & Sons | Kirkby Redgate |
Bluefaced Champions
| Category | Exhibitor | Type |
| --- | --- | --- |
| Champion | I R Cousin | Gimmer Hogg |
| Reserve Champion | W M Hutchinson & Sons | Kirkby Redgate |
Gallery
Back to Archive