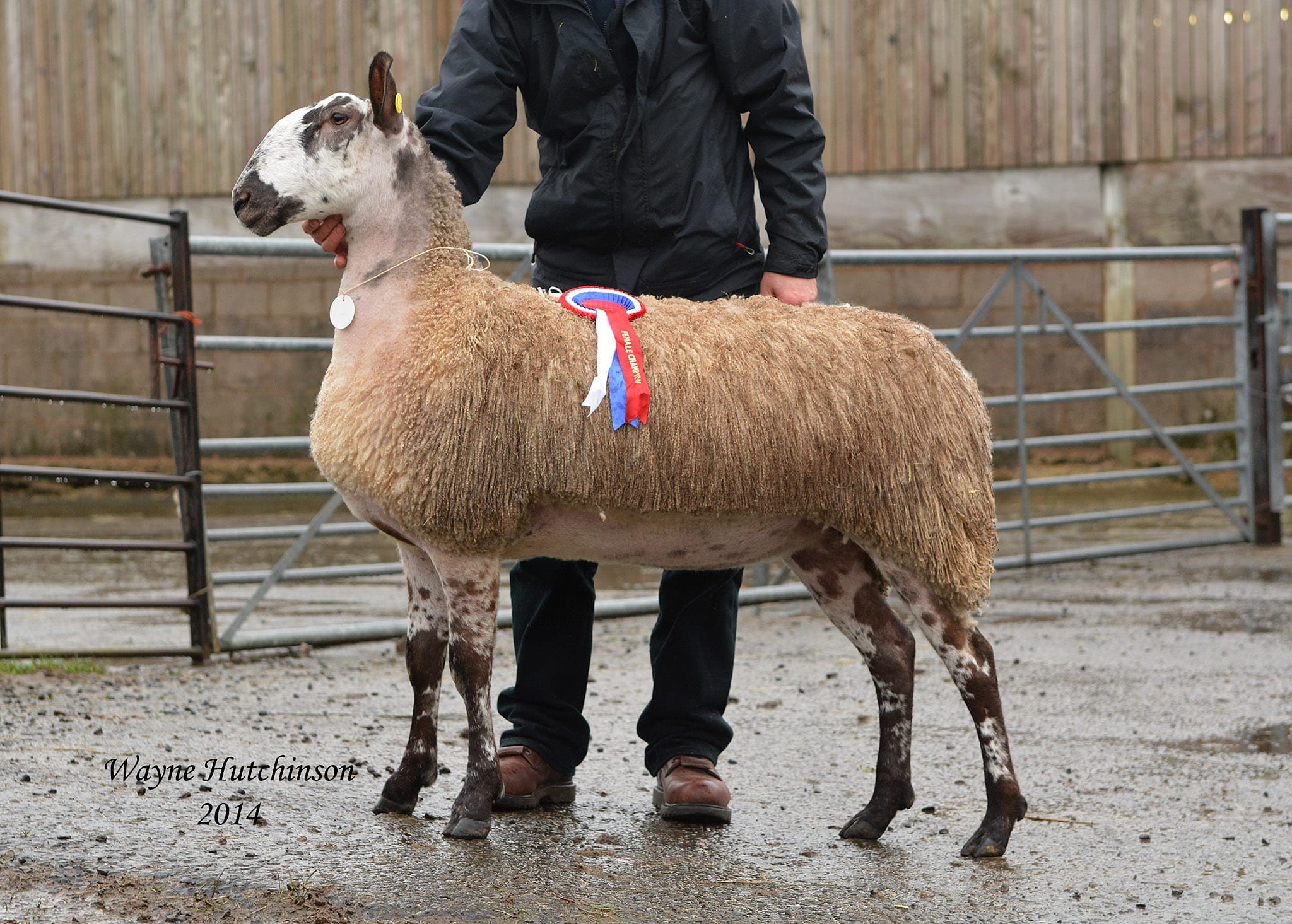 Hawes Female Sale
18th January 2014
Hawes
Mr C Thornborrow, Dawyck
Despite the wet weather, or maybe because of it, there was a great turnout at the Hawes in lamb sale, with buyers digging deep into their pockets to take home some of the best bloodlines on offer, with the average soaring £195 for six extra sheep forwards.
One of the pens which saw a high footfall throughout the day was Paul Browns from the Oak House flock based in Ravenstonedale, Kirkby Stephen. It was a gimmer lamb by D17 Hewgill which was drawing the eye. This stylish gimmer lamb, reared as a triplet, and is the same way bred as his tup lamb he sold at Hawes last back end to Highberries, Low Tipalt and Carry House  for £10,200, out of a ewe by the W1 Keer, which has done so well in the Kirkby Redgate flock over the years. She won her class at the local Ravenstonedale Show last year on her only show outing, and some fast bidding saw her reach £4400 at the fall of the hammer, selling to Crow Hall Farms, Northumberland.
Robin Booth from the Smearsett flock, Feizor near Lancaster enjoyed a cracking trade after taking 1st and 3rd in the gimmer shearling classes. The prices didn't reflect the show standings however, with the third prize gimmer making £3600, and selling away down into Norfolk to H Harvey. This powerful sheep is by "Black Tag" B13 Smearsett, which has done so well for the flock and is carrying twins to the homebred D15 Smearsett, a son of the noted Z4 Hundith. The first prize gimmer was by the D15 Smearsett, and is the full sister to the £12,000 tup sold to Marriforth a couple of years ago. It is carrying twins to V33 Lunesdale and sold for £3200 to Mark Bousfield.
The days champion once again went to Messrs Lord from the Hewgill flock. They have built up an excellent reputation over the years for bringing forwards some cracking sheep, and once again they produced the goods, with a massive gimmer lamb full of style and power to catch the judges eye. She is by X Factor, a tup bred by Jack Lawson and bought from Messrs Willoughby as an aged tup a couple of years ago for £7000, and out of one of the flocks better breeding ewes by B41 Hewgill. It sold for £2400 to A R Edmondson from the Hawkswell flock. It was the third prize gimmer from the same pen which made the Lords top price. It was the same way bred, but out of the full sister to the £12,500 E4 Hewgill selling to M/s Pears for £2600.
The Reserve Champion on the day went to a gimmer lamb from Paul & Granville Fairburn of the Marriforth flock. This stretchy lamb is by the £14,000 Midlock and out of a one of the best breeding ewes in the flock, which has already bred a son which is being used at Marriforth, by Z8 Thirwell, and sold for £2000 to Rob Walker, Dunsop Bridge.
Jack Lawson, Hundith enjoyed a canny trade too, selling to £2500 with a gimmer hogg to J Huddleston, Ravenscar, and had another at £2200. Midlocks annual consignment at the sale also caused a lot of interest, with their six gimmer shearlings averaging just shy of £2000, with a top of £2100 for their 2nd Prize gimmer shearling, selling to A Cambell, Drimsynie.
Forward 59 Sheep – Overall average £1204 (up £195 on 2013). Gimmer Hoggs to £4400 Av £1110. Gimmer Shearlings  to £3600 Av £1511. Ewes to £900 Av £550.
Leading Prices:
Gimmer Hoggs –I & P Brown, £4400 to Crow Hall Farms, Hexham.  M/s Lord, £2600, £2400, £2000.  J J & E Lawson, £2500, £2200, £800. E Fairburn & Sons, £2000, £1000, £900.  W M Hutchinson & Son, £1400, £800.  W A & A Booth, £1400 x 3, £1300. C T & J E Willoughby, £1100.  W C Porter & Son, £1000, £500 x 3.  J Bell, £800.
Gimmer Shearlings – W A & A Booth, £3600, £3200, £2200.  J Wight & Sons, £2100 x 2, £2000 x 3, £1600.  M/s Lord, £1700.  R & P E Hargreaves, £1200.  J J & E Lawson, £1000.  W J & L A Barker, £900.
Ewes – R & P E Hargreaves, £900.  Ellis Bros, £600.  J Bell, £500.
Gimmer Hoggs
| Placing | Class | Exhibitor | Flock Name | Lot Number |
| --- | --- | --- | --- | --- |
| 1st | Gimmer Hoggs | Messrs Lord | Hewgill | 140 |
| 2nd | Gimmer Hoggs | E Fairburn & Sons | Marriforth | 128 |
| 3rd | Gimmer Hoggs | Messrs Lord | Hewgill | 138 |
Gimmer Shearlings
| Placing | Class | Exhibitor | Flock Name | Lot Number |
| --- | --- | --- | --- | --- |
| 1st | Gimmer Shearlings | W A & A Booth | Smearsett | 145 |
| 2nd | Gimmer Shearlings | J Wight & Son | Midlock | 134 |
| 3rd | Gimmer Shearlings | W A & A Booth | Smearsett | 146 |
Ewes
| Placing | Class | Exhibitor | Flock Name | Lot Number |
| --- | --- | --- | --- | --- |
| 1st | Ewes | Ellis Bros | Ilkley Moor | 117 |
| 2nd | Ewes | J C Throup | Chelker | 153 |
Bluefaced Champions
| Category | Exhibitor | Type |
| --- | --- | --- |
| Overall Champion | Messrs Lord | Gimmer Hogg |
| Reserve Overall Champion | E Fairburn & Sons | Gimmer Hogg |
Gallery
Back to Archive