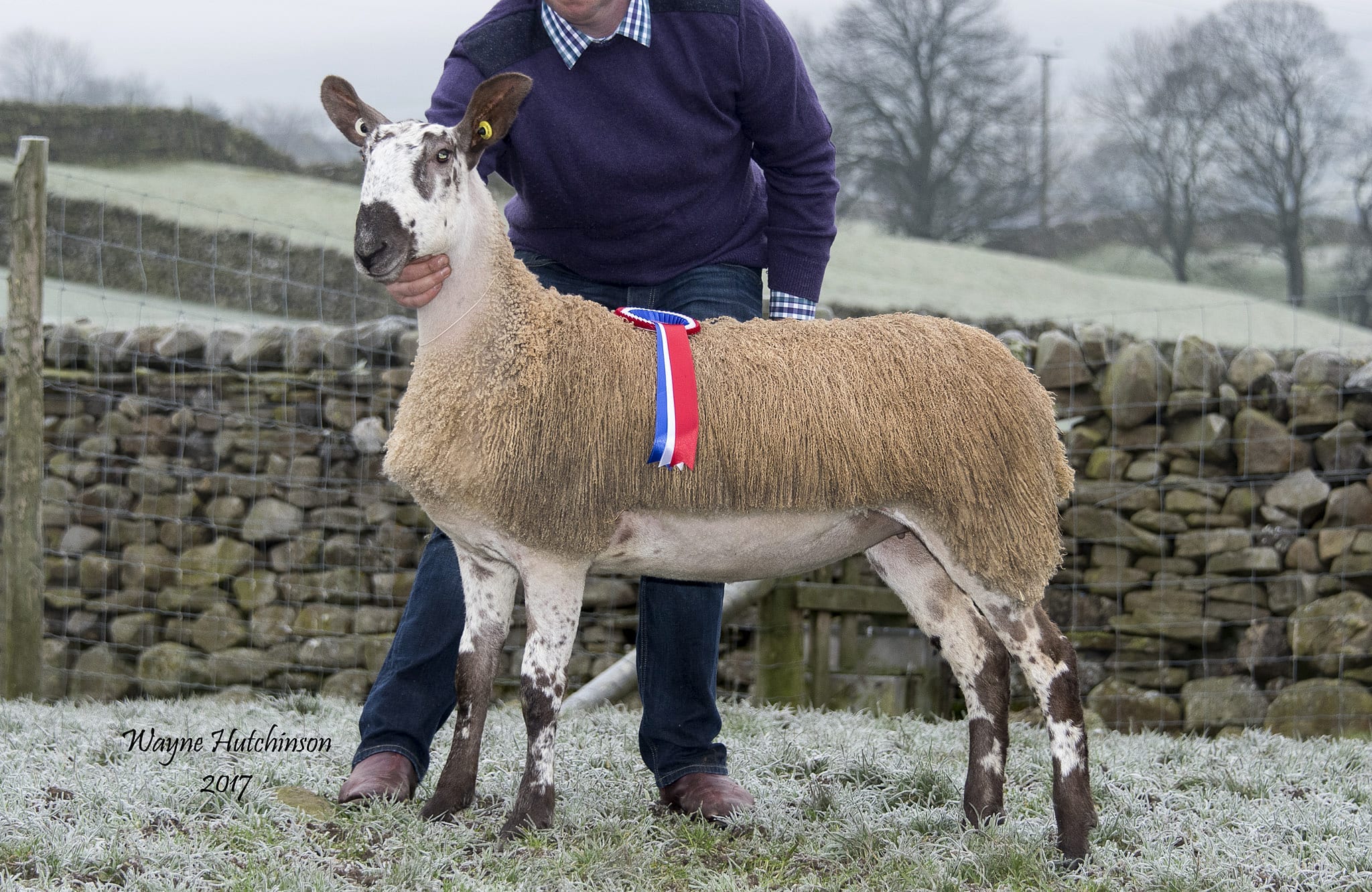 Hawes Female Sale
21st January 2017
Hawes
Mr A Pye, Emmetts
On a sharp, cold, winter morning, the ringside action at the annual Hawes female sale provided plenty of heat, with a strong demand for some top quality females. With a catalogue of nearly 100 sheep, including the dispersal of the noted Bull and Cave flock, there was always going to be plenty of interest in the sale, and indeed, buyers came from all over the UK to have a nosey at some of the best crossing bloodlines available in the breed.
The champion, a gimmer shearling, came from the Booth family, Feizor, near Settle in North Yorkshire. It was an easy choice by judge Alan Pye. J47 Smearsett was sired by the "Black Tag", B13 Smearsett, the tup behind many of the flock's best Mule gimmers, and out of the same ewe as "G11 Smearsett, or "Ted" as he is more affectionally known as. Her mother is by the prolific Z4 Hundith, which has set the breed standards for the past few years, which was run at Highberries, and Robin kept a full brother to use on his Swales this year and is looking forward to seeing his progeny. The bidding was brisk, setting off at £2000 in a packed ring in which there was standing room only….and only at a push at that! Bidding rose fast and the final bid of £10,200 saw Jack Lawson from the Hundith flock and Richard Harker, Grayrigg get her.
The Smearsett flock enjoyed a great day out, taking all the first prize places in the Tithebarn sponsored pre sale show. It was their ewe, F50 Smearsett, which took the reserve champion place. She is by the C1 Shafthill, bought out of Carlisle for 7800 gns a few years back, out of the same ewe which bred "Black Tag", and has also bred the E1 and G1 Smearsett tups which are breeding well in other flocks, and she herself has bred tup lambs selling for £4500 and £3500 already. She sold for £6000 to the Keer flock run by Kevin Barker, who will be hoping for something similar from her three lambs she is carrying to D15 Smearsett. The gimmer shearling they won with sold for £2600 to David & Val Hill, Great Asby. They also sold a couple more gimmer shearlings for £2800, completing a great day for the family.
Hewgill always attract a good following at these sales, and this sale was no different as they had a great packet on offer. Their first lamb was full of power and style and some top bloodlines. It goes back to the E1 and D17 Hewgill lines which have proved themselves so well over the years, and the Lords have used his full brother on 85 Swale ewes this last backend. She sold for £6000, selling into Northern Ireland to the Glenshane flock run by Michael McKenna.
The Bull & Cave flock have always been noted for their quality and there was a lot of interest in the dispersal of 31 sheep. Topping their trade was a two crop ewe, E23 Bull and Cave, by the B3 Barley and out of a ewe by Y30 Lunesdale, carrying twins to the G35 Midlock, which was bought at Hawes a couple of years back for £11,000. The buyer was Richard Hargreaves from the Barley flock, who was buying back in some of his bloodlines. He had to fork out £5200 for the privilege. The Bull & Cave flock ended the day with an average of £1103 for their 31 sheep, a very nice send off as it were!
Ewes
| Placing | Class | Exhibitor | Flock Name |
| --- | --- | --- | --- |
| 1st | Ewes | W A & A Booth | Smearsett |
| 2nd | Ewes | J Nelson & Son | Bull & Cave |
| 3rd | Ewes | W & C W Dent | Greenriggs |
Gimmer Shearlings
| Placing | Class | Exhibitor | Flock Name |
| --- | --- | --- | --- |
| 1st | Gimmer Shearlings | W A & A Booth | Smearsett |
| 2nd | Gimmer Shearlings | J E Thorpe | Blackburn |
| 3rd | Gimmer Shearlings | J Nelson & Son | Bull & Cave |
Gimmer Hoggs
| Placing | Class | Exhibitor | Flock Name |
| --- | --- | --- | --- |
| 1st | Gimmer Hoggs | W A & A Booth | Smearsett |
| 2nd | Gimmer Hoggs | W A & A Booth | Smearsett |
| 3rd | Gimmer Hoggs | Messrs Lord | Hewgill |
Bluefaced Champions
| Category | Exhibitor | Type |
| --- | --- | --- |
| Overall Champion | W A & A Booth | Gimmer Hogg |
| Reserve Overall Champion | W A & A Booth | Ewe |
Gallery
Back to Archive