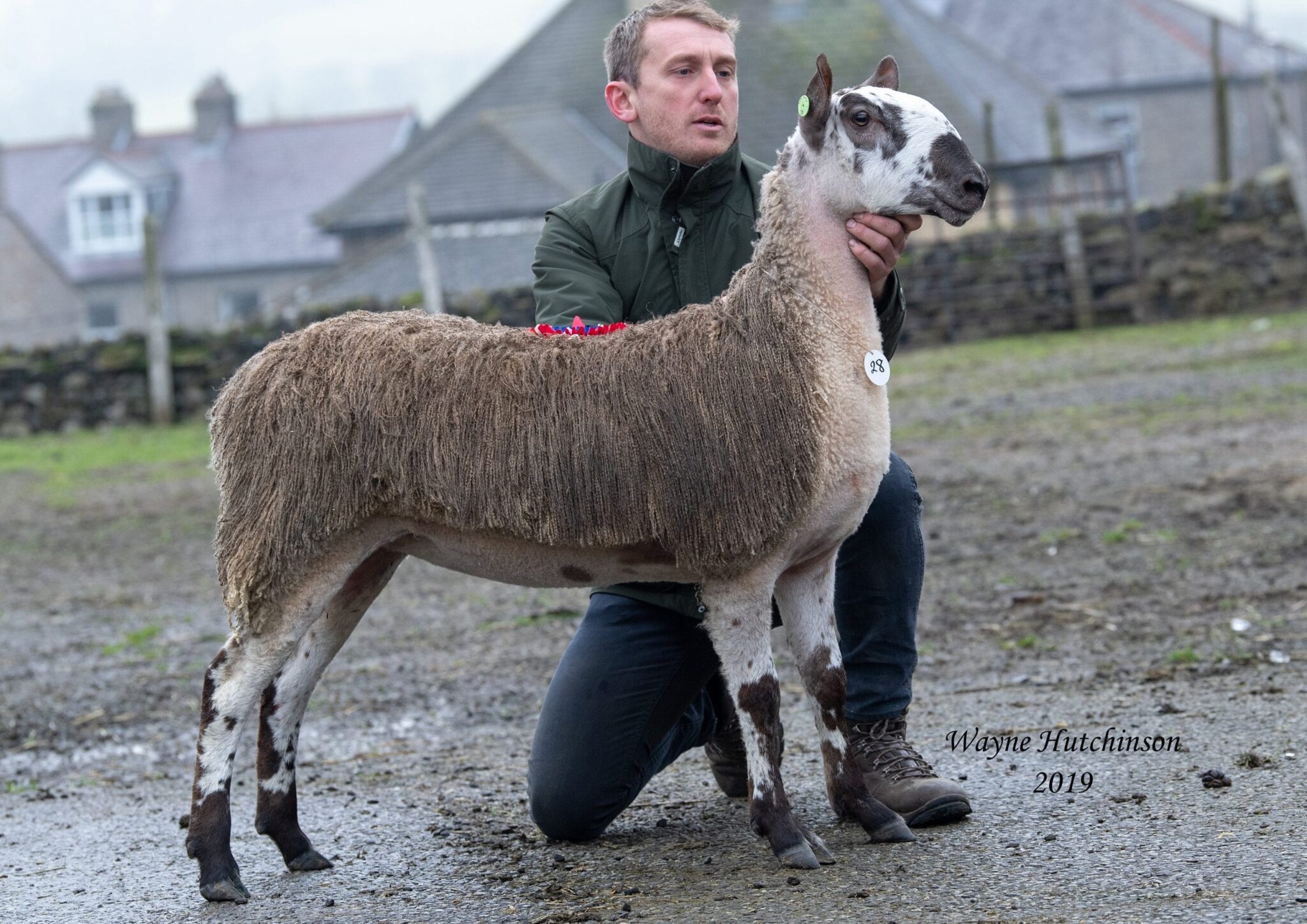 Hawes Female Sale
19th January 2019
Hawes
Neil White, Barf House
On a cold raw day, typical of a Hawes female sale, a strong crowd gathered at this market town and saw a strong trade for some great females. Averages were back a bit, but that was mainly due to the underlying trade following on from last year's gimmer lambs sales, and the flying trade last year which saw averages jump a massive £300 in the gimmer shearlings.
Topping the day's trade was strong gimmer hogg from the Hewgill flock, which stood 2nd in the pre-sale show. She is full of homebred bloodlines, by the H45 Hewgill and out of a ewe by E47 Hewgill and full sister to the tup they sold for £10,000 at Hawes last year. It was sold to D McElhennon, Co Derry.
The Midlock consignment again drew in the crowds and their pen leader was a cracking gimmer shearling by J6 Hewgill. It is the full sister to K21 Midlock sold back in 2017 and is carrying triplets to the L1 Hundith, a son of K8 Shafthill bought last year. It sold to Northern Ireland too, with P G Mullan, Swatragh, Co Derry taking home the pick of pen.
Taking the Reserve Champion ticket was Robin Booth from the Smearsett flock with a ewe which is full sister to E1 Smearsett, which sold to Marriforth, by H3 Riddings and carrying a single to the Ted tup which is doing so well for the flock. They retained a tup lamb out of her last year to use for themselves, which helped her trade and saw the hammer fall at £2400 for her, selling to Meg Hallam, High Birkwith. The flock had a canny trade throughout, seeing a shearling by J2 Midlock carrying triplets to D15 Smearsett hit £2400 selling to Ashley Caton and a gimmer hogg, again by the Midlock and out of a Highberries Highlander ewe reach £2200, selling to Phillip Teasdale.
Ashley Caton, Otterburn Lodge, picked up 2nd prize in the gimmer shearling class, which later sold in a £2000 deal to David & James Lawson, Gragareth. This classy gimmer was by the homebred J12 Otterburn Lodge and carrying twins to J1 Smearsett.
Kindly sponsored by Castle Sculptures and Eden Farm Supplies.
Show and sale of individual Bluefaced Leicester ewes, gimmer shearlings and gimmer hoggs
Forward: 46 Sheep
Leading Prices:
Ewes – W A & A Booth, £2400. J A & R Caton, £1000. Av. £1700
Shearlings – J Wight & Sons, £3400, £1800, £1100, £1000, £800. W A & A Booth, £2400, £1500, £1400, £1000. J A & R Caton, £2000. M R Thornborrow, £800. Av. £1400
Hoggs – M/s Lord, £5000, £1500. W A & A Booth, £2200, £1100, £800, £750. M Allan, £1400, £700. J Bell, £1000, £400. C T & J E Willoughby, £800. J & K Metcalf & Son, £600. Breck House Enterprises, £550. W & C W Dent, £500. J A & R Caton, £400. W C Porter & Sons, £400. Av. £804
Aged Ewes
| Placing | Class | Exhibitor | Flock Name |
| --- | --- | --- | --- |
| 1st | Aged Ewes | W A & A Booth | Smearsett |
| 2nd | Aged Ewes | J A & R Caton | Otterburn Lodge |
Shearling Ewes
| Placing | Class | Exhibitor | Flock Name |
| --- | --- | --- | --- |
| 1st | Shearling Ewes | W A & A Booth | Smearsett |
| 2nd | Shearling Ewes | J A & R Caton | Otterburn Lodge |
Ewe Hoggs
| Placing | Class | Exhibitor | Flock Name |
| --- | --- | --- | --- |
| 1st | Ewe Hoggs | M Allan | Greenhow |
| 2nd | Ewe Hoggs | Messrs Lord | Hewgill |
| 3rd | Ewe Hoggs | W A & A Booth | Smearsett |
Bluefaced Champions
| Category | Exhibitor | Type |
| --- | --- | --- |
| Overall Champion | M Allan | Ewe Hogg |
| Reserve Champion | W A & A Booth | Aged Ewe |
Gallery
Back to Archive