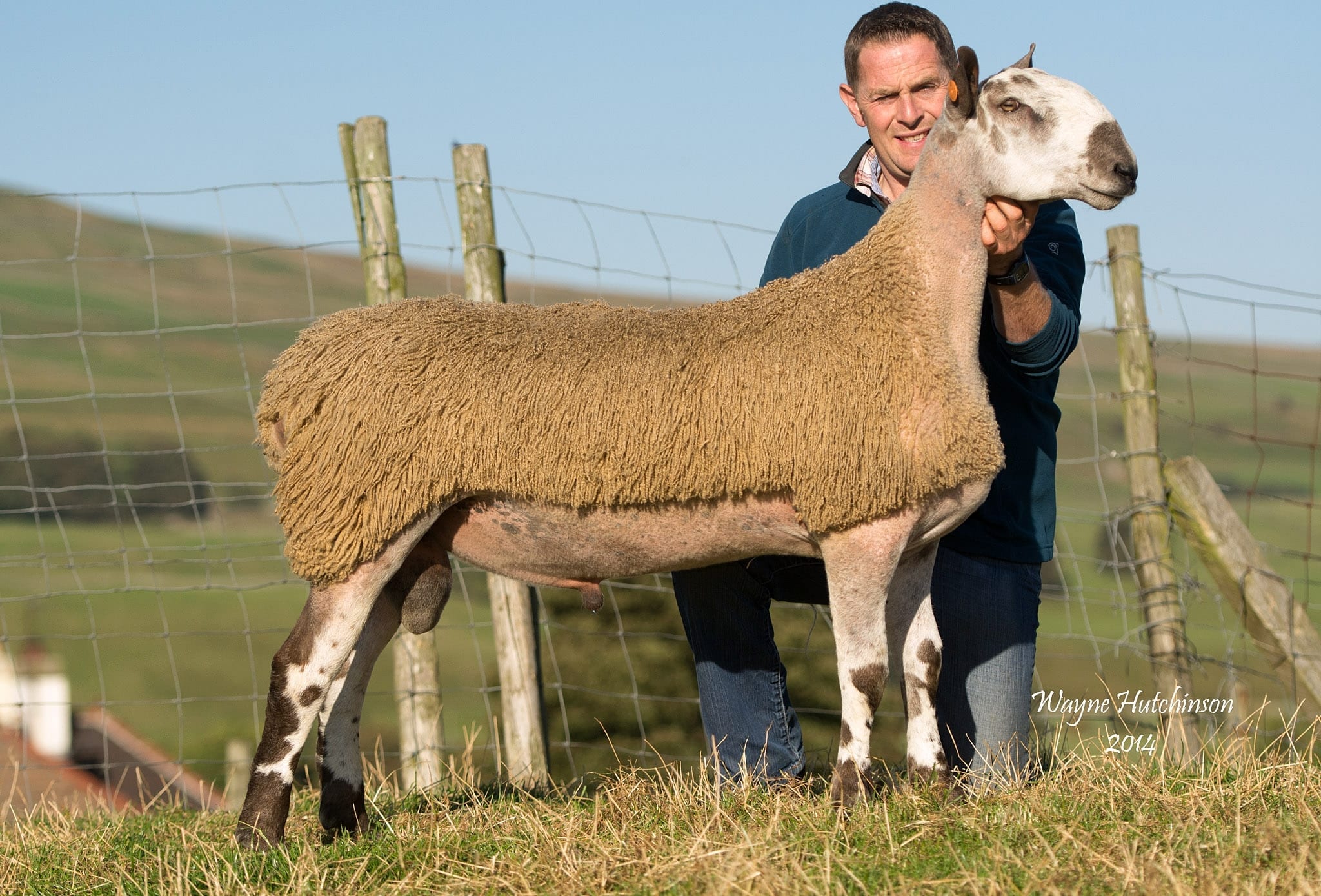 Hawes Ram & Female Sale
2nd October 2014
Hawes
Mr C Napier, Burnhead (Agd, Shlgs & Females), Mr G Loughery, Temain (Ram Lambs)
Once again it was an early morning finish for the die-hard Bluefaced Leicester fans as the annual Hawes marathon sale ran into the early hours. The three auctioneers all did their turn and kept the trade flowing for a full 16 hours, with nearly 900 head of sheep entered, there was a packed ring throughout. In fact, the ring was at its fullest late in the day when an extraordinary run of tup lamb pens, dubbed by many as the "Golden Aisle" between 10pm and 11pm, with standing room only around the ring, and packed aisles of buyers looking for their ideal tup.
It was the middle of this run in which the headlines were made. All day the excitement had been growing, like the headline act at a rock festival, as a pen of lambs from the Midlock flock fired up the imagination and loosened the wallets of Mule breeders from all over the country, from the north of Scotland to the moors of Dartmoor. Once again, as it has been the case at other sales this autumn, the spotlight was well and truly on lambs by the homebred F27 Midlock Mustang. The lambs by him were just something else, and dubbed "looked like male models" by one onlooker. It was a view that others seemed to agree as they romped away with the bids, with Raymond Lund struggling to keep up with the bids, which is an achievement in its self! Topping the day's trade, at £15,000 was a son of Mustang out of a ewe by the £11,000 E1 Hewgill bought a couple of years ago at Hawes. Buying him were the Scottish pairing of Andrew Campbell, Drimsynie, and Jamie Pirie, Blarnavid. They were chewing their gum faster and faster as the bids piled on, that's for sure! Other lambs from Midlock by the Mustang out of E1 Hewgill ewes saw bids of £11,000 for G35 Midlock going to Messrs Hargreaves, Barley, Mark Nelson, Bull & Cave and David Harker, Overthwaite. Another went to Martyn Archer, Carry House and J Hunter, Bellingham for £10,000. In all the 12 lambs from Midlock averaged out a massive £6683 for 12 lambs, which should go some way towards paying the fuel bill for the trip down from Crawford.
Like last year for the Barkers from the Keer flock, it was a case of Back to the Future as an Embryo lamb by a tup from a while back – G1 Keer was by R1 Lunesdale, in his prime, one of the best Mule breeders around, and out of a ewe bred by Neil Marston, Highberries, by the modern day equivalent to the Lunesdale tup, Z4 Hundith, combining some of the best bloodlines available. It clearly triggered the imagination of plenty of breeders as he raced to a final bid of £14,000, making it the top price from the Keer flock yet. It was knocked down to Appleby based breeder, Martin Allan.
It's not often Raymond Lund has to quieten the ringside when Hewgill come into the ring with their tups, but this year they followed the Midlock consignment straight into the ring, and Raymond had to have a quick straitening up session to quell the commotion. Their pen topper was their second lamb into the ring, G2 Hewgill, by the homebred E47 Hewgill and out of a ewe by the R1 Lunesdale, same as the Keer topper. He sold for £10,000 to regular buyers Andrew Nicholson, Swinside and J Ireland, Stockhow, who have bought a string of tups off Hewgill over the last few years and are doing well for them. Hewgill also sold to £8500 with another E47 son to Paul Fairburn, Marriforth and their first lamb, again by the prolific E47, sold for £6000 to Richard Hutchinson, Kirkby Redgate.
Ron & Fran Wilson enjoyed a good day at the sale, despite being early in with their lambs. Again it was Z4 Hundith breeding behind their pen topper, by the £10,200 F1 Oak House bought last year in a joint deal with Neil Marston and Martyn Archer. This classy lamb oozed style and his breeding caught the eye of many and he sold to Phillip Dawson, Kentmere Hall for £9000.
Robin Booth has enjoyed a great autumn with his Mule lambs, winning at Skipton and taking 1st and 2nd at Hawes too, so his tups were always going to be in demand. His pen topper was a powerful lamb by the homebred D17 Smearsett and out of another daughter of the Z4 Hundith tup, which seemingly became the foundation stone to most of the top Mule breeding flocks in the North of England! He sold for £8500 to David Hill, White Walls, Great Asby. Booths also had the 4th prize lamb which was by D15 Smearsett, a son of the aforementioned Z4 Hundith, and out of a ewe by V33 Lunesdale. He sold for £7000 to a heavyweight consortium of Jack Lawson, Hundith, James Porter, Riddings and Browns, Asby Hall.
Four tups hit the £8000 mark, including two from Midlock, then one from just up the valley from Midlock as Jimmy Bell's Cottage flock hit the mark. This powerful lamb was by the £12,500 E4 Hewgill and out of a ewe by Z1 Todhills, which goes back to a gimmer bought from Neil Marston for £6000 by the old Z4 tup again. The other at £8000 saw Paul Fairburn, Marriforth sell to M/s Lord, Hewgill a very stylish lamb with a great skin. He was by the £12,000 Smearsett and out of a ewe by the £14,000 D41 Midlock, which bred Marriforth's first lamb last year.
Welsh breeder Michael James also enjoyed a great day, taking an unprecedented champion and reserve in the pre-sale show, judged by Grahame Loughery and C Napier. His champion was by the D7 Old Hemley and out of a ewe by the B1 Duhonw and sold for £6000 to a consortium of James Herdman, Mrs D Sharp and P W Hedley. The Reserve Champion was by a lamb bought from Ron and Fran Wilson last year, F4 Low Tipalt, which is another son of Z4 Hundith, and out of a ewe by the old A5 Old Hemley, which has done so well for the flock. He sold to Ed Bulman for £4000.
Other notable prices, on a day which saw averages slip some £148 to £1244, included a bid of £7500 for the third prize lamb from Kirkby Redgate, by E28 Hewgill, selling to Stewart Park, SP Dalpeddar, and a bid of £7000 for the very first lamb into the ring, setting the tone for the day, from Will & Gill Sedgeley, Langstroth, who had a good run of Mule gimmers at Hawes and Bentham, topping at £270 at Bentham and averaging £116 for 420 lambs over the two sales. He was by their home bred stock ram which had sired many of the lambs, E7 Langstroth, selling to Alan Barnes Cowden.
In the shearling section a big strong tup from John Smith-Jackson hit £7000. He is by the E28 Midlock and by C2 Shafthill, and his full brother sold for £7000 last year at Carlisle and another brother made £3000 at Hawes. He has been used successfully, with two lambs in the top pen at Carlisle and another eight in the second pen. He sold away to Crow Hall farms in Northumberland.
At the end of the marathon sale it was clear that buyers were looking for strong, powerful sheep which were correct all round, with good mouths and a good skin. Tups which had a good conformation were in a strong demand, fetching a premium price. Above all, it was the success of the Mule gimmer which drives this breed forwards, and dictates its future.
Aged Rams
| Placing | Class | Exhibitor | Flock Name | Lot Number |
| --- | --- | --- | --- | --- |
| 1st | Aged Rams | G W WHitwell | Pendle | 43 |
Shearling Rams
| Placing | Class | Exhibitor | Flock Name | Lot Number |
| --- | --- | --- | --- | --- |
| 1st | Shearling Rams | W C Porter & Son | Riddings | 22 |
| 2nd | Shearling Rams | J Smith-Jackson | Shafthill | 55 |
| 3rd | Shearling Rams | M R Thornborrow | Dawyck | 107 |
| 4th | Shearling Rams | E Fairburn & Sons | Marriforth | 66 |
Ram Lambs
| Placing | Class | Exhibitor | Flock Name | Lot Number |
| --- | --- | --- | --- | --- |
| 1st | Ram Lambs | M James | Duhonw | 682 |
| 2nd | Ram Lambs | M James | Duhonw | 683 |
| 3rd | Ram Lambs | W M Hutchinson & SOn | Kirkby Redgate | 782 |
| 4th | Ram Lambs | W A & A Booth | Smearsett | 333 |
Gimmer Shearlings
| Placing | Class | Exhibitor | Flock Name | Lot Number |
| --- | --- | --- | --- | --- |
| 1st | Gimmer Shearlings | Messrs Lord | Hewgill | 917 |
| 2nd | Gimmer Shearlings | Messrs Lord | Hewgill | 918 |
| 3rd | Gimmer Shearlings | N J & L Allan | Lakethwaite | 934 |
| 4th | Gimmer Shearlings | W M & J E Shuttleworth | Barbon Fell House | 946 |
Gimmer Lamb
| Placing | Class | Exhibitor | Flock Name | Lot Number |
| --- | --- | --- | --- | --- |
| 1st | Gimmer Lamb | J Bell | Cottage | 913 |
| 2nd | Gimmer Lamb | J Bell | Cottage | 912 |
| 3rd | Gimmer Lamb | N White | Barf House | 908 |
| 4th | Gimmer Lamb | A Caton | Otterburn Lodge | 920 |
Bluefaced Champions
| Category | Exhibitor | Type |
| --- | --- | --- |
| Overall Champion | M James | Ram Lamb |
| Reserve Overall Champion | M James | Ram Lamb |
Gallery
Back to Archive