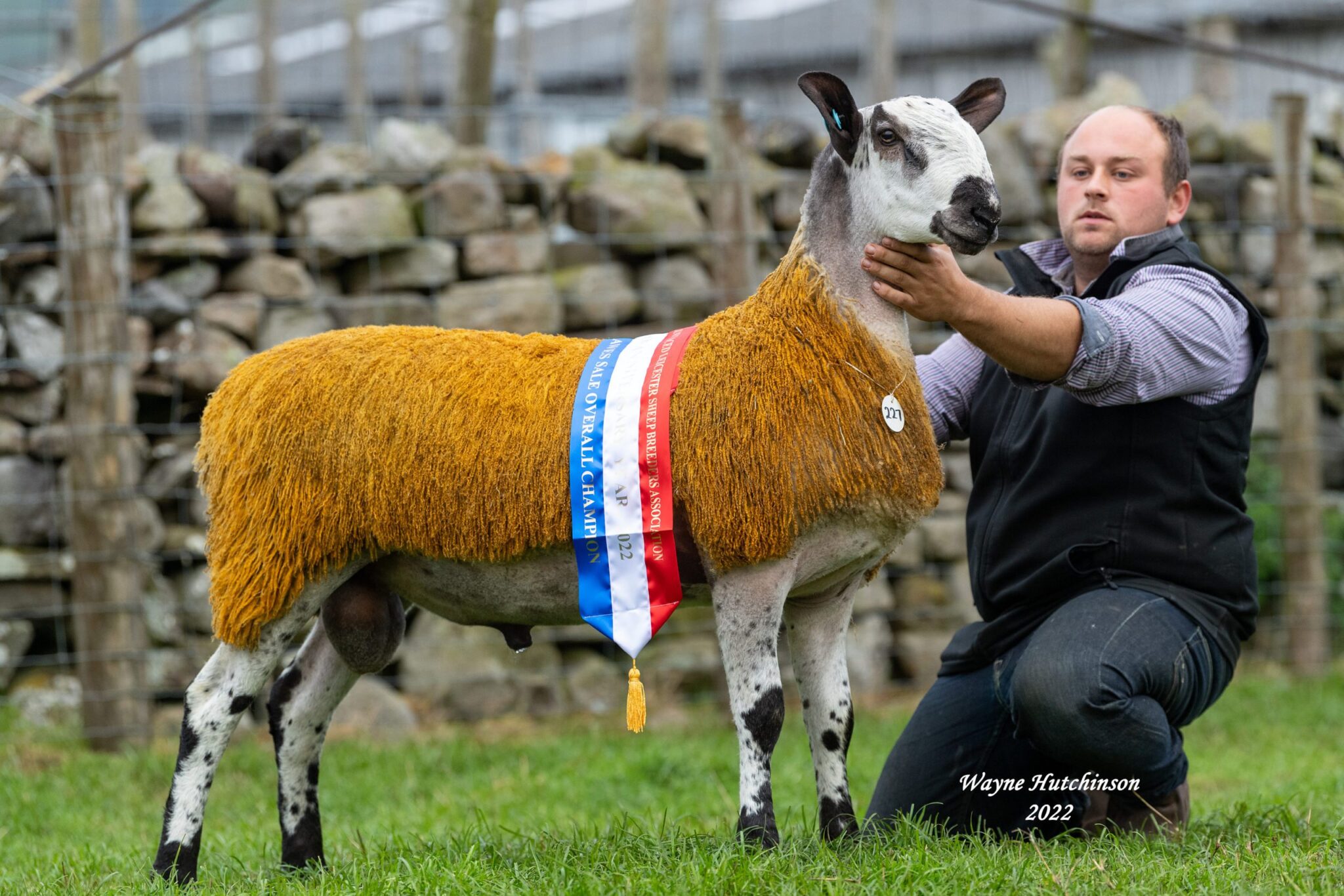 Hawes Ram Sale – Thursday 29th September 2022
29th September 2022
Hawes Auction Mart
Freddie Moore, Ashcleugh (Aged/Shearling Rams & Females), John Smith-Jackson, Shafthill (Ram Lambs)
Hawes – Thursday 29th September, 2022
Kindley Sponsored by I'Anson Bros & Farmers Guardian Newspapers
As always, the sale at Hawes is the highlight of the Bluefaced Leicester sale season, with all roads leading to Hawes, with stockmen from all over the UK descending on this small market town in the heart of the Yorkshire Dales, many keen to depart with hard earned cash to buy the tup of their dreams for next year's mule gimmer lamb crop. Once again, the marathon sale didn't disappoint, kicking off at 9am prompt and the hammer falling bang on 10pm, with a catalogued 710 sheep going under the hammer. Maybe less than other years thus the shorter sale, which sometimes used to finish in the early hours of the following morning, but the quality and demand was not diminished, with 16 tup lambs hitting 5 figures and a massive 39 going on to make £5000 or more, with the average £2373, up just shy of £40 on last year's record-breaking sale for around less forward.
There was a shared top price on the day, with £40,000 being the winning bid twice through the sale. The first to hit that price was from Messrs Ridley, Shitlington, from deep in the Northumberland hills, where they run 35 Blue ewes, with a corker of a tup lamb which has been shown successfully over the summer, with many eyes being casting over him then, as he strode into the show ring, a right cocky lamb. He also took the champion ticket at the Roman Wall show and expectations were high for him at Hawes. He didn't disappoint, with a crowd around the pen from the moment he was unloaded on Wednesday evening. This natural March born lamb was by a Hewgill M1 sired Dawyck tup bought out of Carlisle for a bargain basement price of 1000gns, which put 4 lambs in the Shitlington top pen of mules which went on to take 2nd at Hexham, and most of his lambs in the flocks first 100 lambs which went on to average £168. A Dawyck sired mule lamb took the champion ticket at Bellingham show and went on to take the Reserve interbreed there too.  He is out of one of the flocks best ewes by the G1 Midlock, a massive tup which bred so well for the flock over a number of years. Bidding was fast and furious and when the hammer fell at £40,000 you could see a bit of a dazed unbelieving look in the faces of the Ridley clan. Taking home this beast of a tup were the trio of Midlock, Allanfauld and Flash House. The Shitlington pen ended with an average of £8164 for their 7 lambs.
The second to hit this massive figure were the Lords from the Hewgill flock up on Stainmore, near Kirkby Stephen, clocking up a new top price for this noted flock. It was a long wait for them sitting as the last but one in the catalogue, but it was a wait worth the while as their number one lamb climbed up through the thousands rapidly, with eagle eyed auctioneer, Raymond Lund, not missing a bid. This embryo lamb is by the £5500 Marriforth they bought last year, by the Greenriggs and out of one of the flock's favourite gimmer shearlings by the homebred M39, a son of E1 Hewgill used so successfully at Midlock. He was a striking lamb when he was born and had been Johns pick of the bunch from day one. With a colour which was certainly eye-catching, with a dazzling depth of white it was easy to see why he was getting all the attention. He sold in a two-way split to Jamie Pirie, Blarnavaid and Andrew Campbell, Drimsynie. His embryo brother strode into the ring following his brother and went on to make £15,000, selling three ways to Midlock, Finlay Robertson, Beeches and Alec Brown, Macqueston, with Raymond pulling the bids out of lead bidder, Alec Brown, even before he had made a move to signal he was going again! This took the Hewgill pen average to £8737 for their eight lambs.
"Mary had a little lamb" is the start of a very familiar nursery rhyme, but this nursery rhyme turned into a fairy tale for Mary Marston as she sold one of her Highberries lambs for a cracking price. The noted flock run with husband Neil has enjoyed a great reputation over the years, especially within the North of England mule circles, his bloodlines behind many of the top tups. Their pen leader was out of one of Marys own ewes, sired by L3 Low Tipalt and he is sired by the homebred "Golden Boy" a son of the illustrious Midlock G34, who is doing exceptionally well in the flock, with half of the 2nd prize pen at the Hawes gimmer lamb sale sired by him and six of the tups in the Highberries pen by him. This tup lamb, which has been shown just the once at Cockermouth, where he was the breed champion on the day. The hammer fell at £34,000 with him being sold in a 5 way share to a five-way split to Northern Irish regulars, S Laverty, E Harkin, A McKillop, Jonathan Loughery and PG Mullan. The Highberries pen levelled at a very healthy £4300 for the 15 lambs sold.
Once again Midlock provided a pen of lambs full of power and style, with a buzz around the pen from first light. There was always going to be a big price from the pen, and it was their first lamb into the ring which was the star attraction, a son of the £23,000 Riddings that they purchased out of Hawes last year. This boy was well balanced, with a great skin and outlook, full of good breeding on both sides, his mother by the L27 Midlock. He was knocked down for £25,000 to Martyn Archer, Carry House and M/s Hunter, The Steel. They had another hitting the magical 5 figure mark, with their third lamb into the ring, this one was full of fresh bloodlines, being the first tup by the K1 Dyke that they bought quite some time ago and out of a Shafthill sired homebred ewe. This lamb had a great confirmation and a lovely sparking white, which helped catch the eye of McClymonts from Auld Tinnis, who snapped him up at £16,000. The Midlock pen ended up averaging £6330 for 10 lambs, a great trade for a great pen of tups.
The breed record was shattered last year when Riddings sold their sale champion for £65,000 and all eyes were on how this boy would do and the answer when it came was pretty emphatic for the Dawyck flock, with three of his sons selling for five figures. Their highlight was a bid of £17,000 for R7 Dawyck, a powerful tup with great bone and colour. He was out of a homebred ewe L45 Dawyck which is the best breeding ewe in the flock at the moment, by the K1 Shafthill, which has done well for the flock. He was knocked down in a three way split to P Teasdale,  J E Carruthers and W & P F Walton. His full brother went on to make £16,000. This one as full of stretch and had a great outlook and was knocked down to a trio of Scottish buyers, Colin Dick, Hamildean, Messrs MacArthur, Cretlevene and Kyle Campbell, Claylands. Their final 5 figure was a bid of £10,000 for another son of the Riddings, this was out of a gimmer by the Smearsett M2 and sold into Wales with Michael James, Stephen Abberley, Henry Bennet and Iestyn Richards all taking an equal share, giving the Dawyck flock a very strong average of £5583 for their 12 lambs, with the record Riddings tup certainly proving his worth at the first time of asking.
A further brace of lambs hit £16,000. The first to hit this came from Marion Porter with her smart lamb by Skeughdale N2, the sire behind last year's record breaker, and out of her best breeding ewe by Riddings Thumper, which has already produced tups sold to Kilnstown and Riddings. He was sold to Paul Fairburn. The other at £16,000 came from Eamon Harkin, Moneygran, making just his second appearance at the sale as a vendor. His smart lamb was by an Orraview tup he bought a ¼ share in last year at Ballymena and its mother is a homebred ewe by the G1 Midlock, one of the best ewes in his 15 strong flock. He was bought by the trio of James Herdman, Richard Wood and Andrew Campbell.
Young Finlay Robertson enjoyed a great day at the office, just a few short weeks after setting his personal best at Kelso, he raised the bar higher at Hawes, where he brought out a cracking pen of tups, which were very easy on the eye, well-marked, smart, and full of good bloodlines. His pen leader was by the Riddings P002 and out of a Hewgill hogg bought out of Hawes for £6000.  It sold for £14,000 to noted Northern Irish breeders, Graham & Julie Loughery, Temain,  Ian Montgomery, Mistyburn and Dominic McCrystal, Drummuck. His full ET brother went on to make £5000. The dam of his third lamb is by the £34,000 Kirkby Redgate, leaving the Beeches pen with a cracking average of £7500 for his 3 lambs.
Judging started at 7.15am for the pre-sale show and it was a new name on the cup as James Middleton from the Wharfedale flock, based near Skipton, took the plaudits with his massive tup lamb by a Dawyck tup bought out of Hawes last year in partnership with Gavin White. He had been shown successfully this year, taking championships at Gargrave and Kilnsey show, so finished the season unbeaten. He sold for £4000 to Aaron Troughton, a keen young breeder from Sedbergh, who is making strides within the breed. The Reserve ticket went to the well-known Yore House flock, who stood with a son of the £40,000 Midlock Commander bought out of Hawes last year. He went on to sell for £5000.
Trade was strong from the start of the sale and buyers weren't scared to dig deep into their pockets to acquire the tups they were after. Demand for big strong sheep with good skins and confirmation and good crossing lines was there right to the end of the sale, and with buyers from all corners of the country and further afield, it continues to underline the importance of the breed to the national sheep flock, and it place at the top of the table as the ultimate crossing sheep.
Aged Rams
| Placing | Class | Exhibitor | Flock Name | Lot Number |
| --- | --- | --- | --- | --- |
| 1st | Aged Rams | Messrs R J D & F J Wilson | Low Tipalt | 15 |
| 2nd | Aged Rams | Messrs W & D Lawson & Son | Gragareth | 6 |
| 3rd | Aged Rams | Mr R Hargreaves | Barley | 30 |
Shearling Rams
| Placing | Class | Exhibitor | Flock Name | Lot Number |
| --- | --- | --- | --- | --- |
| 1st | Shearling Rams | Mr A Ainslie | Linkshead | 1 |
| 2nd | Shearling Rams | Mr A Caton | Otterburn Lodge | 47 |
| 3rd | Shearling Rams | Messrs A & H Watson | Middleton Hall | 33 |
| 4th | Shearling Rams | Booth Bros | High Fellside | 48 |
Ram Lambs
| Placing | Class | Exhibitor | Flock Name | Lot Number |
| --- | --- | --- | --- | --- |
| 1st | Ram Lambs | Mr J A Middleton | Wharfdale | 227 |
| 2nd | Ram Lambs | Messrs J C & E Pedley & Sons | Yore House | 377 |
| 3rd | Ram Lambs | Mr A C Pye | Emmetts | 343 |
| 4th | Ram Lambs | Messrs W C Porter & Son | Riddings | 121 |
| 5th | Ram Lambs | Messrs M W & C M Ridley | Shitlington | 198 |
| 6th | Ram Lambs | Mr M James | Duhonw | 432 |
Shearling Ewes
| Placing | Class | Exhibitor | Flock Name | Lot Number |
| --- | --- | --- | --- | --- |
| 1st | Shearling Ewes | Mr A Ainslie | Linkshead | 680 |
| 2nd | Shearling Ewes | Mr P Sowerby | Langton | 688 |
| 3rd | Shearling Ewes | Miss K & C Ward | Kimrina | 704 |
| 4th | Shearling Ewes | Mr P Sowerby | Langton | 689 |
Ewe Lambs
| Placing | Class | Exhibitor | Flock Name | Lot Number |
| --- | --- | --- | --- | --- |
| 1st | Ewe Lambs | Mr A Ainslie | Linkshead | 683 |
| 2nd | Ewe Lambs | Mr H M Jenkinson | Whingill | 668 |
| 3rd | Ewe Lambs | Mr A Ainslie | Linkshead | 684 |
| 4th | Ewe Lambs | Mr H M Jenkinson | Whingill | 669 |
Bluefaced Champions
| Category | Exhibitor | Type |
| --- | --- | --- |
| Overall Champion & Male Champion | Mr J A Middleton | First prize Ram Lamb |
| Reserve Overall Champion & Reserve Male Champion | Messrs J C & E Pedley & Sons | Second prize Ram Lamb |
| Female Champion | Mr A Ainslie | First prize Shearling Ewe |
| Reserve Female Champion | Mr A Ainslie | First prize Ewe Lamb |
Gallery
Back to Archive