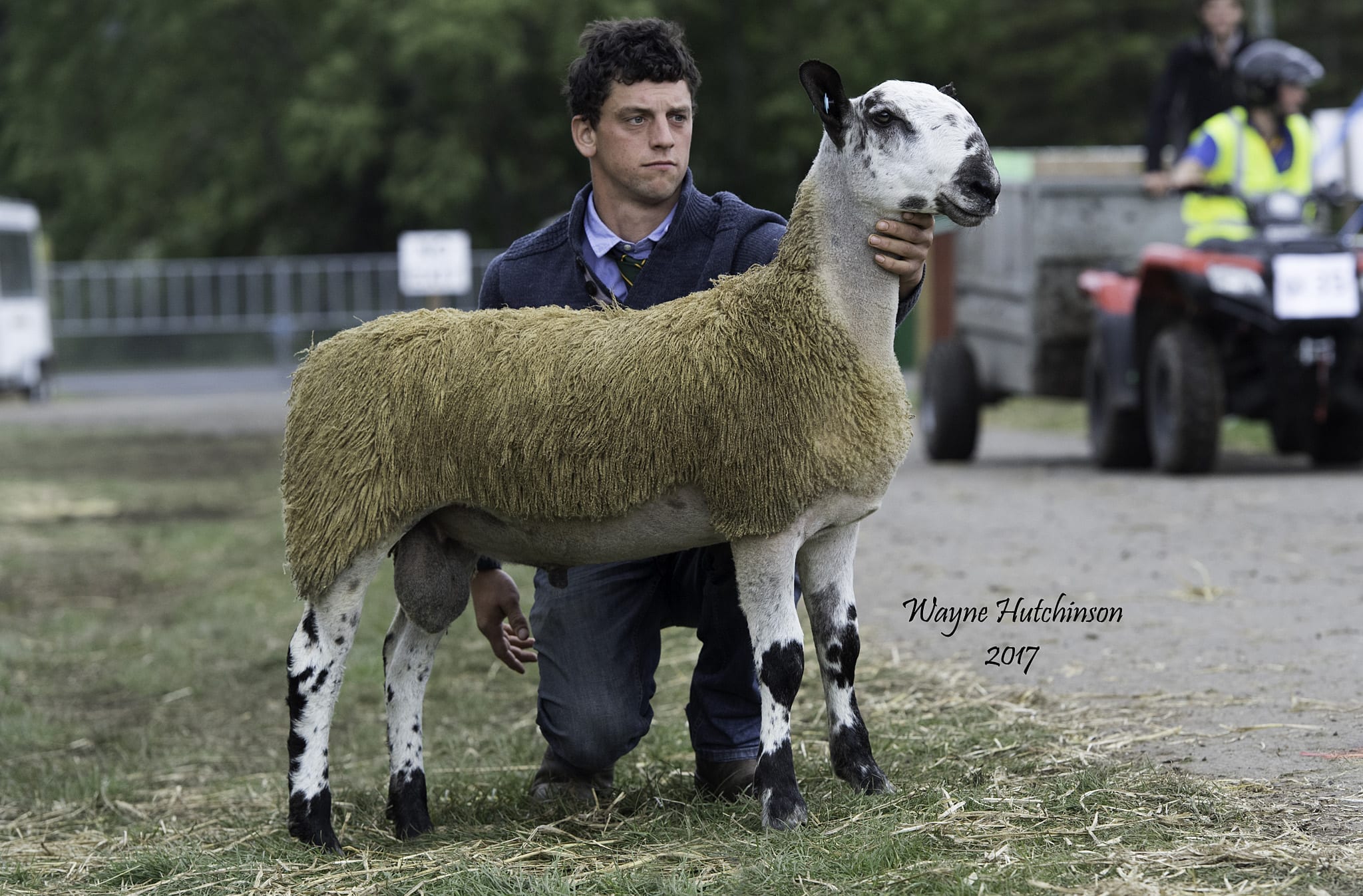 Kelso Ram Sale – Crossing Type
8th September 2017
Kelso
Mr Billy Kerr, Sauchrie Mains
Once again Bluefaced Leicester genetics at Kelso were in big demand, with the averages again rising from £940 last year, to just shy of £1009 for just seven less forward, topping the sale average from all breeds at the sale. Demand was strong from the start in both rings and both types, reflecting the demand for the Leicester as the "come to sire" for all crossbred sheep.
Topping the day's frantic trade was, once again, Midlock. They had a great pen of shearlings, full of power and style. They were certainly the talk of the sale. Their pen leader was out of the same ewe which bred the noted Midlock Mustang, by the B4 Tanhouse Farm. The sire of this powerful tup was the record priced Kirkby Redgate bought two years ago out of Hawes. He had been used at Midlock as a lamb, siring one of the show team in the Mules and a couple of tidy pure tup lambs heading to Hawes later this month. Bidding was strong and brisk, as it always is at Kelso, and the hammer fell at £12,000 selling to the Hartside flock, Lammermuir. Midlock sold 22 shearlings to level out at £2125, completing another good day at the office for the team.
The same sire was behind the breeding of the day's next best price, with a £10,000 bid for T Dick, Hamildean. This boy had been used successfully as a lamb too, with eight lambs in the Hamildean top pen of Mules which sold for £135 at St Boswells, and he had been shown with success this summer, taking first at Dalkeith and the Reserve Champion at Abingdon. He was out of one of the flock's best ewes, by "Big Ben", G37 Midlock. He sold over the water into Northern Ireland to Graham & Julie Loughery's Temain flock and taking a share was Jimmy Mills, Ballytober. The Hamildean's second shearling caught plenty of eyes too, as he sold for £4200. This tall, long sheep was by the G37 Midlock "Big Ben", a £6000 purchase at Hawes a few years back and sold to the Dreva flock.
Obie Sharp from Newbigging Walls enjoyed a great trade throughout her pen, selling J5 Newbigging Walls for her best price yet, selling for £5000. This powerful modern tup was by the H1 Duhonw, which was the Reserve Champion at Hawes two years ago, and bought for £9000. He has proved to be a top notch getter, siring four of her shearlings which levelled out at £2260 for 10. He was bought by Auchengray & Burnton. Auchengray got their money back when they sold their pen leader for the same amount. He was by the F15 Cottage, and sold to Tinnis.
Late in the day Jimmy Bell from the Cottage flock sold a cracking shearling by a homebred G3 Cottage, which was by the C1 Shafthill he bought out of Hawes as an old tup for £7000. He is out of the full sister to the £14,000 Cottage tup he sold to Marriforth. He sold in a three way split to M/s Guild, Nisbet & Ashmark for £4500.
Champion in the Crossing ring was a tup lamb from the Dawyck flock. This lamb was by the £23,000 Carry House and out of the old show ewe which went back to a Cottage ewe. It sold for £1500 to A McClarty.
Trade throughout was strong, with buyers looking for powerful tups, which will go on and improve the conformation in their flocks. It is a strong start to a hectic sale season, which will no doubt see some hectic bidding throughout….most likely at Hawes about midnight in a few weeks!!
Shearling Rams
| Placing | Class | Exhibitor | Flock Name |
| --- | --- | --- | --- |
| 1st | Shearling Rams | M R Thornborrow | Dawyck |
| 2nd | Shearling Rams | J & J Cunninham | Parkgatestone |
| 3rd | Shearling Rams | G McDonald | Mid Auchengray |
| 4th | Shearling Rams | F Robertson | Beeches |
Ram Lambs
| Placing | Class | Exhibitor | Flock Name |
| --- | --- | --- | --- |
| 1st | Ram Lambs | M R Thornborrow & Sons | Dawyck |
| 2nd | Ram Lambs | C & D Hall | Firth |
| 3rd | Ram Lambs | A C Campbell | Drimsynie |
| 4th | Ram Lambs | R D McInnes & Co | Moscow |
Bluefaced Champions
| Category | Exhibitor | Type |
| --- | --- | --- |
| Overall Champion | M R Thornborrow & Sons | Ram Lamb |
| Reserve Overall Champion | C & D Hall | 2nd prize Ram Lamb |
Gallery
Back to Archive