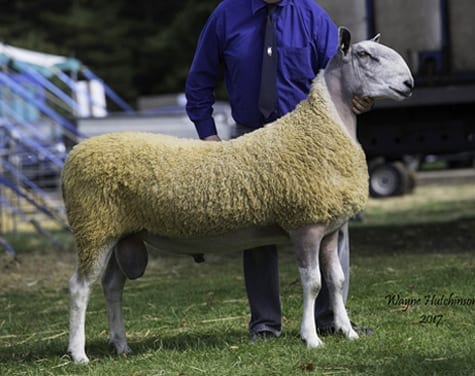 Kelso Ram Sale – Traditional Type
8th September 2017
Kelso
Mr J Heggie, Carden
Once again Bluefaced Leicester genetics at Kelso were in big demand, with the averages again rising from £940 last year, to just shy of £1009 for just seven less forward, topping the sale average from all breeds at the sale. Demand was strong from the start in both rings and both types, reflecting the demand for the Leicester as the "come to sire" for all crossbred sheep.
Matt Drummond had a day to remember as he collected the champion ticket in the traditional section with one of the most powerful tups seen for a while. He sold through the Hexham ring, with a final bid of £7000. He has been shown successfully throughout the season, taking a first at the Highland, following up with champion at Turiff, champion of champions at Dalrymple and Interbreed at Stranraer. He is by H3 Auchry bought out of Kelso for a mere £1000 a couple of years back and out of the flock's best ewe, an eleven crop ewe, who is called "The Bridesmaid" after taking the reserve championship at Penrith and Highland three times at each show, by W1 Teviot bought out of Castle Douglas a long time back! He travelled a long way south to Barry Nicholls, Heddon Valley, down in sunny Devon.
Topping the lamb trade was a cocky lamb from Matthew Seed, Auchry. This recorded lamb has a good index figure of 193q. It was sired by H1 Myfyrian out of a ewe by D1 Cassington E+. He stood first in the lamb class in the pre-sale show and sold for £1900 to S Craft.
Trade throughout was strong, with buyers looking for powerful tups, which will go on and improve the conformation in their flocks. It is a strong start to a hectic sale season, which will no doubt see some hectic bidding throughout….most likely at Hawes about midnight in a few weeks!!
Shearling Rams
| Placing | Class | Exhibitor | Flock Name |
| --- | --- | --- | --- |
| 1st | Shearling Rams | M & C Drummond | Cassington |
| 2nd | Shearling Rams | M & N Gray | Espley |
| 3rd | Shearling Rams | J Dykes | Mendick |
| 4th | Shearling Rams | G Smith & Sons | West Bolton |
Ram Lambs
| Placing | Class | Exhibitor | Flock Name |
| --- | --- | --- | --- |
| 1st | Ram Lambs | M Seed & Son | Auchry |
| 2nd | Ram Lambs | M Seed & Son | Auchry |
Bluefaced Champions
| Category | Exhibitor | Type |
| --- | --- | --- |
| Overall Champion | M & C Drummond | Shearling Ram |
| Reserve Overall Champion | M & N Gray | 2nd prize Shearling Ram |
Gallery
Back to Archive