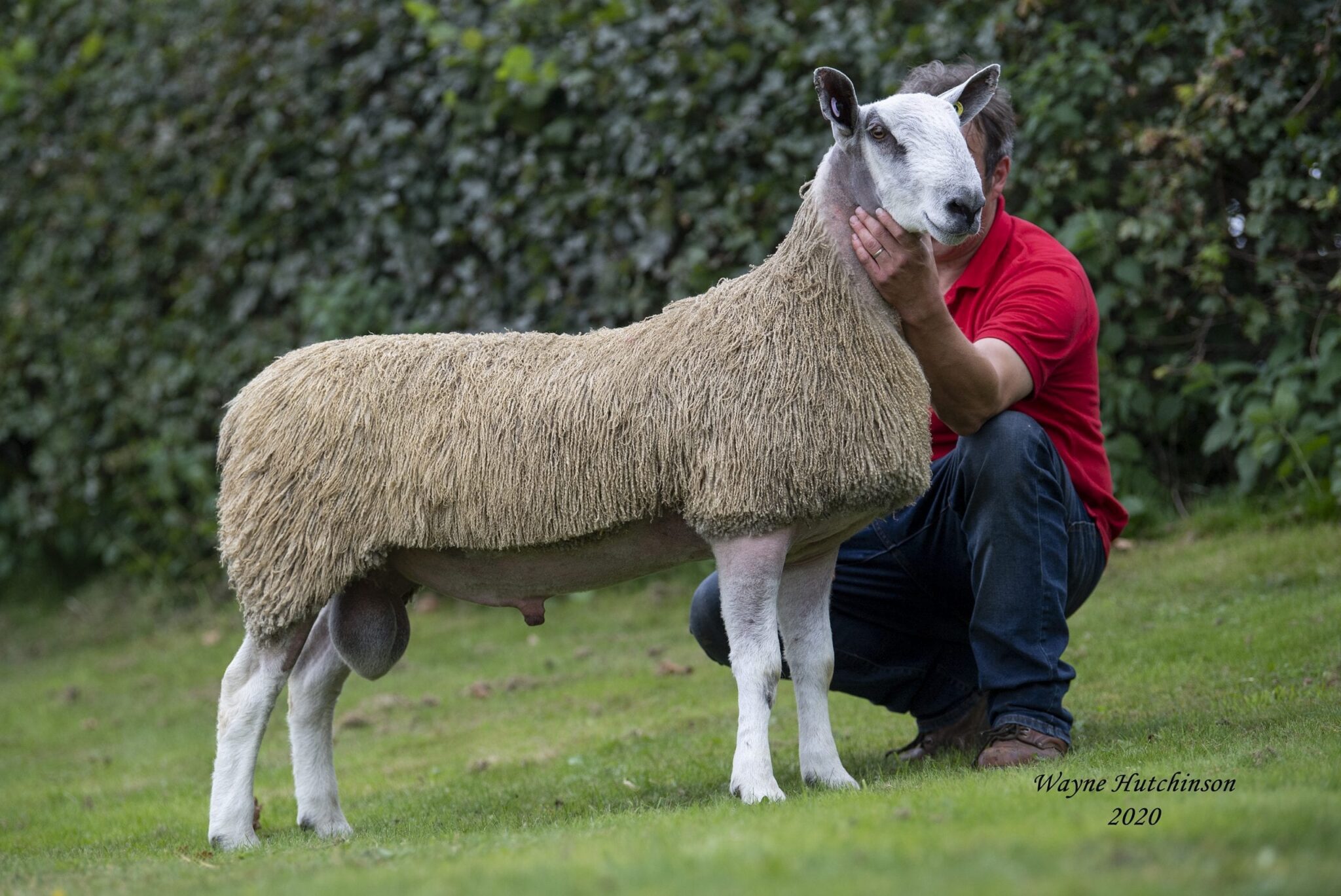 M Walton (Builth NSA Rings) at Welshpool
16th September 2020
Welshpool
Welshpool "Michael Walton Ring" Builth – 16th September, 2020
Another rearranged sale, this time the "Michael Walton" ring from Builth Wells NSA sale, held at Welshpool this year by kind permission of Welshpool  Livestock Sales. The trade was strong and there was plenty of interest all day both in the shearling ring and the lamb ring, with buyers looking for strong correct tups with plenty of power.
It was a freshly familiar face at the top of the stakes as Martin Quinn, fresh from his achievements at Hexham only a few days earlier, travelled down from Fife with a pair of cracking lambs, both by the Bonvilston Tudor tup which created the headlines at Hexham. His first, an absolute stonker, was out of a homebred ewe by Craig Yr Orsedd H10. The tup knew he was special as he strode proudly into the ring and the bidding started, on the phone, at 3000gns by Mike Anderson of the Hardhaugh flock way up in Aberdeenshire, where he runs 40 sheep, built up over the last 4 years, including some great bloodlines from the noted Rossibank flock. Mike stuck with the bidding, never flagging as other breeders tried and failed to land their lamb, with Michael Walton landing the hammer at 12,000gns, a record for a traditional type lamb. The other Whinnyhall lamb on offer also sold well, fetching 1800gns to Welsh breeder AS Bennet, Kidwelly.
Frank Johnson was also back in the running early in the tup lamb ring with another fine pair of lambs. The strongest of these was the full brother to the Hexham pair, by the Burndale K4 out of a great breeding Elian ewe going back to the Addingham Elite + tup. This stylish lamb, which had a great outlook and tremendous on its feet sold for 6200gns to well known stalwart of the breed, Raymond and Sophie Harding of the Shrewbridge flock based near Nantwich in Cheshire, with Aled Jones chasing all the way. Frank was set up with his trade, and now is looking forward to Carlisle where he has 3 other full brothers on offer, of which he thinks a bit of.
Putting his disappointment behind him at not landing the Ashes tup, Aled bounced back and picked up the second of the Kirkstead offering from Alan and Sam McClymont, both of which were full brothers, by the Ashes L1 out of the old show ewe, Kirkstead F22, which twice won the Scottish progeny championship in her time. Aled bided his time, picking up the second into the ring, Kirkstead N2, the slightly sharper of the pair for 3600gns, with the full brother selling for 3000gns, selling to G Ogden, Blackrack.
Aled recouped most of his outlay with his own first lamb into the ring, an early march born lamb by his own homebred Crig Yr Orsedd L25 and out of a yearling ewe by the Logie Durno J1. It is a lamb which has always stood out and grown exceptionally well. It carries an index of 262, putting it inside the top 5% of the breed and has a massive muscle depth of 31mm, and hoping that these impressive figures and genetic pass on are Messrs Jerman from the Church Farm flock, Powys, who shelled out 3400gns for his services. Aled also did well in the shearling ring, topping the days trade with a monster of a shearling by another homebred tup, this time Craig Yr Orsedd J25, which has some impressive figures, including a growth rate of 0.66kg/day at one stage. The shearling M3 Craig Yr Orsedd has its own impressive figures, with an index of 211 and a growth rate of 1/2kg/dwg at 16 weeks. Haydon Foster from Leyburn was the most impressed with these figures, buying him as the foundation sire for his newly sourced flock which includes 10 ewes from Aled, which is where he saw his number one target and was suitably impressed enough to travel down and bid on him.
The Cernyw flock have had a great reputation for producing some great sheep over the years and this year's offerings of lambs certainly caught the eye, showing some length and clean lines. Their pen topper was Cernyw N1 a powerful lamb by the homebred C10, which went back to the Hazelwood Elite +, which did so well for the flock. He sold for 3000gns to the Piel View flock, who are connoisseurs of quality sheep. The Cernyw flock went on to have a fine trade with their consignment, selling a son of Burndale G1 for 1600gns and a son of Parton L43 to 1350gns.
One aged ram with some eye-catching breeding behind him on offer at the sale was the Royal Welsh Champion from 2018 and 2019, from Messrs Morris and Messrs Griffith. They had bought this great tup in a private deal from the Kirkstead flock a couple of years back and he has done exceptionally well within the two small flocks as well as taking the championships at the Welsh. The two flocks only run to 30 ewes between them so they decided to sell him while he was looking so well and as they couldn't really use him too much themselves, although they have taken semen off him for future use. He is by the prolific G1 Burndale and out of a Carry House bred ewe. Tudor Harris from the Bonvilston flock was the purchaser at 2000gns.
Gallery
Back to Archive