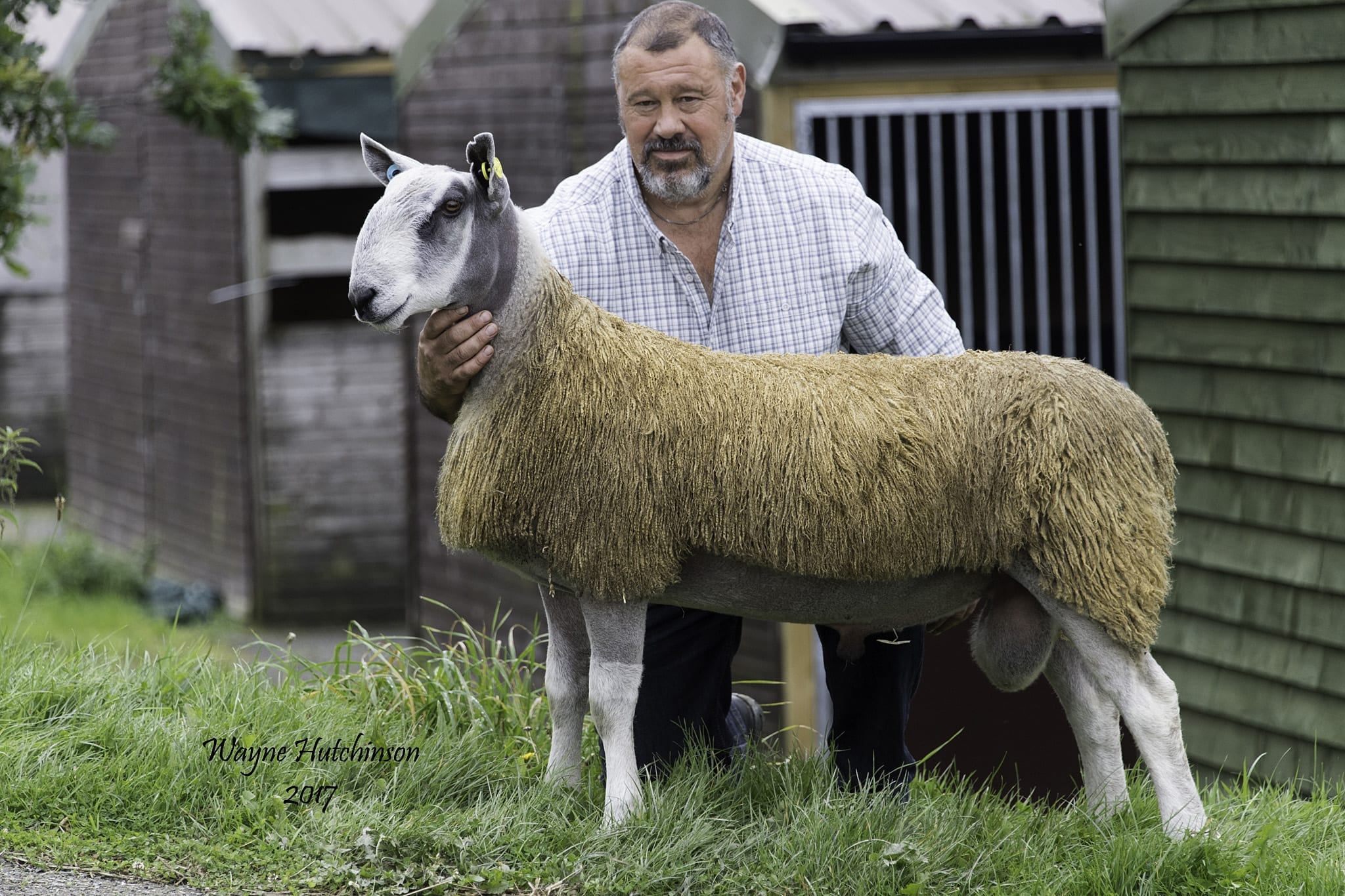 NSA Wales & Border Ram Sale
25th September 2017
Builth Wells
Hazel Brown, Leadburnlea, Mr Andrew Carter, Street
Trade was a touch slower in the Bluefaced Leicester rings than last year, with both the shearling and lamb averages down on the year by £68 and £72 respectively, and only a 76% clearance rate among the lambs, where trade was choosey. The crowds around the rings were thinner too, as many farmers made use of a good bright day to try and salvage some crop from a bad summer.
It wasn't all bad news however, as top quality sheep were very much in demand. Topping the day's trade in the Bluefaced Leicester rings and topping the multi breed sale of over 5300 rams was a tup lamb from Michael and Nicky Gray, Espley, making the long trip down from Northumberland well worth it. Judging the pre-sale show was Hazel Brown and Andrew Carter, and this quad born lamb stood out, oozing quality throughout and was placed Champion. He is the full brother to last year's sale topping lamb which sold for 7800 gns, sired by the F2 Ashes and out of a ewe by C15 Grugoer E+, which will no doubt be wrapped in cotton wool now to keep her safe! The bidding was fast and furious, slowing down a bit towards the end as the bidders took a long look into the dark corners of their wallets, with the last bid dropping the hammer at 9500 gns and earning a round of applause for both the Grays and for William Ingram, Logie Durno, for holding their nerve and capturing their number one target.
Trailing in wake of this high flyer was the only lamb from Derek Henderson, Burndale, again in Northumberland. This sharp lamb, who was the Overall Bluefaced Leicester Champion at the Roman Wall Show as a very young lamb, caught the eyes of many breeders and again the bidding was strong, with the hammer falling at 5000 gns. By a Lower Down tup they bought out of Builth a few years back for 3900 gns, and out of a ewe by a homebred tup going back to ewe bought from the Walton flock, he again took the long journey north as Logie Durno splashed the cash, this time in partnership with Matthew Seed, Auchry who was delighted with his purchase.
Veteran breeder Tudor Harris, Bonvilston enjoyed a good day at the show, firstly winning the Arthur Yates Trophy for best run of rams, then seeing his pen leader make a personal best for him, selling for 4400 gns. He had been entered for Carlisle last autumn, by an injury to Tudor's shoulder meant he had to wait nearly a year before he could cash in on his prized asset. He was by D2 Shrewbridge and out of a great breeding ewe by the 6000 gns Broomhills tup. Henry Bennet was the final bidder.
Close behind at 4200 gns came the 2nd prize tup shearling from Logie Durno, recouping some of their spending. The family, from Aberdeenshire, had a total of around 120 tups at the sale in various rings, but this massive shearling was their topper. This was also their highest ever price for a Bluefaced Leicester out of their 65 ewe strong flock. He was by the G4 Street which was a 2200 gns purchase out of Carlisle and out of a ewe by E24 Myfyrian Blue Dragon. He was bought by Aled Jones, Craig Yr Orsedd.
Aled himself had a great run with the lambs, topping at 2300 gns to Martin Quinn, Whinnyhall, Fife with a son of the homebred J25 Craig Yr Orsedd, and also selling to 1550 gns and 1250gns for the 1st prize recorded tup lamb. The 2nd prize in the recorded section from the Cernyw flock made 1300 gns.
Buyers at the sale were picky, looking for good, strong correct rams, but the sheer number of Bluefaced Leicester rams on offer and finding new homes demonstrates the continuing success of the breed within the industry.
Aged Rams
| Placing | Class | Exhibitor | Flock Name |
| --- | --- | --- | --- |
| 1st | Aged Rams | T R Harris | Bonvilston |
| 2nd | Aged Rams | D W Henderson | Burndale |
| 3rd | Aged Rams | D P May | Derwenlas |
| 4th | Aged Rams | S A & R P Jones | Craig Yr Orsedd |
Shearling Rams
| Placing | Class | Exhibitor | Flock Name |
| --- | --- | --- | --- |
| 1st | Shearling Rams | T R Harris | Bonvilston |
| 2nd | Shearling Rams | W & C Ingram | Logie Durno |
| 3rd | Shearling Rams | G P Williams & Co | Elian |
| 4th | Shearling Rams | G P Williams & Co | Elian |
Ram Lambs
| Placing | Class | Exhibitor | Flock Name |
| --- | --- | --- | --- |
| 1st | Ram Lambs | M & N Gray | Espley |
| 2nd | Ram Lambs | G P Williams & Co | Elian |
| 3rd | Ram Lambs | T R Harris | Bonvilston |
| 4th | Ram Lambs | M & N Gray | Espley |
Recorded Ram Lamb
| Placing | Class | Exhibitor | Flock Name |
| --- | --- | --- | --- |
| 1st | Recorded Ram Lamb | S A & R P Jones | Craig Yr Orsedd |
| 2nd | Recorded Ram Lamb | E Owen | Cernyw |
| 3rd | Recorded Ram Lamb | P Howell | Long Mynd |
| 4th | Recorded Ram Lamb | S A & R P Jones | Craig Yr OrseddFe |
Females
| Placing | Class | Exhibitor | Flock Name | Lot Number |
| --- | --- | --- | --- | --- |
| 1st | Females | P Howell | Long Mynd | Gimmer Shearling |
| 2nd | Females | D D Hendrson | North Burndale | Ewe Lamb |
| 3rd | Females | S A & R P Jones | Craig Yr Orsedd | Ewe Lamb |
| 4th | Females | P Howell | Long Mynd | Gimmer Shearling |
Bluefaced Champions
| Category | Exhibitor | Type |
| --- | --- | --- |
| Overall Champion & Male Champion | M & N Gray | Ram Lamb |
| Res Overall Champion & Res. Male Champion | T R Harris | Shearling Ram |
| Female Champion | P Howell | Gimmer Shearling |
| Res. Female Champion | D D Henderson | Ewe Lamb |
| Arthur Yeats Chief Steward Anniversary Trophy awarded to best pen of Rams or Ram Lambs | T R Harris | Best pen |
Gallery
Back to Archive