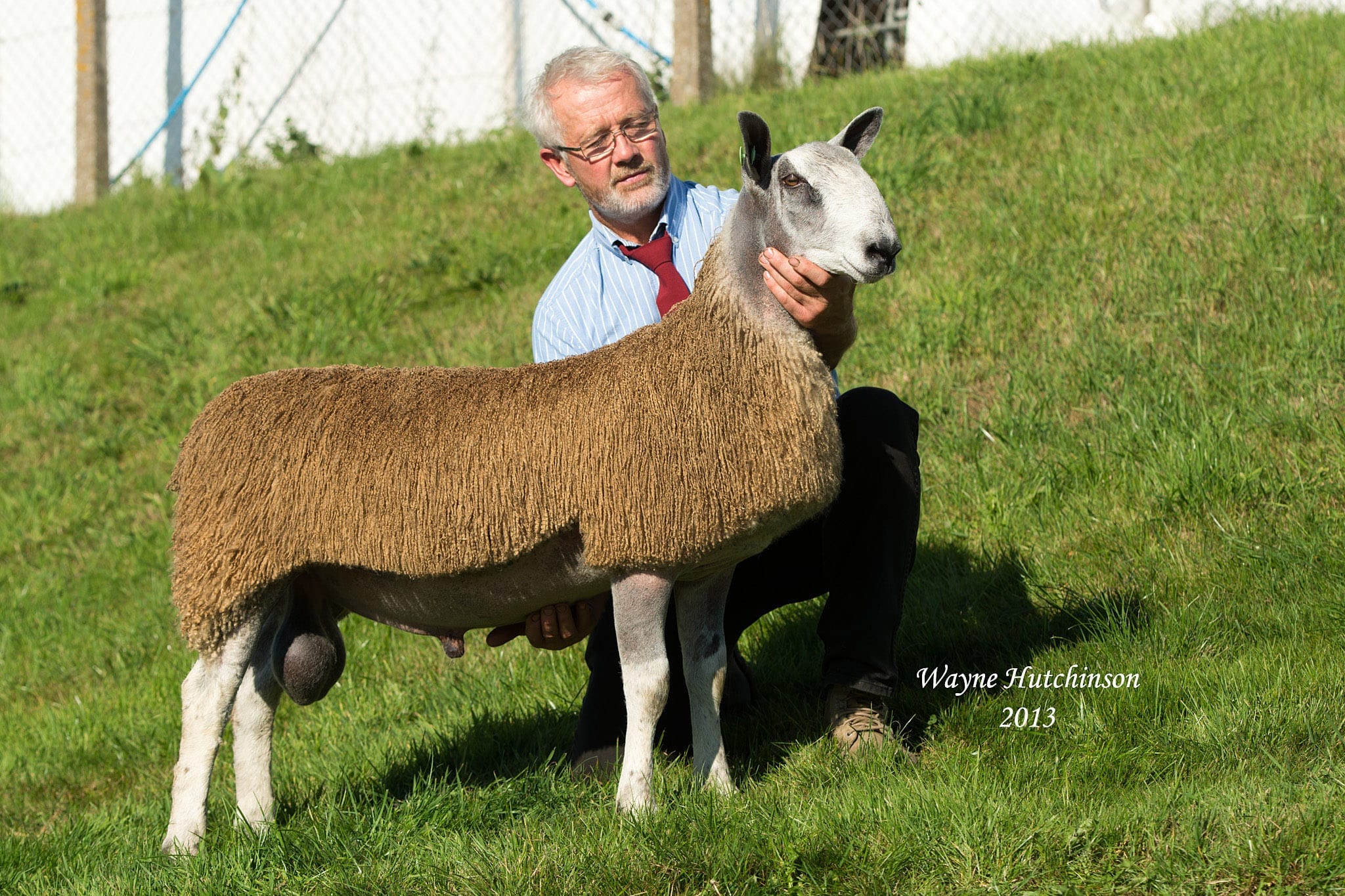 NSA Wales & Border Ram Sale – Builth Wells
23rd September 2013
Builth Wells
M Gray, Espley, S Thomason, Piel View
Once again there was a great display of sheep forward at the annual Bluefaced Leicester NSA sale at Builth Wells. With just more than 50 fewer sheep entered, and a host of buyers, it boded well for a strong commercial trade. Buyers were looking for big, strong tups with good skins and correct conformation.
Topping the days trade was an aged ram from R G & R A Jones of the Robleston flock. This powerful tup, C1 Bonvilston, was bred by Tudor Harris. He has left his mark on the Robleston flock, which has been noted by other breeders, and it saw a pair of noted Northern breeders join forces to land their target. Frank Johnson, Ashes, and Derek Henderson, Burndale paid 4000 gns to aquire his services. He is by the B1 Middle Dukesfield.
The tup lambs saw a strong trade, and it was the days champion which took the next highest price. This powerful lamb from the Cernyw flock won the performance recorded class. He is a smart tup, and his figures backed his looks, scoring an index of 203. By C15 Cernyw Elite +, otherwise known as Muscleman, due to his impressive figures, this lamb attracted a lot of attention throughout the day. The final bidder was Dewi Williams from the Elian flock, who reinvested a bit of his trade, buying him for 2400 gns. Cernyw also had a tup lamb at 1600 gns. F1 Cernyw had an index of 157, and is by the homebred C10 Cernyw.
Dewi himself enjoyed a very strong trade with his tups. His excellent run of tups saw him level at around £1050 for the 52 shearlings (yes, you read that right, 52!). His top price was the shearling champion and reserve overall on the day and sold for 2200 gns. This powerful tup, E35 Elian is by the B1 Lowes Fell, which has done a great job at Elian, and out of a ewe by Y12 Rosehill. The Elian flock also took the Arthur Yeats trophy for the best pen of rams in the sale.
W & C Ingram, Logie Durno, turned out an impressive pen of shearlings. Making their debut at the sale, they managed a top of 1800 gns for a son of B10 Myfyrian and out of a ewe by Y1 Mossvale. He had an index of 190.
Phil May is a great supporter of the sale and this year he took his top price yet, selling a cracking tup lamb, F10 Derwenlas, for 1700 gns to the Woodcroft flock. He is by D3 Derwenlas Elite, a homebred tup which has twice taken the male championship at the Royal Welsh Show, and out of a ewe by W2 Rosehill.
David Henderson, North Burndale, had a son of the B1 Addingham Elite+ selling for 1100 gns. Aled Jones, Craig yr Orsedd F3 won the champion open tup lamb class, a full brother to the 6900 gns tup which was sold a couple of years ago. This son of Arkleby B1 Elite+ won the Sam Williams Memorial Trophy for the second year in a row and sold for 1250 gns. Craig yr Orsedd F1, a full embryo brother to Craig yr Orsedd D1 was purchased for £1100 by Marcus Williams.
Gallery
Back to Archive