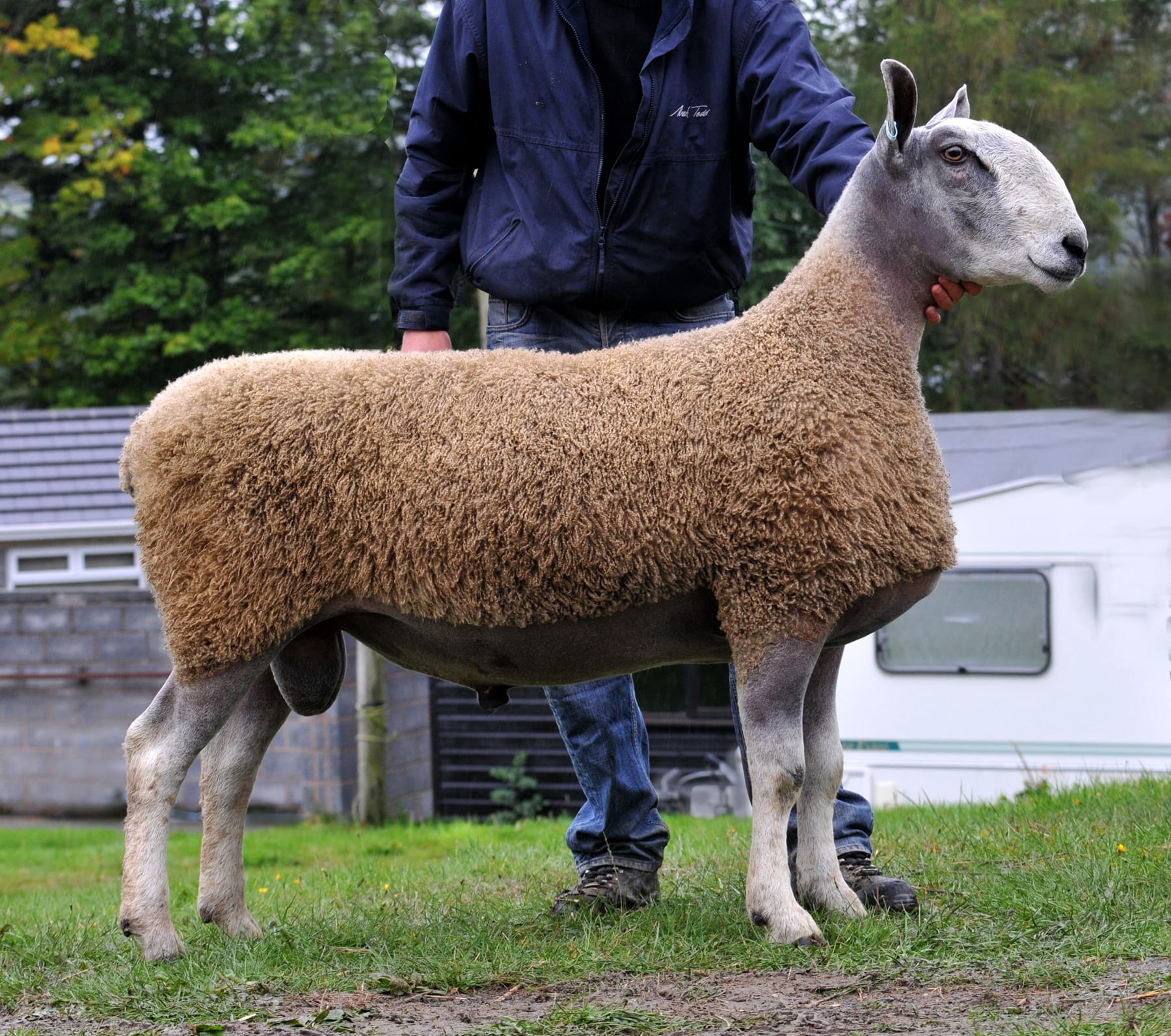 NSA Wales & Border Ram Sales – Builth Wells
19th September 2011
Builth Wells
Mr A Forster, Lowes Fell, Mr D Lumley, Nookton
A strong commercial trade underpinned a great day for the Bluefaced Leicesters at the Builth Wells NSA sales, reflecting the overall buoyancy of the sheep sector, and dominance of the Mule within the industry.
Topping the days trade, and capping a great day for Association's Chairman, Aled Jones from the Craig yr Orsedd flock, when his number one lamb came into the ring late in the day. Keen bidding saw the price rattle up, with M Roberts, Myfyrian, winning out over the Kirkstead flock for right of ownership, paying 6800 gns for this son of B1 Arkleby E+ and out of a ewe by T29 Scrainwood, which has done so well for Aled over the years. It has an EBV index of 161 putting him in the top 3% of the breed, which has a growing influence with commercial buyers. Its sister was also the female reserve Champion and top priced female selling for 580 gns, underlying the quality of this bloodline. Aled also had a shearling out of another T29 Scrainwood ewe, and by Y1 Cernyw sell for 1700 gns to Rod Lewis, Meudwy flock, which had done well at local shows too.
This was a sale where EBV figures played a part, with the top priced sheep coming from flocks which have been performance recording over the last few years. Elfyn Owen is one breeder who has embraced the EBV system and saw a great trade for his rams, with a best ever sale for his number one lamb which had an EBV index of 166, and sold for 2400 gns to Frank Johnson, The Ashes and A Peart, Woodcroft. It was out of Elfyn's show ewe and certainly she has passed some of the sparkle onto her son, who is by C10 Cernyw, which was the flocks best tup lamb last year, and with the ewe by homebred Y1 Cernyw, it really was a homebred triumph for Elfyn. He also took 3rd prize in the performance recorded class with D17 Cernyw, which sold later to J Binns, Llwygy, for 1500 gns, and claimed fame by being filmed by the Countryfile film crew.
Mervyn Roberts may have bought the top priced lamb, but he certainly had the trade to help pay for it, with a cracking tup lamb, D1 Myfyrian, sired by last year's champion at the sale C1 Myfyrian out of one of his best breeding ewes by X41 Clennell. Derek and David Henderson took the lamb home to Burndale after bidding 1650 gns for him. Myfyrian also had another lamb selling for 1400 gns. Both these lambs were in the top 3% of the EBV index scheme. It was a good day at the office for the Myfyrian team as they also took the pre sale show championship with an aged tup, bred at Cassington. This solid two shear, by Z1 Cassington sold for 1200 gns.
Burndale were also again in the action, buying some of their own bloodlines back when they bought a shearling off Shrewbridge which they had sold as a lamb last year and has grown out into a very clean, sharp shearling, and took the reserve male championship after winning the shearling section. He is sired by B7 Kirkstead which the Burnadale flock borrowed, and can use again in their flock. They forked out 1100 gns to buy him back.
Buyers were again quite clear in what they wanted. Tups had to be big, strong and correct, and with the performance recording coming into play, this could be an area which will become increasingly important, especially in the commercial section.
Gallery
Back to Archive