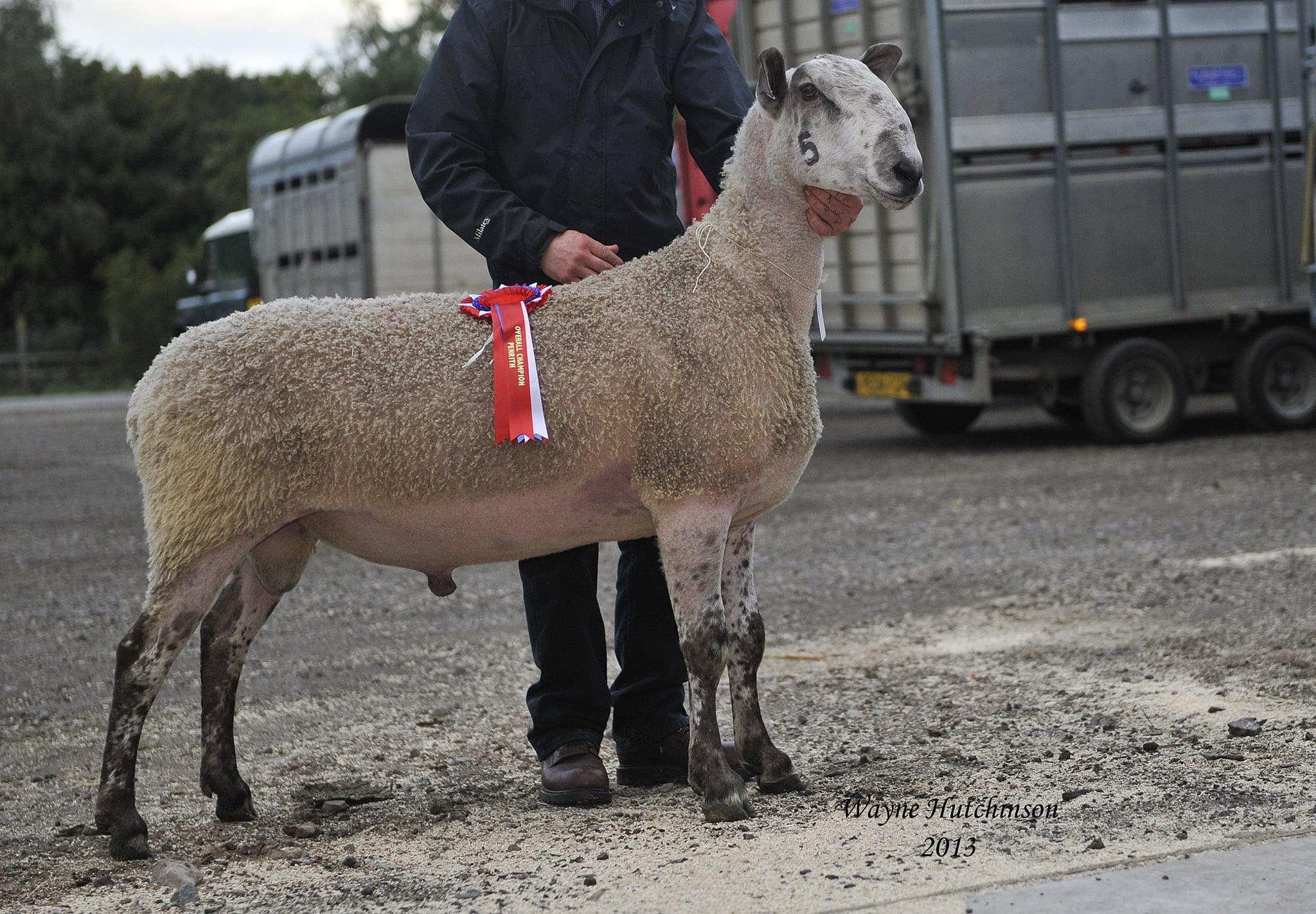 Penrith Ram & Female Sale
10th October 2013
Penrith
Mr P Webster, Mereoak
On Thursday 10th October, Penrith & District Farmers' Mart LLP held their 10th evening show and sale of Registered Bluefaced Leicester Rams on behalf of the Bluefaced Leicester Sheep Breeders' Association.
The pre-sale show was professionally judged by Mr Pete Webster who had some strong well presented sheep put before him who awarded the following results:-
Champion – Messrs Lord, Hewgill (Lot 16) which sold for £3500 to Mr M Bousfield, Hegdale. Reserve Champion – Messrs Lord, Hewgill (Lot 11) which sold for £5500 to Messrs H M & R Ivinson, Hole House. With a much travelled ringside of prospective buyers whom are following good stock of crossing bloodlines.
The sale soon followed with an amazing crowd of prospective purchasers' looking to buy their future stock rams.  Some outstanding consignments were forward.  Topping the sale was from the noted Hewgill Flock a tried shearling ram, lot 12 sired by B41 Hewgill  The bidding climbed to £6500 rapidly and ended up in the hands of Messrs W M Hutchinson & Son & D J Abberley.
Martin Allan carried over his good form from Hawes, taking the tup lamb class, with a lamb by the B41 Hewgill again, out of a Z14 Hewgill ewe which was Champion at Carlisle when Martin bought her. She was the sister to the champion at Hawes. He sold for £2000.
Throughout the whole sale interest was buzzing, obviously following on from successful Mule gimmer lamb sales, all consignments sold very well with an overall average of £633.33 for ram lambs and £1479.31 for shearling rams.  This is a sale which has the potential to grow into a huge success if support continues as it has been over the last couple of years..
Leading Prices
Bluefaced Leicester Shearlings:  £6500, £5500, £3500, £1800, £1500 Hewgill; £1000 £700 Waterside House; £600 Fog Close.
Bluefaced Leicester Ram Lambs:  £2000 Kirkby Redgate; £2000, £1200 Greenhow; £1500 Hewgill; £1200 Kirkland Green; £900 Duhonw; £800 Waterside House; £700 Fog Close.
Shearling Rams
| Placing | Class | Exhibitor | Flock Name | Lot Number |
| --- | --- | --- | --- | --- |
| 1st | Shearling Rams | Messrs Lord | Hewgill | 16 |
| 2nd | Shearling Rams | Messrs Lord | Hewgill | 11 |
| 3rd | Shearling Rams | Messrs Lord | Hewgill | 13 |
| 4th | Shearling Rams | Messrs Raine | Fog Close | 5 |
Ram Lambs
| Placing | Class | Exhibitor | Flock Name | Lot Number |
| --- | --- | --- | --- | --- |
| 1st | Ram Lambs | M Allan | Greenhow | 43 |
| 2nd | Ram Lambs | Messrs Lord | Hewgill | 55 |
| 3rd | Ram Lambs | M James | Duhonw | 38 |
| 4th | Ram Lambs | Messrs Lord | Hewgill | 53 |
Bluefaced Champions
| Category | Exhibitor | Type |
| --- | --- | --- |
| Overall Champion | Messrs Lord | Shearling Ram |
| Reserve Overall Champion | Messrs Lord | Shearling Ram |
Gallery
Back to Archive