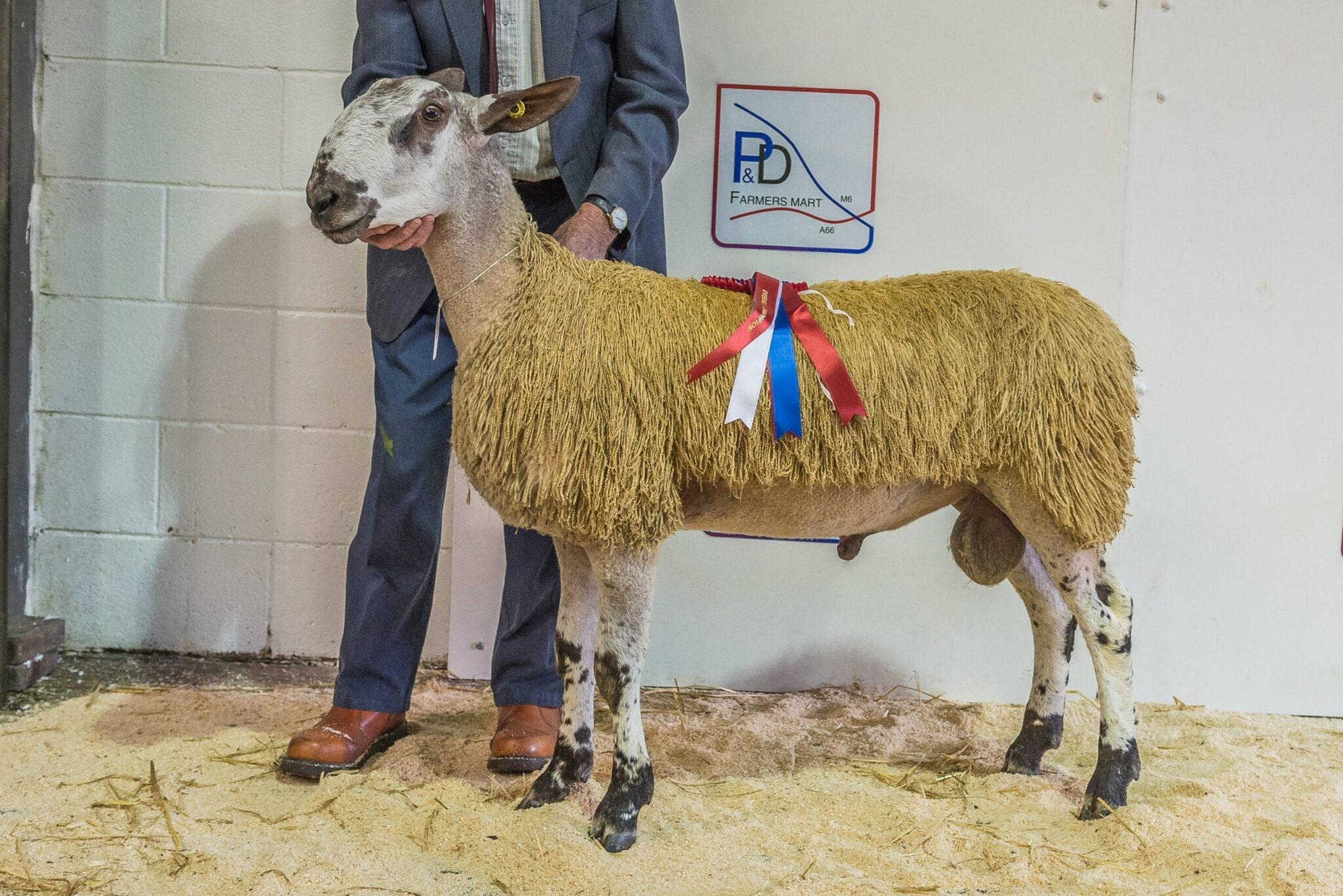 Penrith Ram & Female Sale
6th October 2016
Penrith
Mr John Stott, Laund
On Thursday the 6th October Penrith & District Farmers' Mart LLP held their Annual Evening Sale of Bluefaced Leicester rams and females. With a slight increase of numbers forward on last year, this bought buyers in from Northern Ireland, Scotland and most of Northern England, and this proved to be a very successful sale.
Judge was Mr John Stott from Laund flock, Preston who found his Champion from the Redhill pen of Mr A C Hutchinson, who was selling at Penrith for the first time. The Champion was a homebred ram lamb 2005/J3 sired by 1080/H5 Shafthill, and out of a homebred ewe by 1538/C3 Midlock, and he was cashed in at £1000 to M/s Hodgson, High Borrans Farm.
The Reserve Champion was a homebred ewe lamb from M/s Lord, Hewgill 980/J81, and was sired by 746/G23 Marriforth. She was later sold for £320 to M H Brennand, Park House.
Top price on the day came for M/s Lord, Hewgill with a stylish homebred shearling ram 980/H18 sired by Hewgill G49, and out of a homebred ewe by another homebred sire 980/B41. He was purchased for £6500 by K D Harryman, Keskadale, Newlands.
Leading Prices
Shearling Rams – £6500, £3500, £3500, £1700, £1300 Hewgill; £450 Street House; £420, £400 Wanthwaite
Ram Lambs – £3500, £2600, £1200 Hewgill; £2500 Skeughdale; £1700, £1500 Hundith; £1200, £1000, £800 Kirkby Redgate; £1000, £600, £420, £400 Redhill; £680, £500 (2) Leaveyholme; £650 Belmont
Aged Rams
| Placing | Class | Exhibitor | Flock Name | Lot Number |
| --- | --- | --- | --- | --- |
| 1st | Aged Rams | Messrs Murray | Throp | 11 |
Shearling Rams
| Placing | Class | Exhibitor | Flock Name | Lot Number |
| --- | --- | --- | --- | --- |
| 1st | Shearling Rams | Messrs Lord | Hewgill | 7 |
| 2nd | Shearling Rams | Messrs Lord | Hewgill | 4 |
| 3rd | Shearling Rams | Messrs Lord | Hewgill | 5 |
| 4th | Shearling Rams | T W Bell | Wanthwaite | 13 |
Ram Lambs
| Placing | Class | Exhibitor | Flock Name | Lot Number |
| --- | --- | --- | --- | --- |
| 1st | Ram Lambs | A C Hutchinson | Red Hill | 18 |
| 2nd | Ram Lambs | Messrs Lord | Hewgill | 41 |
| 3rd | Ram Lambs | A C Hurchinson | Red Hill | 17 |
| 4th | Ram Lambs | Messrs Lord | Hewgill | 39 |
Females
| Placing | Class | Exhibitor | Flock Name | Lot Number |
| --- | --- | --- | --- | --- |
| 1st | Females | Messrs Lord | Hewgill | 62 |
| 2nd | Females | Messrs Lord | Hewgill | 61 |
Bluefaced Champions
| Category | Exhibitor | Type |
| --- | --- | --- |
| Overall Champion | A C Hutchinson | Ram Lamb |
| Reserve Overall Champion | Messrs Lord | Ewe Lamb |
Gallery
Back to Archive