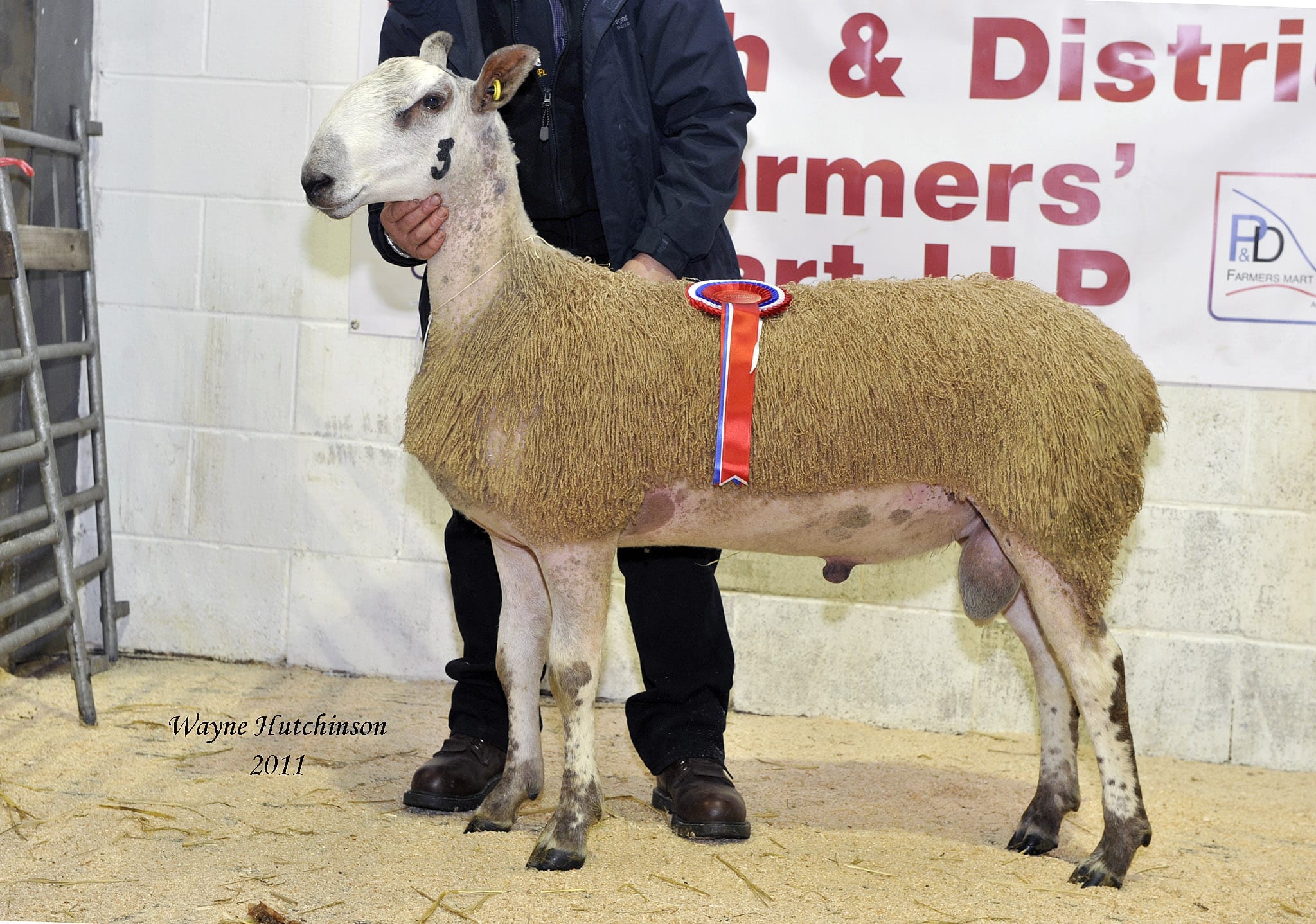 Penrith Ram & Female Sale
6th October 2011
Penrith
Mr G Taylor, Swathburn
Thursday 6th October evening sale of Bluefaced Leicesters at Penrith Market pulled in a huge crowd of breeders and prospective buyers looking to pick up a future stock ram. A pre-sale show was expertly judged by Geoff Taylor, Swathburn whom had a great show of sheep out for inspection and he placed the following awards: –
Overall Champion- Messrs Lord, Hewgill (Lot 60) which sold for £1200 to Mr A Johnson, Oddendale.
Reserve Champion – Messrs Lowis, Pooley, (Lot 78) which sold for £1,000 to E J & R Wear, Howe Green.
It was one of the early lots into the ring which created the talking point, as Messrs Lord of Hewgill came in with their shearling ram, C50 Hewgill, sired by Y23 Hewgill and out of a ewe by Y40 Hewgill. He had sired the interbreed champion, a Mule lamb at Reeth Show and also had a lamb in the champion pen of lambs at Penrith from his 16 Swaledale ewes tupped last backend. Luckily the volume on the microphone had been restored and all could hear auctioneer John Wharton take the bids. Bidding was frantic with the centre record and official breed record for a shearling being smashed with a bid of £20,000 which secured the joint purchase for Messrs Nicholson, Swinside End and Messrs Ireland, Stockhow Hall.
The work of the Lord Family had not finished with them following with the second top price of the day, a ram lamb, full brother to a lamb the Lords sold last year for £6100, by Z14 Hewgill out of a ewe by R1 Lunesdale. This leggy lamb sold for £5,000 to Paul Brown, Oakhouse.
Leading Prices
Aged: £500 Eden; £400 Pear Tree.
Shearling Rams: £20,000, £1100, £700 Hewgill; £1,000 Waterside House; £850 Fog Close.
Ram lambs: £5,000, £1,600, £1,200 Hewgill; £1300, £700 Duhonw; £1000, £750 Waterside House; £850, £500 Kirkby Redgate; £700 Todhills; £600, £450, £420, £400 Croftstyle; £500 (2) Howgill Grange.
Aged Rams
| Placing | Class | Exhibitor | Flock Name | Lot Number |
| --- | --- | --- | --- | --- |
| 1st | Aged Rams | Mrs Sayer | Pear Tree | 22 |
| 2nd | Aged Rams | J D Ewin | Eden | 4 |
Shearling Rams
| Placing | Class | Exhibitor | Flock Name | Lot Number |
| --- | --- | --- | --- | --- |
| 1st | Shearling Rams | Messrs Lowis | Pooley | 7 |
| 2nd | Shearling Rams | Messrs Raine | Fog Close | 8 |
| 3rd | Shearling Rams | Messrs Sayer | Pear Tree | 23 |
Ram Lambs
| Placing | Class | Exhibitor | Flock Name | Lot Number |
| --- | --- | --- | --- | --- |
| 1st | Ram Lambs | Messrs Lord | Hewgill | 60 |
| 2nd | Ram Lambs | Messrs Lowis | Pooley | 78 |
| 3rd | Ram Lambs | Messrs Lord | Hewgill | 57 |
| 4th | Ram Lambs | Messrs James | Duhonw | 65 |
Bluefaced Champions
| Category | Exhibitor | Type |
| --- | --- | --- |
| Overall Champion | Messrs Lord | Ram Lamb |
| Res. Overall Champion | Messrs Lowis | Ram Lamb |
Gallery
Back to Archive