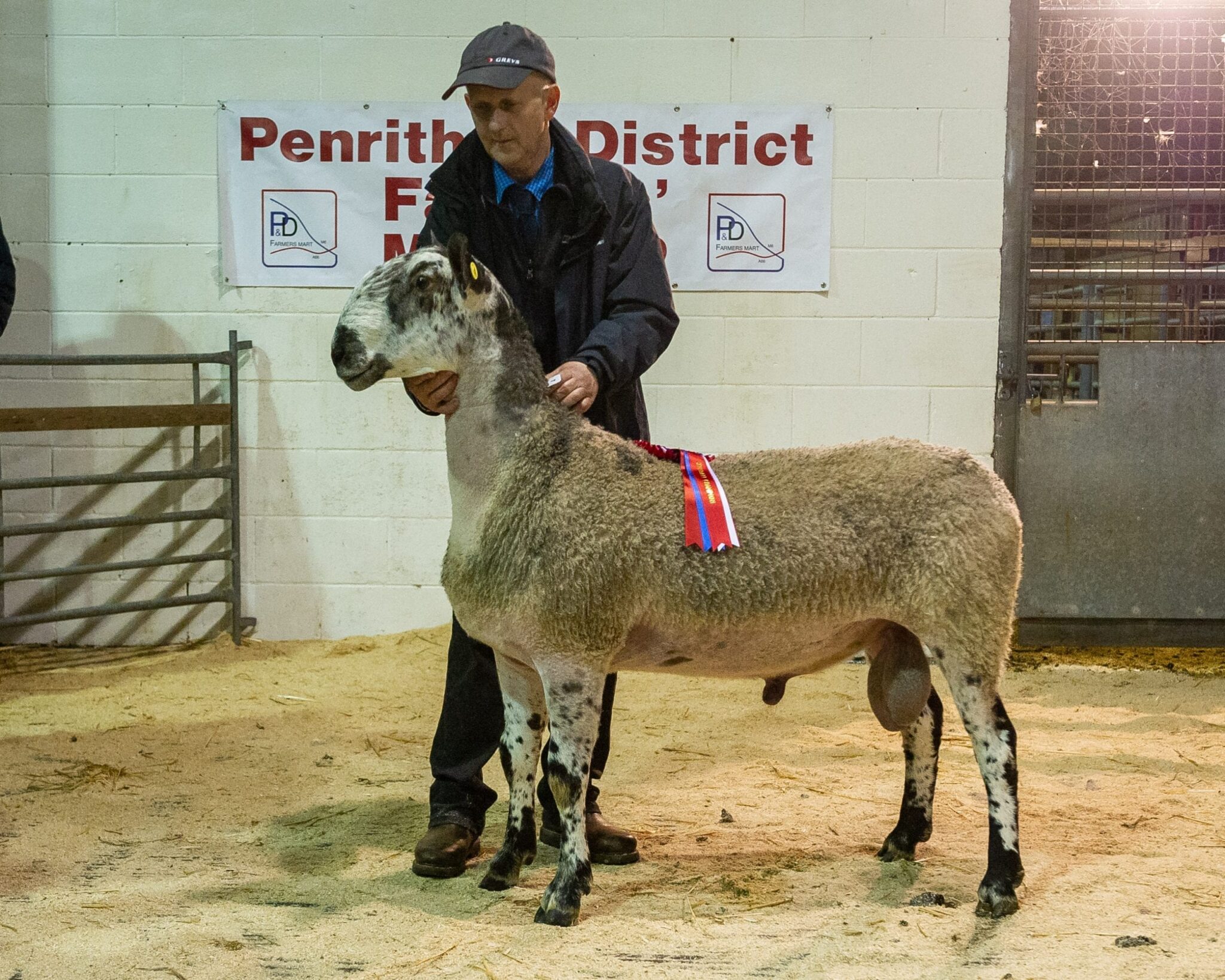 Penrith Ram Sale
11th October 2018
Penrith
I Craig, Hanging Wells
On Thursday 11th October, Penrith & District Farmers' Mart LLP held their fifteenth annual show and sale of Bluefaced Leicester rams and females on behalf of the Bluefaced Leicester Sheep Breeders' Association, sponsored by H Pigney & Son, Appleby.
A very pleasing trade was had from start to finish, with averages very strong, with aged and shearling rams averaging £2,603.83 and ram lambs averaging £504.
Judging was in the capable hands of Mr I Craig, North Hanging Wells, who awarded the Champion honours to lot four, a shearling ram from M/s Lord, Hewgill House, 980/K038. This ram, sired by Marriforth 746/G023, and out of a home-bred Hewgill ewe, also topped the sale at £16,500, and was bought jointly by M/s A & K Nicholson, Swinside Farm & J R Ireland & Sons, Stock Howe Farm. This run of marvellous shearlings from the Hewgill pen with great style and class averaged £4,271.
Leading Prices
Shearling Rams – £16500, £5000, £4500, £1300, £1000 & £800 (2) West Dowgill (Hewgill)
Ram Lambs – £2200 & £1000 West Dowgill (Hewgill); £1000 & £500 Tarn House (Skeughdale); £650 & £500 Redgate (Kirkby Redgate); £600 (2) & £480 Bank End Mill (Leavyholme); £600 & £400 Hawkswell Farm (Hawkswell); £450 & £400 Old Parks (Old Parks)
Aged Rams – £1800 & £700 Hawkswell (Hawkswell); £500 Street House (Street House)
Ewe Lambs – £350 West Dowgill (Hewgill)
Aged Rams
| Placing | Class | Exhibitor | Flock Name | Lot Number |
| --- | --- | --- | --- | --- |
| 1st | Aged Rams | A R Edmondson | Hawkswell | 1 |
| 2nd | Aged Rams | A R Edmondson | Hawkswell | 2 |
| 3rd | Aged Rams | S & W Maughan | Street House | 14 |
Shearling Rams
| Placing | Class | Exhibitor | Flock Name | Lot Number |
| --- | --- | --- | --- | --- |
| 1st | Shearling Rams | Messrs Lord | Hewgill | 4 |
| 2nd | Shearling Rams | Messrs Lord | Hewgill | 6 |
| 3rd | Shearling Rams | S & W Maughan | Street House | 13 |
| 4th | Shearling Rams | P Sowerby | Langton | 3 |
Ram Lambs
| Placing | Class | Exhibitor | Flock Name | Lot Number |
| --- | --- | --- | --- | --- |
| 1st | Ram Lambs | Messrs Lord | Hewgill | 26 |
| 2nd | Ram Lambs | W M Hutchinson & Sons | Kirkby Redgate | 47 |
| 3rd | Ram Lambs | Messrs Lord | Hewgill | 27 |
| 4th | Ram Lambs | J H Little | Leavyholme | 33 |
Ewe Lambs
| Placing | Class | Exhibitor | Flock Name | Lot Number |
| --- | --- | --- | --- | --- |
| 1st | Ewe Lambs | Messrs Lord | Hewgill | 63 |
Bluefaced Champions
| Category | Exhibitor | Type |
| --- | --- | --- |
| Overall Champion & Male Champion | Messrs Lord | Shearling Ram |
| Reserve Overall & Reserve Male Champion | Messrs Lord | Ram Lamb |
| Female Champion | Messrs Lord | Ewe Lamb |
Gallery
Back to Archive