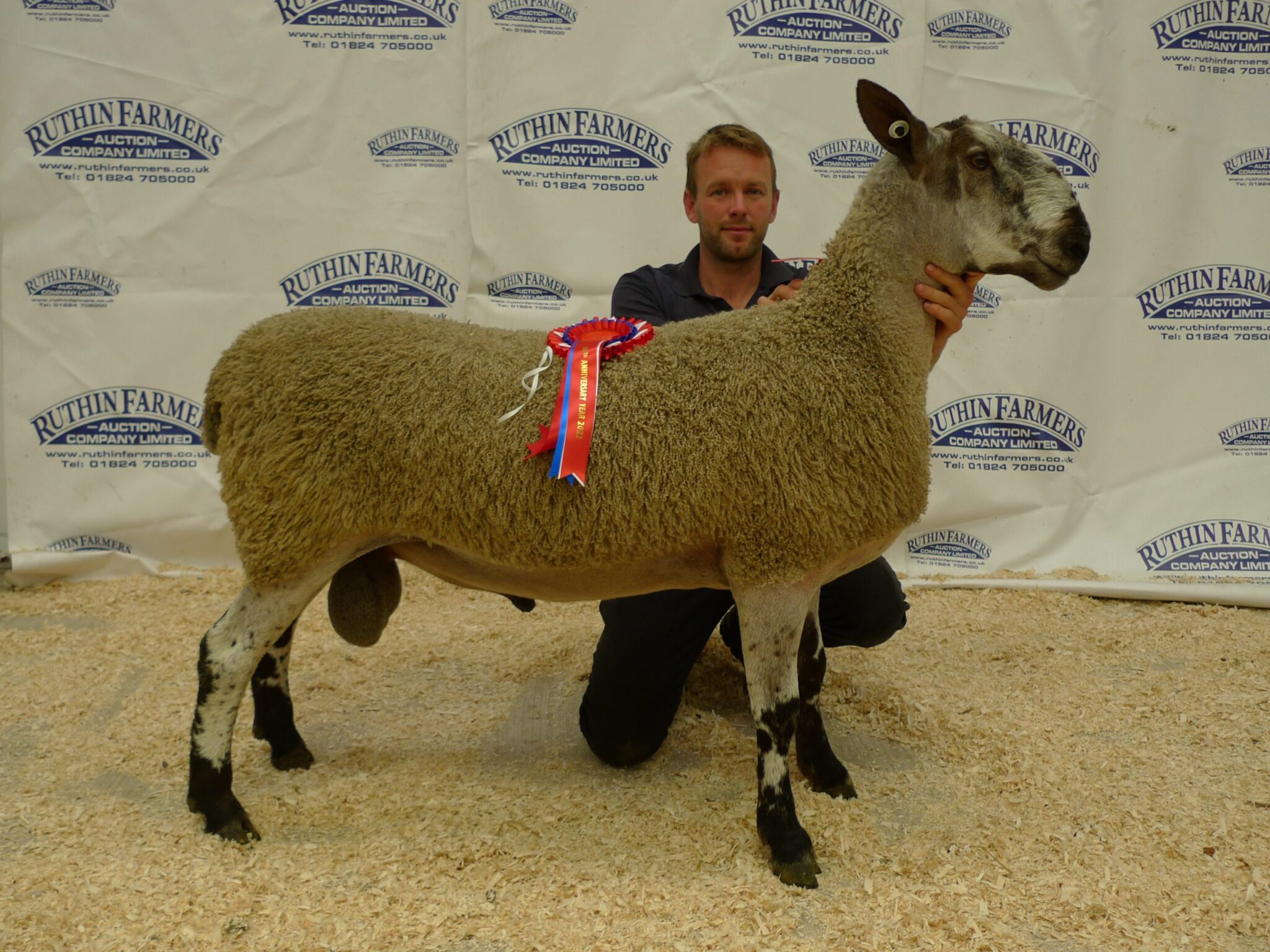 Ruthin – Saturday 17th September, 2022
17th September 2022
Ruthin
Mr John Bell, Dunhampton
Ruthin Association Sale of Bluefaced Leicester Rams and Females
Kindly Sponsored by Meirion Davies & Co Ltd Agricultural Merchants
With a catalogued entry of 43 Registered Bluefaced Leicesters forward John Bell, Dunhampton had the honour of judging an excellent standard of stock forward.
The overall champion of the day from Gareth Roberts Myfyrian X was a homebred shearling ram 4390/P006 sired by Riddings M011 achieving a joint top price 900 guineas. Another shearling from the same pen made 800 guineas.
Also sharing the top price of 900 guineas was the first sheep through the ring, another homebred shearling ram 3077/P001 from Einir Williams Gwytherin which was placed 4th in its class earlier in the day.
The overall reserve champion was a stylish ram lamb shown by Dewi Parry Nant y Glyd 4290/R005 sired by Kirkstead K003 and out of a homebred ewe M007 and went on to sell for 650 guineas.
Elfyn Owen Cernyw had a good day with his run of ram lambs sired by Martin Grange N002 topping at 700 guineas for 1070/R022, he also sold a shearling for 700 guineas.
Female champion of the day came from E H Owen Tyrnog, 3519/P002 which made 160 guineas.
Aged Rams
| Placing | Class | Exhibitor | Flock Name | Lot Number |
| --- | --- | --- | --- | --- |
| 1st | Aged Rams | R J Edwards | Llanarmon | 14 |
Shearling Rams
| Placing | Class | Exhibitor | Flock Name | Lot Number |
| --- | --- | --- | --- | --- |
| 1st | Shearling Rams | G Roberts | Myfyrian X. | 19 |
| 2nd | Shearling Rams | M C Roberts | Myfyrian | 8 |
| 3rd | Shearling Rams | E Owen | Cernyw | 9 |
| 4th | Shearling Rams | Miss E Williams | Gwytherin | 1 |
Ram Lambs
| Placing | Class | Exhibitor | Flock Name | Lot Number |
| --- | --- | --- | --- | --- |
| 1st | Ram Lambs | Dewi Parry | Nant Y Glyd | 34 |
| 2nd | Ram Lambs | E Owen | Cernyw | 29 |
| 3rd | Ram Lambs | R E Lloyd | Pastynog | 21 |
| 4th | Ram Lambs | S A & R P Jones | Craig Yr Orsedd | 22 |
Gimmer Shearlings
| Placing | Class | Exhibitor | Flock Name | Lot Number |
| --- | --- | --- | --- | --- |
| 1st | Gimmer Shearlings | E H Owen | Tyrnog | 43 |
| 2nd | Gimmer Shearlings | E H Owen | Tyrnog | 42 |
| 3rd | Gimmer Shearlings | R W Howatson | Clwyd | 35 |
| 4th | Gimmer Shearlings | R W Howatson | Clwyd | 40 |
Bluefaced Champions
| Category | Exhibitor | Type |
| --- | --- | --- |
| Male Champion | G Roberts | Shearling Ram |
| Reserve Male Champion | Dewi Parry | Ram Lamb |
| Female Champion | E H Owen | 1st prize gimmer shearling |
| Reserve Female Champion | E H Owen | 2nd prize gimmer shearling |
| Overall Champion | G Roberts | Shearling Ram |
| Reserve Overall Champion | Dewi Parry | Ram Lamb |
Gallery
Back to Archive