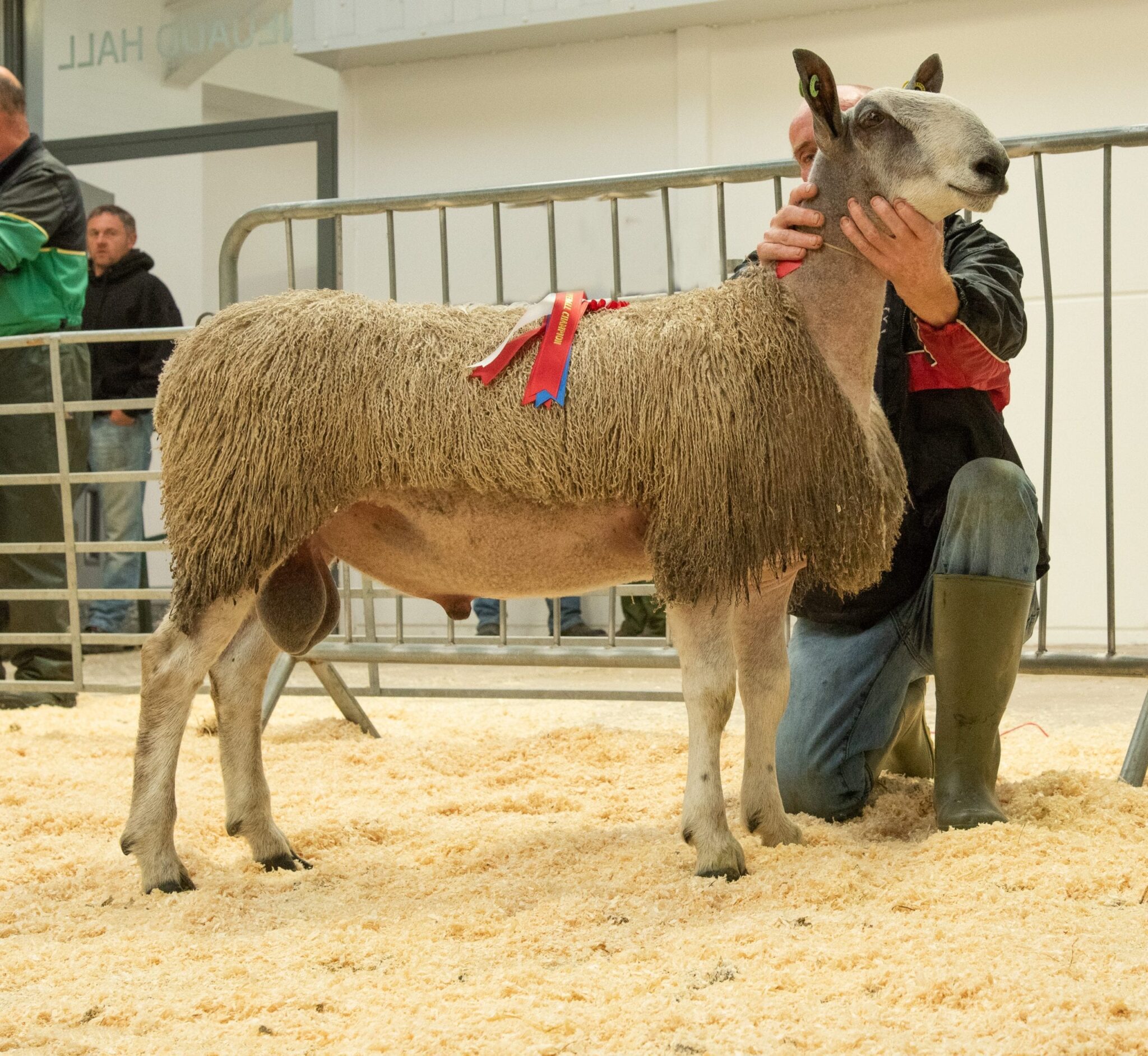 Ruthin
20th September 2018
Ruthin
John Armstrong, Lay's
Show kindly sponsored by Meirion Davies & Co Ltd, Agricultural Merchants.
The Ruthin ram sale drew a good crowd of buyers from all over North and Mid Wales and the Borders. It is held in conjunction with one of the busiest sheep breeding and store sales of the year at this centre.
Our judge was John Armstrong of the LAY'S flock who travelled up from Herefordshire to award the day's champion to a good conformation ram lamb from Huw W Thomas of the GRO Flock. He was one of a very level pen of ten ram lambs all sired by FAIRVIEW 4609/J005 who was sired by the show winning MYFYRIAN 1183/F011.
The champion was sold for 550 gns to S Kenyon with another lamb from the same pen selling for 600 gns to D G & I L Roberts. The highest price of the day went to a shearling ram from R M Jones, FAIRVIEW flock which sold for 780 gns, a big powerful tup bred by R W Howatson, CLWYD and sired by LOGIE DURNO 4425/G002. A bid of 700 gns went for the first prize shearling ram from H D Gruffydd, CAEREINI flock and was sired by a home bred tup 4374/J001. He found a new home with T W & B V Evans. The third highest price for a shearling was paid for the fourth prize winner MYFYRIAN 1183/K020 from M C Roberts, a very stylish tup with excellent breed points. He got snapped up for 550 gns by the Roberts Brothers who produce quality Whitefaced Welsh Mules on their farm near Bala.
Highest priced ram lamb was 650 gns paid for Elfyn Owen's half brother to last year's champion sired by CASSINGTON 1257/G005 and sold to G W & S Morris, a wide and deep lamb with excellent conformation.
Highest priced female came from R M Jones, FAIRVIEW flock from a good consignment of yearling ewes. A good clearance of 82% of the sheep entered was excellent and shows the growing popularity and the increasing standard of stock at Ruthin.
Aged Rams
| Placing | Class | Exhibitor | Flock Name | Lot Number |
| --- | --- | --- | --- | --- |
| 1st | Aged Rams | R P Williams & Sons | Lower Down | 15 |
Shearling Rams
| Placing | Class | Exhibitor | Flock Name | Lot Number |
| --- | --- | --- | --- | --- |
| 1st | Shearling Rams | H D Gruffydd | Caereini | 21 |
| 2nd | Shearling Rams | E H Owen | Tyrnog | 23 |
| 3rd | Shearling Rams | Mrs D M & Miss A D Jones | Blue Force | 1 |
| 4th | Shearling Rams | M C Roberts | Myfyrian | 14 |
Ram Lambs
| Placing | Class | Exhibitor | Flock Name | Lot Number |
| --- | --- | --- | --- | --- |
| 1st | Ram Lambs | H W Thomas | Gro | 50 |
| 2nd | Ram Lambs | E Owen | Cernyw | 48 |
| 3rd | Ram Lambs | Mr G W & Mrs S Morris | Cynhafal | 44 |
| 4th | Ram Lambs | E Owen | Cernyw | 49 |
Females
| Placing | Class | Exhibitor | Flock Name | Lot Number |
| --- | --- | --- | --- | --- |
| 1st | Females | C F & S Cotton | Longclose | 76 |
| 2nd | Females | C F & S Cotton | Longclose | 80 |
| 3rd | Females | R M Jones | Fairview | 68 |
| 4th | Females | R M Jones | Fairview | 71 |
Bluefaced Champions
| Category | Exhibitor | Type |
| --- | --- | --- |
| Overall & Male Champion | H W Thomas | Ram Lamb |
| Reserve Overall & Female Champion | C F & S Cotton | Gimmer |
| Reserve Male Champion | H D Gruffydd | Shearling Ram |
| Reserve Female Champion | C F & S Cotton | Gimmer |
Gallery
Back to Archive