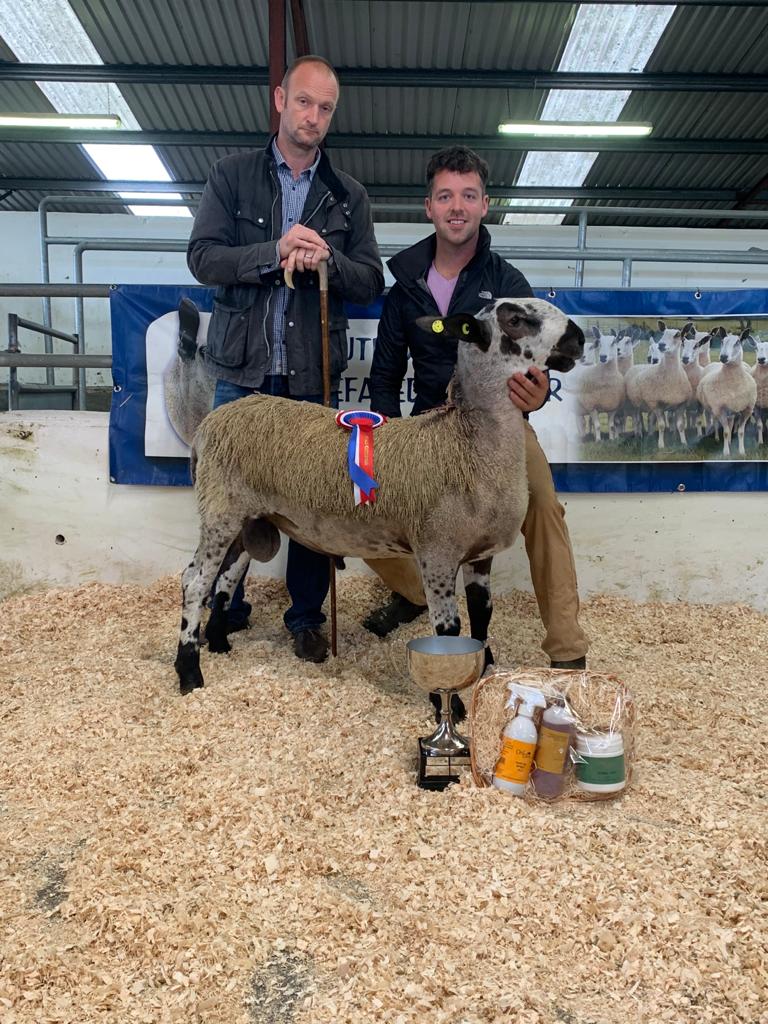 South of Ireland Premier Sale – Ballinrobe
11th September 2021
Ballinrobe
Declan McKillop, Giant's Causeway
Ballinrobe Sale Report.
Show and Sale Kindly Sponsored by Orlden Herbal Products, Warrenpoint, Newry
The sale season started in Ballinrobe on the 11th September.    Judge of the day was Declan McKillop from the Giants Causeway Flock in Antrim and he found his 1st prize lamb and overall champion of the sale in the Woodview Farm Flock of John Morahan.  This was a powerful, well coloured lamb, Woodview Farm P001, sired by L019 Lakeview.  This lamb went on to be sold to highest price of the day and an overall top for centre of €3250 and was purchased by Mal Harney of the Stonecross Flock in Co. Kildare.  John had a further two ram lambs selling over €1k,the first P002 to €1220 bred by L001 Hilltop Farm and P003 bred by L019 Lakeview selling for €1040.
The 2nd prize ram lamb exhibited by Paul Sammon of the Firmount Flock P010 and breed by N001 Orra View went on to be sold for €1540 to new breeder Kieran McGee of the Corlea Flock.
Other leading prices in the ram lamb section were from the following flocks;
Jonathan Walls, Clogher Flock for P001 ram lamb bred by K001 Woodview Farm which sold for €1350 and J.J. & Martin Doherty's Malinhead Flock P002 ram lamb bred by M001 Glenshane sold for €1300.
Tom Staunton's, Maskview Flock sold their P006 ram lamb by M001 Tievebuaile Farm for €1300 and their P003 ram lamb by N009 Temain for €1060.
Joe Scahill's Faughburren Flock sold their P013 ram lamb bred by M001 Holmview for €1110.
Kieran & Patrick McGrath's Caoramor Flock sold 3 ram lambs over €1000.  Their first lamb P001 by L001 Farden Popeye sold at €1020.  Their next 2 ram lambs P002 & P003 both by M001 Hillvale, a Farden Popeye son sold at €1060 twice.
In the Year Old Ram section Aidan Killeen of the Ballinchalla Flock received 1st prize with his N002 a son of K001 Woodview Farm and sold for €1180.  Aidan's N005 a son of M002 Ballinchalla made €1110.
New breeder Caroline Heraty of the Lanmore Flock received €1020 for her N002 bred by K001 Mullaghwee.
Allistair Lyttle of the Rosefield Flock secured a price of €1010 for his N006 a G001 Rosefield son.
Sean Murphy's Blackstairs Flock secured a price of €1000 for his N002 which was bred M002 Gortnamoyagh.
Topping the females on offer was the 1st prize ewe lamb and Reserve Champion on the day was Jonathan Walls Clogher Flock with his P007 bred by K001 Woodview Farm, this clean coloured ewe lamb went on to sell to Paul Sammon's Firmount Flock for €1250
Overall an almost full clearance was had at the sale with Year Old rams selling to an average of €740, Ram Lambs averaging €700 and Females averaging €517.
Gallery
Back to Archive