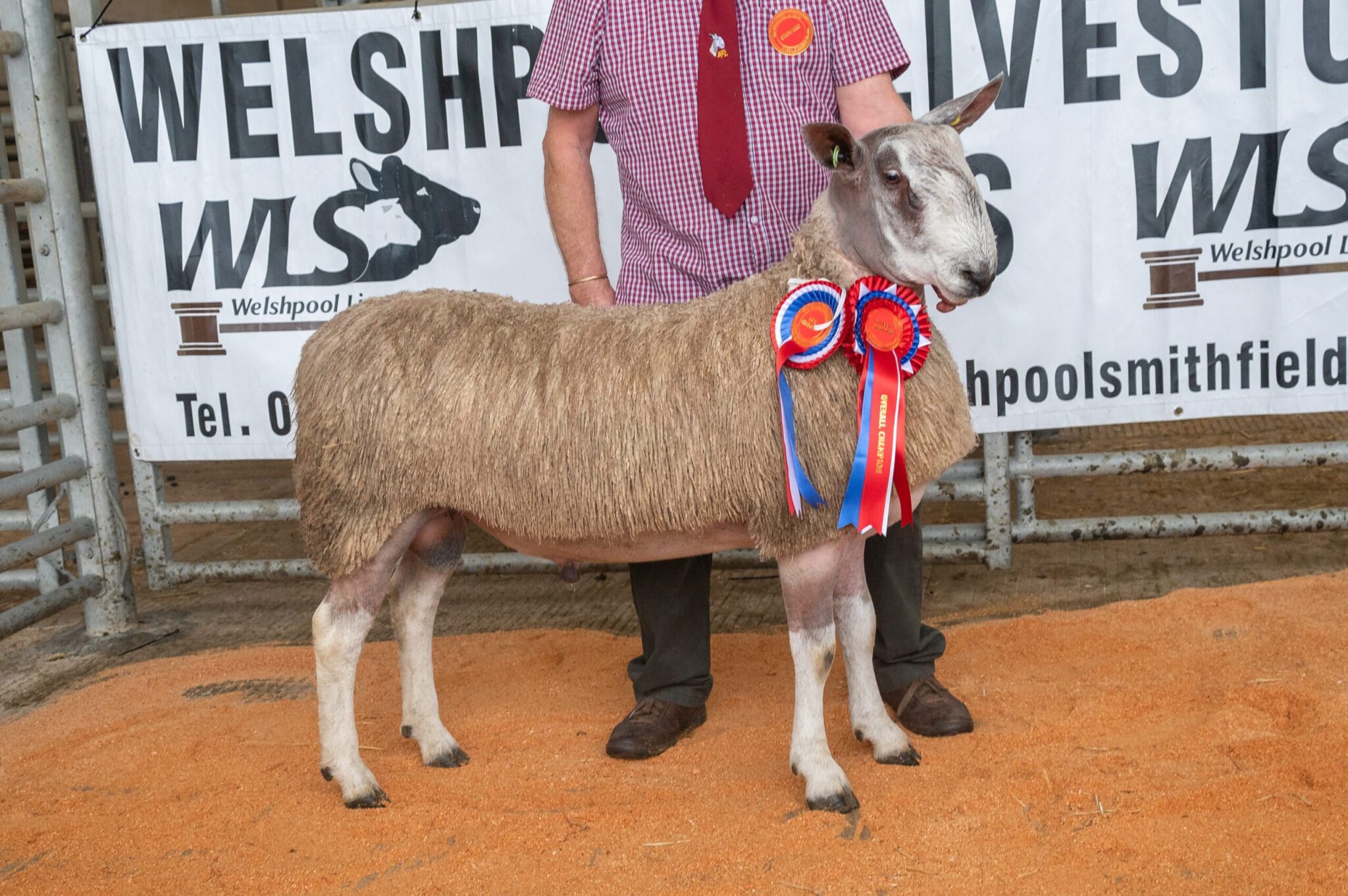 Welshpool – 28th September 2023
28th September 2023
Welshpool
Mr J Armstrong, Lay's
Thursday 28th September 2023
Welshpool Show & Sale of 241 Registered Bluefaced Leicesters
Show & Sale Kindly Sponsored by KLF Insurance Brokers Ltd
This year the sale had a catalogued entry of 241 this was 70 down on the previous year, with less numbers forward this saw an increase in the averages
Taking on the judging duties for the pre sale show was Mr John Armstrong, Lay's Flock based in Herefordshire.
With good strong classes forward John found his champion in the ram lamb pen of local breeder Mr Phil May, Derwenlas this home bred ram lamb 3822/S009 was sired by Kildalloig 3059/P006 this is Phil's stock sire who has bred very well throughout the flock, his dam is Derwenlas 3822/N041 and she goes back to Parton 233/L043 another stock sire which bred exceptionally well for Phil.  He was cashed for 800 guineas.
Reserve Overall Champion also went to Phil May, this time with a homebred ewe Derwenlas 3822/N037 she was first prize ewe at this years Wales and South West Progeny Show, she is sired by Parton 233/L043 out of homebred ewe 3822/J033 she was knocked down at 700 guineas.
Top price on the day went to S A & R P Jones, Craig Yr Orsedd, selling an Ashes bred shearling ram 234/R014 he was sired by Lowes Fell 50/N012 out of Ashes 234/N022 he was sold at 1500 guineas.
Top price aged ram went to R W Howatson, Clwyd, selling a Whinnyhall bred ram 4369/N002 he was sired by Bonvilston 2906/K030 out of a Craig Yr Orsedd ewe 3363/H043 he was cashed for 1300 guineas.
Joint top price in the ram lamb section went to home bred lamb from S A & R P Jones, Craig Yr Orsedd 3363/S003 was sired by Elian 2832/R003 out of a homebred ewe 3363/L053 and sold for 800 guineas.
BFL Aged Rams average £655.38 to £1365 from R Howatson, Clwyd
BFL Yearling Rams average £688.88 to £1575 from SA & RP Jones, Criag Yr Orsedd
BFL Ram Lambs average £479.02 to £840 from SA & RP Jones, Craig Yr Orsedd  & D P May, Derwenlas
BFL Aged Ewes average £509.83 to £700 from DP May, Derwenlas
BFL Yearling Ewes average £425.25 to £525 from SA Harding, Shrewbridge & RL & AM Montague, Ashdown
BFL Ewe Lambs average £185.50 to £210 H Havill, Martin Grange
Aged Rams
| Placing | Class | Exhibitor | Flock Name | Lot Number |
| --- | --- | --- | --- | --- |
| 1st | Aged Rams | D W Williams | Blacket House | 722 |
| 2nd | Aged Rams | D P May | Derwenlas | 768 |
| 3rd | Aged Rams | Mrs H Havill | Martin Grange | 867 |
| 4th | Aged Rams | R W Howatson | Clwyd | 861 |
Shearling Rams
| Placing | Class | Exhibitor | Flock Name | Lot Number |
| --- | --- | --- | --- | --- |
| 1st | Shearling Rams | Miss G M Humphreys | Llys | 769 |
| 2nd | Shearling Rams | Mrs H Havill | Martin Grange | 869 |
| 3rd | Shearling Rams | Mrs H Havill | Martin Grange | 868 |
| 4th | Shearling Rams | B E Morris | Wimbolds | 739 |
Ram Lamb
| Placing | Class | Exhibitor | Flock Name | Lot Number |
| --- | --- | --- | --- | --- |
| 1st | Ram Lambs | D P May | Derwenlas | 882 |
| 2nd | Ram Lambs | D P May | Derwenlas | 881 |
| 3rd | Ram Lambs | Mr & Mrs C & H Roberts | Prenafal | 875 |
| 4th | Ram Lambs | E Owen | Cernyw | 902 |
Ram Lamb - Performance Recorded
| Placing | Class | Exhibitor | Flock Name | Lot Number |
| --- | --- | --- | --- | --- |
| 1st | Ram Lambs | S A & R P Jones | Craig-Yr-Orsedd | 878 |
| 2nd | Ram Lambs | M C Roberts | Myfyrian | 877 |
| 3rd | Ram Lambs | E Owen | Cernyw | 901 |
Ewes / Gimmer Shearlings
| Placing | Class | Exhibitor | Flock Name | Lot Number |
| --- | --- | --- | --- | --- |
| 1st | Ewes / Gimmer | D P May | Derwenlas | 930 (Ewe) |
| 2nd | Ewes / Gimmer | R W Howatson | Clwyd | 918 (Gimmer) |
| 3rd | Ewes / Gimmer | D P May | Derwenlas | 929 (Ewe) |
| 4th | Ewes / Gimmer | R L & A M Montague | Ashdown | 922 (Gimmer) |
Ewe Lambs
| Placing | Class | Exhibitor | Flock Name | Lot Number |
| --- | --- | --- | --- | --- |
| 1st | Ewe Lambs | Mrs H Havill | Martin Grange | 911 |
| 2nd | Ewe Lambs | Mrs H Havill | Martin Grange | 912 |
| 3rd | Ewe Lambs | Mr & Mrs G W & S Morris | Cynhafal | 920 |
| 4th | Ewe Lambs | Mr & Mrs G W & S Morris | Cynhafal | 921 |
Bluefaced Champions
| Category | Exhibitor | Type |
| --- | --- | --- |
| Champion Male | D P May | Ram Lamb |
| Reserve Champion Male | Miss G M Humphreys | Shearling Ram |
| Champion Female | D P May | Ewe |
| Reserve Champion Female | Mrs H Havill | Ewe Lamb |
| Overall Champion | D P May | Ram Lamb |
| Reserve Overall Champion | D P May | Ewe |
Gallery
Back to Sale Reports