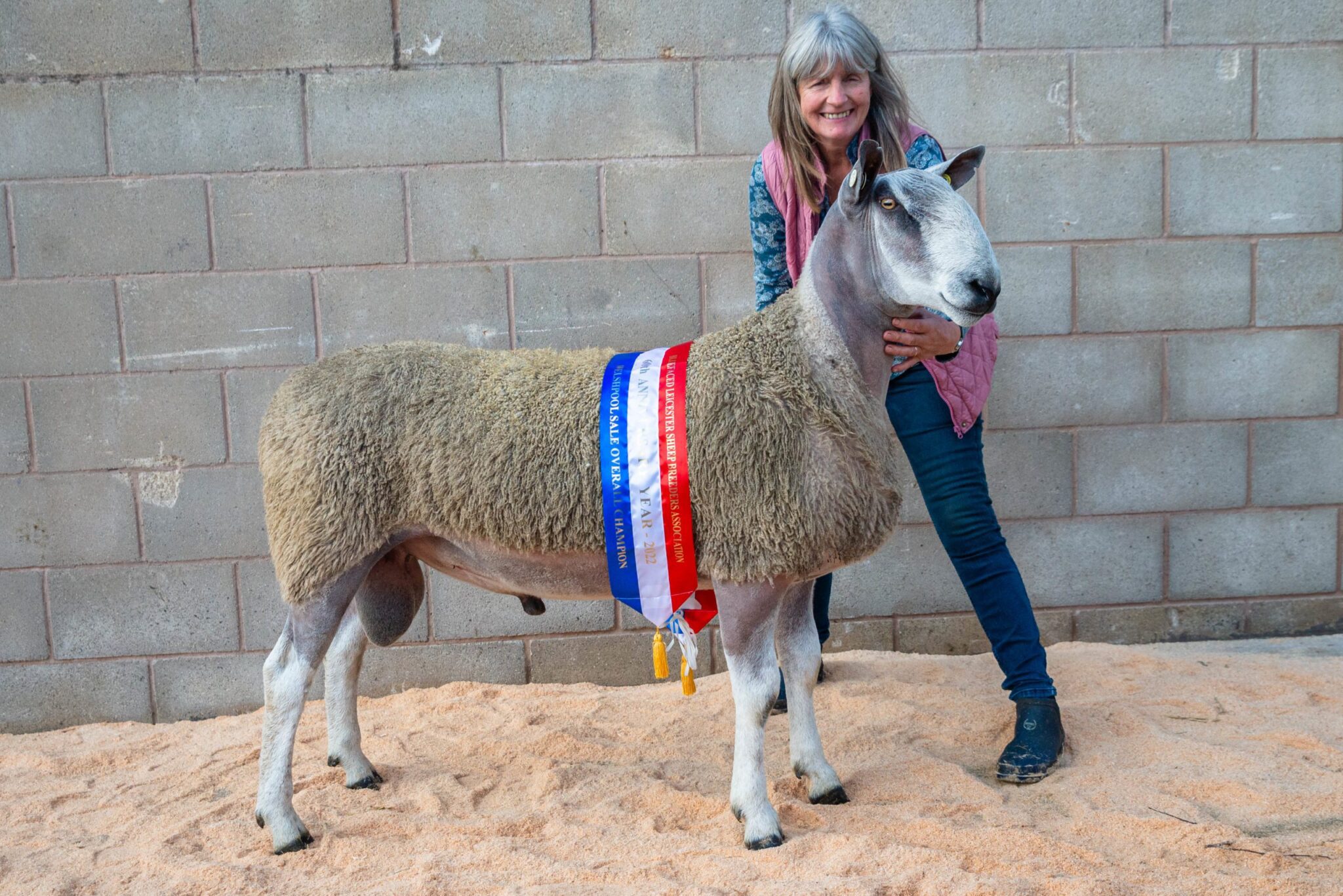 Welshpool – 29th September, 2022
29th September 2022
Welshpool
Mr David Henderson, North Burndale
Welshpool – Thursday 29th September, 2022
Kindly sponsored by KLF Insurance Brokers Ltd
This year saw an increased entry of sheep with a catalogued entry of 311 registered sheep.
Mr David Henderson from the North Burndale flock made the journey down from his home near Hexham in Northumberland to take on the judging duties.
With good strong classes forward in all sections David eventually found his overall champion in the shearling ram pen from Helen Havill, Martin Grange, this was the homebred shearling Martin Grange 3585/P005 sired by homebred ram M009 out of a homebred ewe H012 sired by Long Mynd 3570/F008 this sharp and stylish ram caught the Judges eye from the minute he took to the ring. He was later sold for 1800gns.
Top price on the day went to the first prize aged ram put forward for sale by Clive & Helen Roberts, Prenafal, he is a Logie Durno bred ram 4425/N002 sired by Burndale 65/K001 out of a Logie Durno ewe 4425/J030 sired by Street 2814/G004.  Helen & Clive run a small flock of ewes and the only reason for selling him was his daughters are now in the flock.  He was sold for 4000gns.
Top price ram lamb went to a homebred performance recorded ram lamb from Myrfyn Roberts, Myfyrian sired by Lowes Fell 50/M001 out of a homebred ewe 1183/M031 sired by Rossiebank J020 he was sold for 600gns.
The Reserve Overall Champion was the female champion a homebred ewe from C B & G G Morris, Lower Drostre 4848/N012 sired by Kirkstead 2625/K003 out of an Elian Ewe 2832/G103 sired by Bog Hall 410/E001 she sold for 680gns
Averages:
7 Aged Rams – £997.50
156 Shearling Rams – £540.28
26 Ram Lambs – £345.29
15 Aged Ewes – £301.00
28 Shearling Ewes – £291.38
8 Ewe Lambs – £204.75
Aged Rams
| Placing | Class | Exhibitor | Flock Name | Lot Number |
| --- | --- | --- | --- | --- |
| 1st | Aged Rams | Mr & Mrs C & H Roberts | Prenafal | 788 |
| 2nd | Aged Rams | S A & R P Jones | Craig Yr Orsedd | 831 |
| 3rd | Aged Rams | Miss D K Williams | Daisy | 710 |
| 4th | Aged Rams | Mr & Mrs G W & S Morris | Cynhafal | 889 |
Shearling Rams
| Placing | Class | Exhibitor | Flock Name | Lot Number |
| --- | --- | --- | --- | --- |
| 1st | Shearling Rams | Mrs H Havill | Martin Grange | 891 |
| 2nd | Shearling Rams | Dewi W Williams | Blacket House | 819 |
| 3rd | Shearling Rams | T R Harris | Bonvilston | 753 |
| 4th | Shearling Rams | S A & R P Jones | Craig Yr Orsedd | 832 |
Ram Lambs
| Placing | Class | Exhibitor | Flock Name | Lot Number |
| --- | --- | --- | --- | --- |
| 1st | Ram Lambs | Mr & Mrs G W & S Morris | Cynhafal | 925 |
| 2nd | Ram Lambs | Mr & Mrs C B & G G Morris | Lower Drostre | 923 |
| 3rd | Ram Lambs | Mr & Mrs G W & S Morris | Cynhafal | 926 |
| 4th | Ram Lambs | M C Roberts | Myfyrian | 927 |
Performance Recorded Ram Lambs
| Placing | Class | Exhibitor | Flock Name | Lot Number |
| --- | --- | --- | --- | --- |
| 1st | Recorded Ram Lambs | S A & R P Jones | Craig Yr Orsedd | 951 |
| 2nd | Recorded Ram Lambs | D W P Davies | Gornal | 933 |
| 3rd | Recorded Ram Lambs | M C Roberts | Myfyrian | 928 |
| 4th | Recorded Ram Lambs | E Owen | Cernyw | 935 |
Ewes & Gimmers
| Placing | Class | Exhibitor | Flock Name | Lot Number |
| --- | --- | --- | --- | --- |
| 1st | Ewes & Gimmers | Mr & Mrs C B & G G Morris | Lower Drostre | 975 |
| 2nd | Ewes & Gimmers | Mr & Mrs C B & G G Morris | Lower Drostre | 976 |
| 3rd | Ewes & Gimmers | G J P Hillson | Blue Bird | 961 |
| 4th | Ewes & Gimmers | G J P Hillson | Blue Bird | 968 |
Ewe Lambs
| Placing | Class | Exhibitor | Flock Name | Lot Number |
| --- | --- | --- | --- | --- |
| 1st | Ewe Lambs | G J P Hillson | Blue Bird | 971 |
| 2nd | Ewe Lambs | R S & J T Shaw | Brookfields | 1008 |
| 3rd | Ewe Lambs | D P May | Derwenlas | 989 |
| 4th | Ewe Lambs | G J P Hillson | Blue Bird | 973 |
Bluefaced Champions
| Category | Exhibitor | Type |
| --- | --- | --- |
| Male Champion | Mrs H Havill | Shearling Ram |
| Reserve Male Champion | Mr & Mrs G W & S Morris | Ram Lamb |
| Female Champion | Mr & Mrs C B & G G Morris | Ewe |
| Reserve Female Champion | G J P Hillson | Ewe Lamb |
| Overall Champion | Mrs H Havill | Shearling Ram |
| Reserve Overall Champion | Mr & Mrs C B & G G Morris | Ewe |
Gallery
Back to Archive