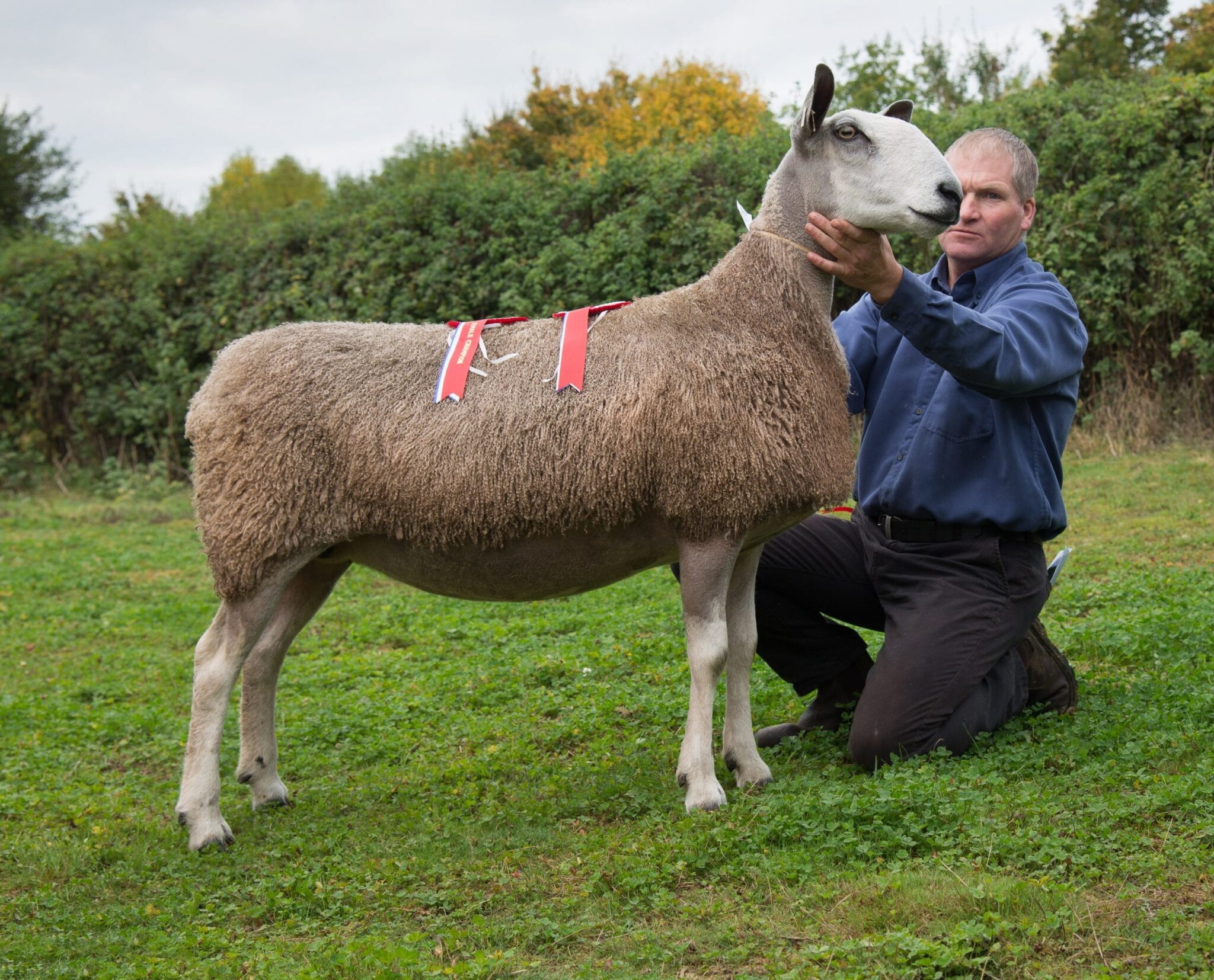 Welshpool Ram & Female Sale
2nd October 2014
Welshpool
Mr R Lovett, Derwent
Another perfect early autumn's day greeted all who attended the twenty seventh annual sale and show at the impressive Welshpool market. The day's judge was Mr Richard Lovett of the Derwent flock from Oxfordshire and the day's proceedings were ably overseen by Alex Bisset the Chief Steward.
Similar to other sales this year, the trade was reasonable and buyers were selective, but the clearance of stock was good and overall it was another successful event arranged by Welshpool Livestock Sales and the Bluefaced Leicester Association.
The day's top price went to Aled Jones of the Craig yr Orsedd flock for 3363/G7 , an exceptionally stocky and powerful performance recorded ram lamb. This was the first lamb through the ring and it certainly got the trade off to a good start achieving 1300 guineas. It's sire Arkleby B1 Elite plus bred the top price at the NSA sale a couple of weeks earlier, but this time a different dam line produced the goods. The ewe was a home bred ewe sired by Craig yr Orsedd B4 which made 1200 guineas as a lamb at Builth. This went back to Addingham Z3 which in turn was sired by the prolific Clennell X41.
Richard Howatson of the Clwyd flock achieved the days Overall Champion with a well presented, sharp and powerful four year old ewe. Richard has kept a couple of daughters and has shown the ewe extensively across Wales winning many championships. The ewe was Craig yr Orsedd C60 which Richard had bought from Builth Wells when she achieved first prize ewe lamb. She is sired by Shrewbridge A26 E+ and out of a Craig yr Orsedd ewe sired by Scrainwood T29 E+.
After the exceptional success of 2013 the male Championship went again to Elfyn Owen who produced an excellent display of ram lambs. The judges choice was Cernyw G10 sired by the famous homebred C15 Cernyw Muscleman E+ out of a ewe sired by Kempt view W3 E+. This lamb had an index of 158 with a good outlook and tight skin and clean legs and went on to make a very respectable 650 guineas. Elfyn also won the performance recorded ram lamb class with another stylish sheep showing the quality and consistency of the Cernyw bloodlines.
The yearling ram class was won by Raymond Harding with a stretchy Lydbury Marcus son Shrewbridge F13 and the Aged ram class was won by A L Wright of the Disgwylfa flock for a strong Rowandale tup E6 sired by Carroch C1. The ewe lamb class was won by the Brookfields flock for G11 and strong upstanding sheep sired by Wrens Park F4.
Breeders certainly put on a good display of sheep with new vendors such as Emyr Owen, Bronferiaeth achieving over 900 guineas and Glyn Davies, Swchyrhafod with a great pen of correct ram lambs which were well sold.
Many thanks to the stewards Maldwyn Davies, Paul Howell and of course Phil May who himself had a great pen of strong ram lambs.
Gallery
Back to Archive