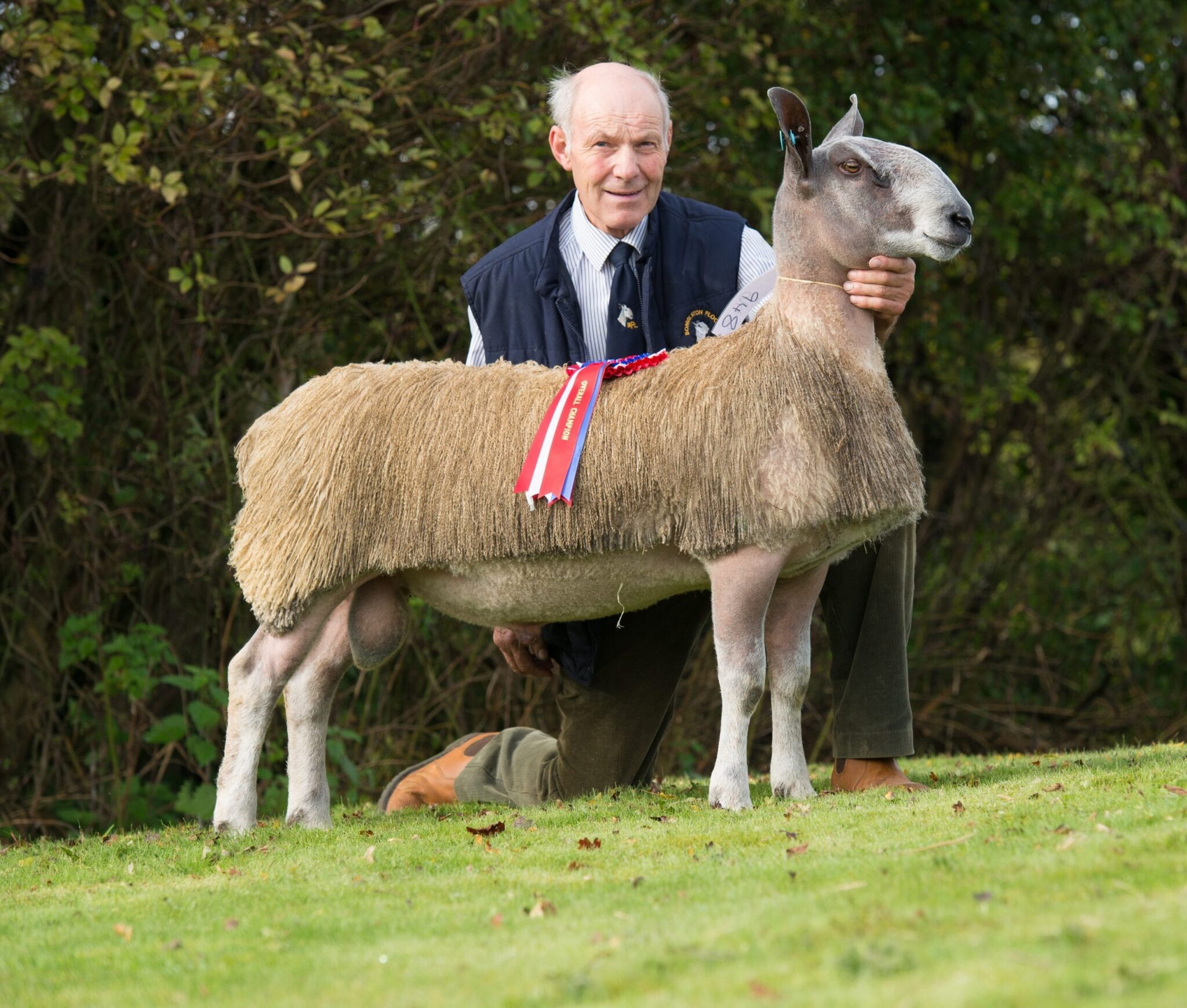 Welshpool Ram & Female Sale
28th September 2017
Welshpool
Mr John Jones, Robleston
The 30th annual show and sale of Bluefaced Leicesters was held at Welshpool Livestock Market on Thursday 28th September and kindly sponsored by K L F Insurance Brokers Limited – Agricultural Insurance Specialists.
Mr John Jones from the Robleston flock was appointed the honour of judging the pre-sale show which had large numbers of sheep forward in all classes.
The judge awarded his overall champion to Tudor and Janet Harris of the Bonvilston flock with a homebred ram lamb 2906/K20, sired by a homebred sire 2906/J2 and out of a homebred ewe by 7/B4 Broomhills. He was also awarded the R P Williams Trophy for the champion ram lamb in the open class. He was later cashed at 550 gns.
The first prize in the shearling gimmer class was awarded to Dewi Jones of the Pigot flock with a homebred gimmer 1542/J32, sired by 891/F10 Lower Down and out of a ewe by 3822/F12 Derwenlas. She later went on to take the overall reserve champion and overall female champion and was sold for 520 gns.
Reserve male champion was awarded to the first prize recorded ram lamb 1070/K36 from the Cernyw flock sired by 110/H3 Woodcroft, and out of a ewe by 3822/C60 Derwenlas. He sold for 500 gns.
Reserve female champion went to Paul Howell of the Long Mynd flock with a ewe lamb 3570/K18 sired by 4395/G1 Daisy, and out of a ewe by 2188/B1 Grugoer. Top price female went to Mrs Day of the Cloverfield flock for a shearling gimmer sold for 640 gns.
Top price of the day of 1000 gns was achieved by two vendors. Firstly for the second prize aged ram. This was a homebred ram 2832/H10 from G P Williams & Co, Elian, sired by 2298/B1 Addingham and out of a ewe by 3114/A16 Shrewbridge. Secondly sharing the top price spot was a homebred ram lamb from G H Jones, Carrog 4532/K3, sired by 891/G2 Lower Down and out of a homebred ewe by 1070/F3 Cernyw.
Aged Rams
| Placing | Class | Exhibitor | Flock Name |
| --- | --- | --- | --- |
| 1st | Aged Rams | D W P Davies | Gornal |
| 2nd | Aged Rams | G P Williams & Co | Elian |
| 3rd | Aged Rams | Mrs M Davies & Mr S Hughes | Wernlas |
Shearling Rams
| Placing | Class | Exhibitor | Flock Name |
| --- | --- | --- | --- |
| 1st | Shearling Rams | T R Harris | Bonvilston |
| 2nd | Shearling Rams | D W P Davies | Gornal |
| 3rd | Shearling Rams | A L Wright | Disgwylfa |
| 4th | Shearling Rams | D P May | Derwenlas |
Ram Lamb
| Placing | Class | Exhibitor | Flock Name |
| --- | --- | --- | --- |
| 1st | Ram Lamb | T R Harris | Bonvilston |
| 2nd | Ram Lamb | G H Jones | Carrog |
| 3rd | Ram Lamb | T R Harris | Bonvilston |
| 4th | Ram Lamb | G H Jones | Carrog |
Performance Recorded Ram Lambs
| Placing | Class | Exhibitor | Flock Name |
| --- | --- | --- | --- |
| 1st | Performance Recorded Ram Lambs | E Owen | Cernyw |
| 2nd | Performance Recorded Ram Lambs | M C Roberts | Myfyrian |
| 3rd | Performance Recorded Ram Lambs | J T Armstrong | Lay's |
| 4th | Performance Recorded Ram Lambs | P Howell | Long Mynd |
Shearling Gimmers
| Placing | Class | Exhibitor | Flock Name |
| --- | --- | --- | --- |
| 1st | Shearling Gimmers | D Jones | Pigot |
| 2nd | Shearling Gimmers | Mrs M Day | Cloverfield |
| 3rd | Shearling Gimmers | D Jones | Pigot |
| 4th | Shearling Gimmers | Mrs M Day | Cloverfields |
Ewe Lambs
| Placing | Class | Exhibitor | Flock Name |
| --- | --- | --- | --- |
| 1st | Ewe Lambs | P Howell | Long Mynd |
| 2nd | Ewe Lambs | T R Harris | Bonvilston |
| 3rd | Ewe Lambs | T R Harris | Bonvilston |
| 4th | Ewe Lambs | Mrs C Rees | Rheidol |
Bluefaced Champions
| Category | Exhibitor | Type |
| --- | --- | --- |
| Overall Champion & Male Champion | T R Harris | Ram Lamb |
| Res. Overall Champion & Female Champion | D Jones | Shearling Gimmer |
| Res. Male Champion | E Owen | Performance Recorded Ram Lamb |
| Res. Female Champion | P Howell | Ewe Lamb |
Gallery
Back to Archive