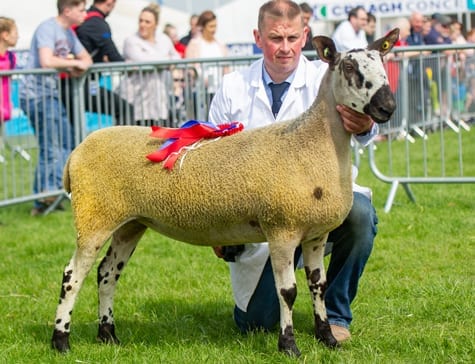 Balmoral Show
15th - 18th May 2019
Balmoral Park
Clark Lamont, Blackpark
The 2019 show season began this week for the Northern Ireland Region with the Balmoral Show. The mid week weather, coupled with an array of quality stock in the Bluefaced Leicester section, certainly captured the attention of the public who watched in anticipation as Judge Clark Lamont selected his class winners and overall Champion.
The individual classes kicked off with the ram section; with the red rosette in the shearling ram and upwards class being awarded to Graham and Julie Loughrey, Temain for a Hamildean bred ram 4348/J007 that merited the same success in this class in 2018.
The aged ewe class followed a similar trail, with William Adams, Holmview taking the red ticket for a two shear home bred ewe 1337/K047 bred by H001 Cottage.
William's success didn't stop here, also taking first place in the shearling ewe class with 1337/L037. Her character and style won the judge over, and she was awarded overall breed Champion. She is sired by 281/J001 Carryhouse, a sheep that continues to promote the breed in the show ring with his progeny having banked first place's and championships in 2018.
The judge's reserve championship pick was presented to the 2nd place shearling ewe 4342/L028 from Graham and Julie Loughery, Temain. A home bred sheep with excellent colour and style.
An early start some may argue for lambs to be shown; but the lambs exhibited proved contrary to this. Both the ewe and ram classes were well populated with forward lambs in fitted condition for the show ring.
Ian Montgomery's, Mistyburn lambs showed their style and character complimented with colour and this scoped him the red rosettes in both the ram and ewe lamb classes, certainly a very memorable achievement for him on his first time showing at Balmoral Show! The ewe lamb was sired by the 980/H005 Hewgill and she will be retained in the Mistyburn flock. The ram lamb will be sold later in the year at the Northern Ireland Premier Sale in Ballymena on the 21st September. He was sired by 1493/L001 Farden which Ian bought out of the Hawes Association Sale in 2018 for £10,000.
Shearling Ram & Upwards
| Placing | Class | Exhibitor | Flock Name |
| --- | --- | --- | --- |
| 1st | Shearling Ram & Upwards | G & J Loughery | Temain |
| 2nd | Shearling Ram & Upwards | D McKillop | Giants Causeway |
Aged Ewe
| Placing | Class | Exhibitor | Flock Name |
| --- | --- | --- | --- |
| 1st | Aged Ewe | J Adams & Son | Holmview |
| 2nd | Aged Ewe | M Wright | Mullaghwee |
| 3rd | Aged Ewe | H Henry | Starbog |
Shearling Ewe
| Placing | Class | Exhibitor | Flock Name |
| --- | --- | --- | --- |
| 1st | Shearling Ewe | J Adams & Son | Holmview |
| 2nd | Shearling Ewe | G & J Loughery | Temain |
| 3rd | Shearling Ewe | D McKillop | Giants Causeway |
Ram Lamb
| Placing | Class | Exhibitor | Flock Name |
| --- | --- | --- | --- |
| 1st | Ram Lamb | I Montgomery | Mistyburn |
| 2nd | Ram Lamb | D McKillop | Giants Causeway |
| 3rd | Ram lamb | G & J Loughery | Temain |
Ewe Lamb
| Placing | Class | Exhibitor | Flock Name |
| --- | --- | --- | --- |
| 1st | Ewe Lamb | I Montgomery | Mistyburn |
| 2nd | Ewe Lamb | J Adams & Son | Holmview |
| 3rd | Ewe Lamb | G & J Loughery | Temain |
Best Pair of Lambs
| Placing | Class | Exhibitor | Flock Name |
| --- | --- | --- | --- |
| 1st | Best pair of Lambs | I Montgomery | Mistyburn |
| 2nd | Best Pair of Lambs | J Adams & Son | Holmview |
| 3rd | Best Pair of Lambs | G & J Loughery | Temain |
Group of Three
| Placing | Class | Exhibitor | Flock Name |
| --- | --- | --- | --- |
| 1st | Group of Three | G & J Loughery | Temain |
| 2nd | Group of Three | J Adams & Son | Holmview |
| 3rd | Group of Three | D McKillop | Giants Causeway |
Bluefaced Champions
| Category | Exhibitor | Type |
| --- | --- | --- |
| Champion | J Adams & Son | Shearling Ewe |
| Reserve Champion | G & Loughery | Shearling Ewe |
Gallery
Back to Archive