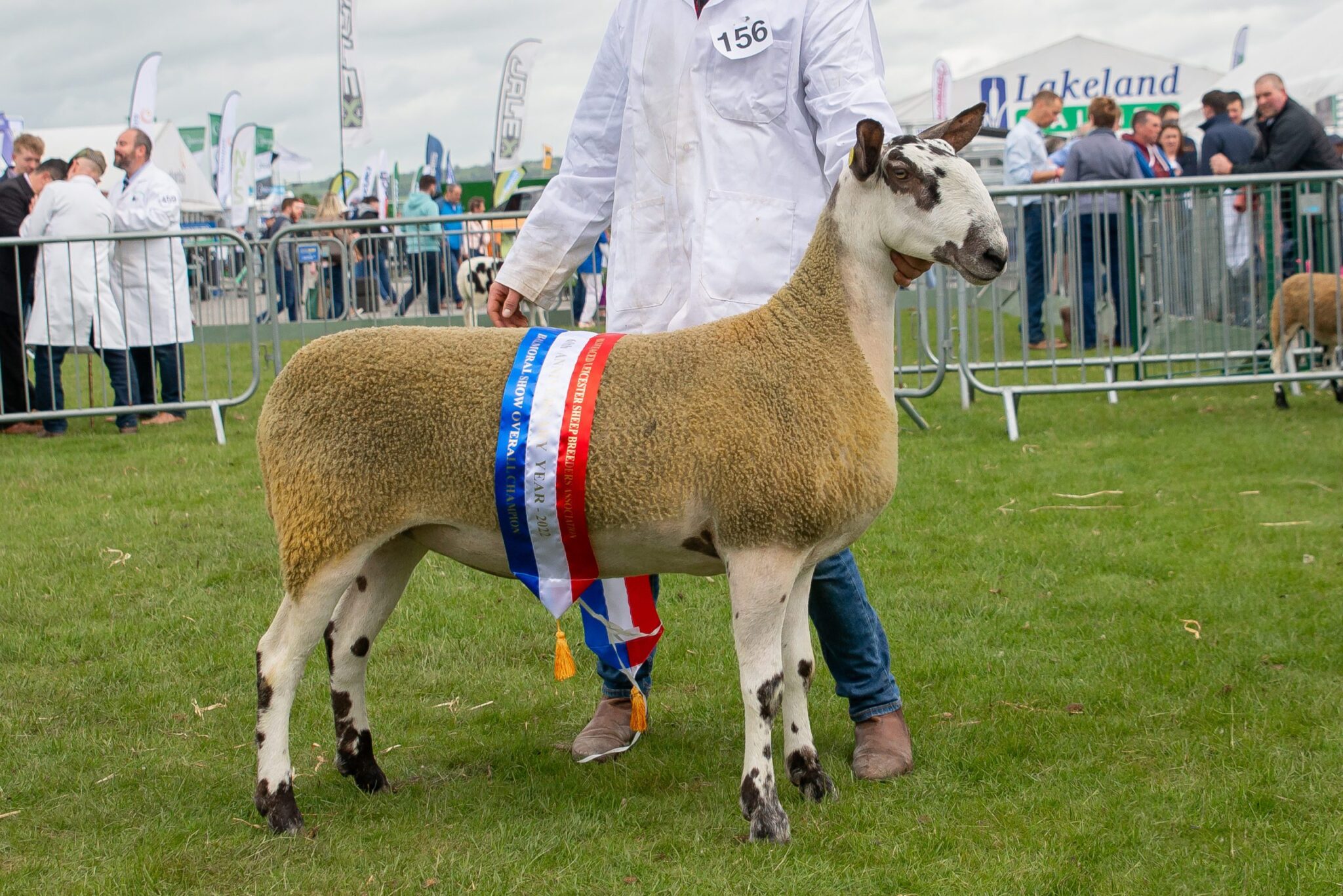 Balmoral Show
11th - 14th May 2022
Balmoral Park
Mr Derek Hall, Firth
After three long and difficult years away from the show circuit the 12th May, 2022 saw a welcome return to the show ring for our Northern Ireland members at the Balmoral Show. The man in the middle was Derek Hall from the Firth flock based near Penicuik, Edinburgh.
Derek found his champion in the pen of Jimmy Mills, Ballytober flock, this was an outstanding shearling ewe which outshone all before her in a huge class of 21. This eye catching Gimmer is home bred Ballytober 4469/P014 sired by N004 Blarnavaid who is a son of the £22,000 M002 Hewgill. She will remain in the Ballytober flock.
Derek's reserve champion came from the same outstanding class of shearling gimmers with his second prize gimmer taking the honours for Graham and Julie Loughery, Temain. She is a homebred gimmer Temain P094 sired by Midlock Iceman out of a home bred ewe sired by Maverick, and is a half sister to Gambler.
Graham and Julie also took the red rosette in the Aged ewe class with their homebred ewe Temain/ M034. Richard Graham, Tullyvallen took first prize in the aged ram class. Finding success in the ewe lamb class and taking home the red rosette was Declan McKillop, Giants Causeway with his home bred lamb sired by Popeye out of a ewe lamb that won the online show in 2021. Will Adams from Holmview flock walked away with a handful of first prize tickets with success in the ram lamb class, group of three and the pairs class.
Bluefaced Leicester Breed Champion from Jimmy Mills, Ballytober takes the Overall Champion Longwool title and Reserve Champion Interbreed.
Congratulations to all exhibitors putting forward an outstanding show of sheep this year.
Ram, Shearling & Upwards
| Placing | Class | Exhibitor | Flock Name |
| --- | --- | --- | --- |
| 1st | Ram, Shearling & Upwards | Richard Graham | Tullyvallen |
| 2nd | Ram, Shearling & Upwards | Michael Woods | Knockbarragh Blues |
Ram Lamb
| Placing | Class | Exhibitor | Flock Name |
| --- | --- | --- | --- |
| 1st | Ram Lamb | J Adams & Sons | Holmview |
| 2nd | Ram Lamb | Adam Porter | Braeburn |
| 3rd | Ram Lamb | Christopher Butler | Glenmakeeran |
| 4th | Ram Lamb | Ian Montgomery | Mistyburn |
Ewe, 2 Shear & Upwards
| Placing | Class | Exhibitor | Flock Name |
| --- | --- | --- | --- |
| 1st | Ewe, 2 Shear & Upwards | G & J Loughery | Temain |
| 2nd | Ewe, 2 Shear & Upwards | Declan McKillop | Giants Causeway |
| 3rd | Ewe, 2 Shear & Upwards | Christopher Butler | Glenmakeeran |
| 4th | Ewe, 2 Shear & Upwards | J Adams & Sons | Holmview |
Shearling Ewe
| Placing | Class | Exhibitor | Flock Name |
| --- | --- | --- | --- |
| 1st | Shearling Ewe | J Mills | Ballytober |
| 2nd | Shearling Ewe | G & J Loughery | Temain |
| 3rd | Shearling Ewe | Lee Beacom | Lakeview Farm |
| 4th | Shearling Ewe | H Henry | Starbog |
| 5th | Shearling Ewe | J Mills | Ballytober |
| 6th | Shearling Ewe | Declan McKillop | Giants Causeway |
Ewe Lamb
| Placing | Class | Exhibitor | Flock Name |
| --- | --- | --- | --- |
| 1st | Ewe Lamb | Declan McKillop | Giants Causeway |
| 2nd | Ewe Lamb | J Adams & Sons | Holmview |
| 3rd | Ewe Lamb | Ian Montgomery | Mistyburn |
| 4th | Ewe Lamb | Miss A McNeilly | Drumadowney |
| 5th | Ewe Lamb | Adam Porter | Braeburn |
| 6th | Ewe Lamb | Adam Porter | Braeburn |
Pair of Bluefaced Leicester Lambs
| Placing | Class | Exhibitor | Flock Name |
| --- | --- | --- | --- |
| 1st | Pair of Bluefaced Leicester Lambs | J Adams & Sons | Holmview |
| 2nd | Pair of Bluefaced Leicester Lambs | Declan McKillop | Giants Causeway |
| 3rd | Pair of Bluefaced Leicester Lambs | Adam Porter | Braeburn |
Group of Three Bluefaced Leicester Sheep
| Placing | Class | Exhibitor | Flock Name |
| --- | --- | --- | --- |
| 1st | Group of Three Bluefaced Leicester Sheep | J Adams & Sons | Holmview |
| 2nd | Group of Three Bluefaced Leicester Sheep | Declan McKillop | Giants Causeway |
| 3rd | Group of Three Bluefaced Leicester Sheep | Adam Porter | Braeburn |
Bluefaced Champions
| Category | Exhibitor | Type |
| --- | --- | --- |
| Overall Champion & Overall Longwool Champion & Reserve Interbreed Champion | J Mills, Ballytober | First Prize Shearling Ewe |
| Reserve Overall Champion | G & J Loughery, Temain | Second Prize Shearling Ewe |
Gallery
Back to Archive