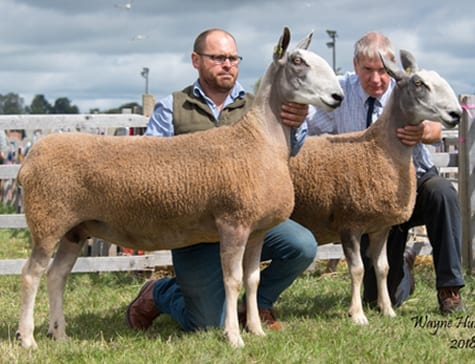 Scottish Progeny Show Traditional Type
4th August 2018
Dumfries
N Robinson, Cocklaw
A glorious day in the South West of Scotland was the setting for the Scottish Bluefaced progeny show at Dumfries this year. Sheep from across Scotland were on show, with breeders old and new hoping to catch the eyes of the day's judges Nicky Robinson.
There were some very strong classes throughout and Nicky Robinson certainly had his work cut out picking out his winners. As normal though, the cream rises to the top and a one crop ewe from the Rossiebank flock of Robert Neill took the honours. She was unbeaten on her outings as a gimmer shearling last year and this was her first of the season here, after raising a cracking tup lamb, which Robert isn't 100% sure whether to retain himself or to sell later this autumn. She is by the homebred G11 Rossiebank and on her mother's side she goes back to Hazelwood breeding. She was also part of the pair which took the progeny championship on this side of the ring too, making it a double for Rossiebank on the day.
Young Fraser Kennedy, runs around 10 ewes near AE Water, Lockerbie, also celebrated a cracking double on his showing debut, taking the Reserve championship with a lovely sharp gimmer shearling, by the 2500 gns Mosser Mains Jack the Lad, bought at Carlisle two years back. She is a triplet and one of her full sisters came in to the equation in the progeny section and they took the reserve placing in the section.
Aged Ram
| Placing | Class | Exhibitor | Flock Name |
| --- | --- | --- | --- |
| 1st | Aged Ram | A M Brown | Drumhumphrey |
| 2nd | Aged Ram | R Neill | Rossiebank |
| 3rd | Aged Ram | R A McClymont & Sons | Kirkstead |
Shearling Ram
| Placing | Class | Exhibitor | Flock Name |
| --- | --- | --- | --- |
| 1st | Shearling Ram | R A McClymont & Son | Kirkstead |
| 2nd | Shearling Ram | R Neill | Rossiebank |
| 3rd | Shearling Ram | R Neill | Rossiebank |
Ram Lamb
| Placing | Class | Exhibitor | Flock Name |
| --- | --- | --- | --- |
| 1st | Ram Lamb | M Quinn | Whinnyhall |
| 2nd | Ram Lamb | R A McClymont & Son | Kirkstead |
| 3rd | Ram Lamb | R Neill | Rossiebank |
Ewe
| Placing | Class | Exhibitor | Flock Name |
| --- | --- | --- | --- |
| 1st | Ewe | R Neill | Rossiebank |
| 2nd | Ewe | R A McClymont & Son | Kirkstead |
| 3rd | Ewe | R Neill | Rossiebank |
Gimmer
| Placing | Class | Exhibitor | Flock Name |
| --- | --- | --- | --- |
| 1st | Gimmer | F D Kennedy | AE Water |
| 2nd | Gimmer | R Neill | Rossiebank |
| 3rd | Gimmer | K Smith | Low Arkland |
Ewe Lamb
| Placing | Class | Exhibitor | Flock Name |
| --- | --- | --- | --- |
| 1st | Ewe Lamb | R A McClymont & Son | Kirkstead |
| 2nd | Ewe Lamb | F D Kennedy | AE Water |
| 3rd | Ewe Lamb | R Neill | Rossiebank |
Group of Three (open)
| Placing | Class | Exhibitor | Flock Name |
| --- | --- | --- | --- |
| 1st | Group of Three | R Neill | Rossiebank |
| 2nd | Group of Three | R A McClymont & Son | Kirkstead |
| 3rd | Group of Three | F D Kennedy | AE Water |
Progeny - Pair Of Ewes By The Same Sire
| Placing | Class | Exhibitor | Flock Name |
| --- | --- | --- | --- |
| 1st | Group Pair of Ewes | R Neill | Rossiebank |
| 2nd | Group Pair of Ewes | R A McClymont & Son | Kirkstead |
| 3rd | Group Pair of Ewes | R & I Watson | High Borgue |
Progeny - Pair Of Gimmers By The Same Sire
| Placing | Class | Exhibitor | Flock Name |
| --- | --- | --- | --- |
| 1st | Group Pair of Gimmers | F D Kennedy | AE Water |
| 2nd | Group Pair of Gimmers | R Neill | Rossiebank |
| 3rd | Group Pair of Gimmers | R A McClymont & Son | Kirkstead |
Progeny - Pair Of Shearing Rams By The Same Sire
| Placing | Class | Exhibitor | Flock Name |
| --- | --- | --- | --- |
| 1st | Group Pair of Shearling Rams | R A McClymont & Son | Kirkstead |
| 2nd | Group Pair of Shearling Rams | R Neill | Rossiebank |
Progeny - Three Ram Lambs By The Same Sire
| Placing | Class | Exhibitor | Flock Name |
| --- | --- | --- | --- |
| 1st | Group Three Ram Lambs | M Quinn | Whinnyhall |
| 2nd | Group Three Ram Lambs | K Smith | Low Arkland |
| 3rd | Group Three Ram lambs | R Neill | Rossiebank |
Progeny - Three Ewe Lambs By The Same Sire
| Placing | Class | Exhibitor | Flock Name |
| --- | --- | --- | --- |
| 1st | Group Three Ewe Lambs | R A McClymont & Son | Kirkstead |
| 2nd | Group Three Ewe Lambs | R Neill | Rossiebank |
| 3rd | Group Three Ewe Lambs | F D Kennedy | AE Water |
Progeny - Pair of Lambs (any sex) sired by same sire shown with sire
| Placing | Class | Exhibitor | Flock Name |
| --- | --- | --- | --- |
| 1st | Group Pair of Lambs (any sex) | R Neill | Rossiebank |
| 2nd | Group Pair of Lambs (any sex) | R A MCClymont & Son | Kirkstead |
| 3rd | Group Pair of lambs (any sex) | K Smith | Low Arkland |
Bluefaced Champions
| Category | Exhibitor | Type |
| --- | --- | --- |
| Breed Champion | R Neill | Aged Ewe |
| Reserve Breed Champion | F D Kennedy | Gimmer |
| Champion Progeny Group | R Neill | Pair of Ewes By The Same Sire |
| Res. Champion Progeny Group | F D Kennedy | Pair of Gimmers By The Same Sire |
Gallery
Back to Archive