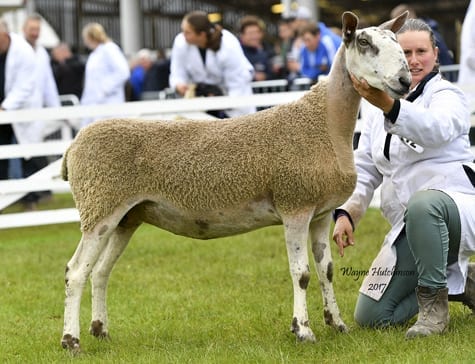 Great Yorkshire Show
11th - 13th July 2017
Harrogate
J Dykes, Mendick
The rain eased for the judging of the Bluefaced Leicesters at the 2017 Great Yorkshire Show. After a wet, miserable morning, the clouds eased enough to make the showing a more pleasant experience than it had been in the earlier part of the day.
John Dykes had the privilege of judging some strong classes, with a total of 68 sheep entered, there was a good mix of classes and plenty of head scratching to ensure the right sheep were awarded.
The champion of the day came from new breeder, Caitrina Ward who has only been a member for the past 18 months and showing at the Great Yorkshire for just her second time. She runs 10 ewes near Whitby, and her champion, a ewe, was a 1700 gns purchase from Midlock at the January in lamb sale. Full of Midlock breeding on both sides, it displayed many of the attributes well known from this flock, including power and great conformation, with plenty of neck and style. Her gimmer lamb was third in its class as well on the day, completing a great day for the fledgling flock, and will no doubt encourage them even more. I'm guessing they will be back next year!
The reserve overall champion came from the female side of the draw too, with a stylish gimmer shearling from regular showers Scott & Clare Thomason. This one is no stranger to the show ring, having won her class at last year's show as a gimmer lamb. She is by the Myfyrian F9 they share with Alwinton, and out of a great ewe that used to be the flock's show sheep a few years back, by the Z1 Hazelwood which has done exceptionally well in the flock. It was a bit of a last minute effort from the team, based on Walney Island near Barrow in Furness, as they were only on the waiting list for showing, and were only informed last Thursday that they could get in. The wait was worth it though.
One family dominated in the male section with both the champion and the reserve going to the Laund flock of John Stott. The champion was a powerful tup shearling bought out of Kelso last year from James Nisbet. He was an embryo lamb out of a Midlock ewe and by G2 Marriforth. He was shown at last year's Highland show, where he had picked up a third prize in a very strong class. John rates him very highly, having done a good job over his sheep last year.
His reserve male was a well grown tup lamb by the flock's SP Dalpeddar tup which has done well for them over the past few years and is out of a ewe a homebred tup.
Credit must go to all the breeders for such a good turnout and making such a good job in presenting their sheep so well.
Aged Ram
| Placing | Class | Exhibitor | Flock Name |
| --- | --- | --- | --- |
| 1st | Aged Ram | R & D Metcalfe | Hardenclough |
Shearling Ram
| Placing | Class | Exhibitor | Flock Name |
| --- | --- | --- | --- |
| 1st | Shearling Ram | C & J Stott | Laund |
| 2nd | Shearling Ram | C & J Stott | Laund |
| 3rd | Shearling Ram | J Stenton | St Ravenscar |
Ram Lamb
| Placing | Class | Exhibitor | Flock Name |
| --- | --- | --- | --- |
| 1st | Ram Lamb | C & J Stott | Laund |
| 2nd | Ram Lamb | S A Thomason | Piel View |
| 3rd | Ram Lamb | C & J Stott | Laund |
Aged Ewe
| Placing | Class | Exhibitor | Flock Name |
| --- | --- | --- | --- |
| 1st | Aged Ewe | C J Ward | Kimrina |
| 2nd | Aged Ewe | J Graham | Burnbank |
| 3rd | Aged Ewe | E Fairburn & Sons | Marriforth |
Shearling Ewe
| Placing | Class | Exhibitor | Flock Name |
| --- | --- | --- | --- |
| 1st | Shearling Ewe | S A Thomason | Piel View |
| 2nd | Shearling Ewe | E Fairburn & Sons | Marriforth |
| 3rd | Shearling Ewe | S A Thomason | Piel View |
Ewe Lamb
| Placing | Class | Exhibitor | Flock Name |
| --- | --- | --- | --- |
| 1st | Ewe Lamb | S A Thomason | Piel View |
| 2nd | Ewe Lamb | J Graham | Burnbank |
| 3rd | Ewe Lamb | C J Ward | Kimrina |
Group of Three
| Placing | Class | Exhibitor | Flock Name |
| --- | --- | --- | --- |
| 1st | Group of Three | S A Thomason | Piel View |
| 2nd | Group of Three | J Stenton | St Ravenscar |
| 3rd | Group of Three | J Graham | Burnbank |
Bluefaced Champions
| Category | Exhibitor | Type |
| --- | --- | --- |
| Overall Breed Champion & Female Champion | C J Ward | Aged Ewe |
| Res. Breed Champion & Res. Female Champion | S A Thomason | Shearling Ewe |
| Male Champion | C & J Stott | Shearling Ram |
| Res. Male Champion | C & J Stott | Ram Lamb |
Gallery
Back to Archive