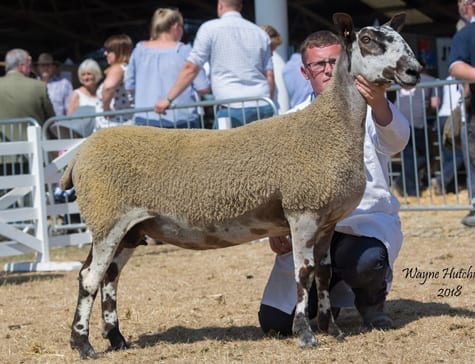 Great Yorkshire Show
10th - 12th July 2018
Harrogate
G Porter, Riddings
Under clear blue skies which have been the norm this summer, and on dry, brown grass which has become an all too familiar sight as well, the Great Yorkshire Show was the place to be this week. The Bluefaced Leicester classes were judged by renowned breeder Geoffry Porter from the famed Riddings flock.
It was a great day for raiders across the border as five of the six first prizes on offer went into Scotland, including four to John Graham from the Burnbank flock, Stirling. Not surprisingly with such a monopoly on the red tickets he claimed the championship ticket too. His champion was a homebred two crop ewe which has been shown with some success at the local shows, but this is her best result to date. This smart ewe is by a Pheasant Hill sire, going back to the E1 Smearsett bloodlines. John also took the male championship with a homebred shearling which oozed power. This boy is by the £14,000 Kirkby Redgate "Jackpot" out of a Dalpedder sired ewe and caught the eye of not just the judge on his trip to Harrogate, as one suiter put money where his mouth was and splashed the cash to land him early. John took the first prizes in the tup lamb class and gimmer shearling classes too, with A MacPherson taking the gimmer lamb class and the aged tup was won by M/s Metcalfe, Hope Valley, which went on to take the Res Male championship ticket.
Following on the Scottish coattails were the Stenton family from Pickering, who picked up a hatful of tickets, including second place with their ewe, which has done well at numerous shows already. She followed the Burnbank ewe all the way, picking up the reserve champion female then again following to pick up the Overall Reserve placing too. This lovely ewe, which dropped an unbelievable six lambs this spring was looking in great condition considering, is by A1 Ty-Gwyn out of a ewe by N38 Hundith.
It was a great day for the Scottish show team, who celebrated the result nearly as much as they celebrated Wednesday evenings result……
Ram Two Shear Or Over
| Placing | Class | Exhibitor | Flock Name |
| --- | --- | --- | --- |
| 1st | Ram Two Shear Or Over | R & D Metcalfe | Hardenclough |
| 2nd | Ram Two Shear Or Over | J Stott | Laund |
| 3rd | Ram Two Shear Or Over | P Turnbull | |
Shearling Ram
| Placing | Class | Exhibitor | Flock Name |
| --- | --- | --- | --- |
| 1st | Shearling Ram | J Graham | Burnbank |
| 2nd | Shearling Ram | J Stenton | St Ravenscar |
| 3rd | Shearling Ram | J Stott | Laund |
Ram Lamb
| Placing | Class | Exhibitor | Flock Name |
| --- | --- | --- | --- |
| 1st | Ram Lamb | J Graham | Burnbank |
| 2nd | Ram Lamb | H Stenton | Thornton Le Dale |
| 3rd | Ram Lamb | J Nisbet | Nisbets |
Aged Ewe
| Placing | Class | Exhibitor | Flock Name |
| --- | --- | --- | --- |
| 1st | Aged Ewe | J Graham | Burnbank |
| 2nd | Aged Ewe | J Stenton | St Ravenscar |
| 3rd | Aged Ewe | R & D Metcalfe | Hardenclough |
Shearling Ewe
| Placing | Class | Exhibitor | Flock Name |
| --- | --- | --- | --- |
| 1st | Shearling Ewe | J Graham | Burnbank |
| 2nd | Shearling Ewe | J & K Wilson & Son | |
| 3rd | Shearling Ewe | H Stenton | Thornton Le Dale |
Ewe Lamb
| Placing | Class | Exhibitor | Flock Name |
| --- | --- | --- | --- |
| 1st | Ewe Lamb | A MacPherson | Rigside |
| 2nd | Ewe Lamb | N Adams | Lund Farm |
| 3rd | Ewe Lamb | J Stenton | St Ravenscar |
Group of three
| Placing | Class | Exhibitor | Flock Name |
| --- | --- | --- | --- |
| 1st | Group of three | J Graham | Burnbank |
| 2nd | Group of three | J Stenton | St Ravenscar |
Bluefaced Champions
| Category | Exhibitor | Type |
| --- | --- | --- |
| Breed Champion & Female Champion | J Graham | Aged Ewe |
| Reserve Breed Champion & Reserve Female Champion | J Stenton | Aged Ewe |
| Male Champion | J Graham | Shearling Ram |
| Reserve Male Champion | R & D Metcalfe | Ram Two Shear or Over |
Gallery
Back to Archive